Taylor Swift and Brittany Mahomes Enjoyed Shots Together as They Bonded at Chiefs Private Afterparty In a surprising turn of events, Taylor Swift and Brittany Mahomes, the wife of Kansas City Chiefs quarterback Patrick Mahomes, found themselves bonding at Travis Kelce's private post-game party. The star-studded celebration, which took place following the Chiefs' victory over the Chicago Bears, offered an occasion for bonding between the pop superstar and NFL royalty.
Also Read: Taylor Swift Is About to Make Over $100M Just From Spotify in 2023
According to TMZ, Swift, 33, and Brittany, 28, had bonded on the party night. According to close sources, the two women not only indulged in lengthy chats, but also had a special moment by shooting a picture together. They were both overheard expressing their keenness to stay in touch and make arrangements to meet up again soon, per Page Six.
Swift's appearance at the Chiefs game at Arrowhead Stadium initially surprised social media users. The 12-time Grammy winner was spotted in a private suite next to Kelce's mother, Donna, cheering on the Kansas City Chiefs as they defeated the Chicago Bears 41-10.
This high-profile appearance prompted speculation of a possible romance between Swift and Kelce. Speculations first surfaced earlier this month, and their obvious camaraderie at the game just added fuel to the speculations. The two were also seen exiting the stadium together and heading to the much-anticipated afterparty, which was held at the local rooftop bar, Prime Social.
Also Read: Here's Why Swifties Suspect Taylor Swift's Relationship Issues With Ex Joe Alwyn Began in 2021
While the chemistry between Swift and Kelce was evident, the Chiefs tight end lauded Swift's courage in attending his game despite the tremendous attention. Swift was praised by Kelce, who described her as "ballsy" for embracing the spotlight with grace. He said on his New Heights podcast, "I just thought it was awesome how everyone in the suite had nothing but great things to say about her — the friends and family."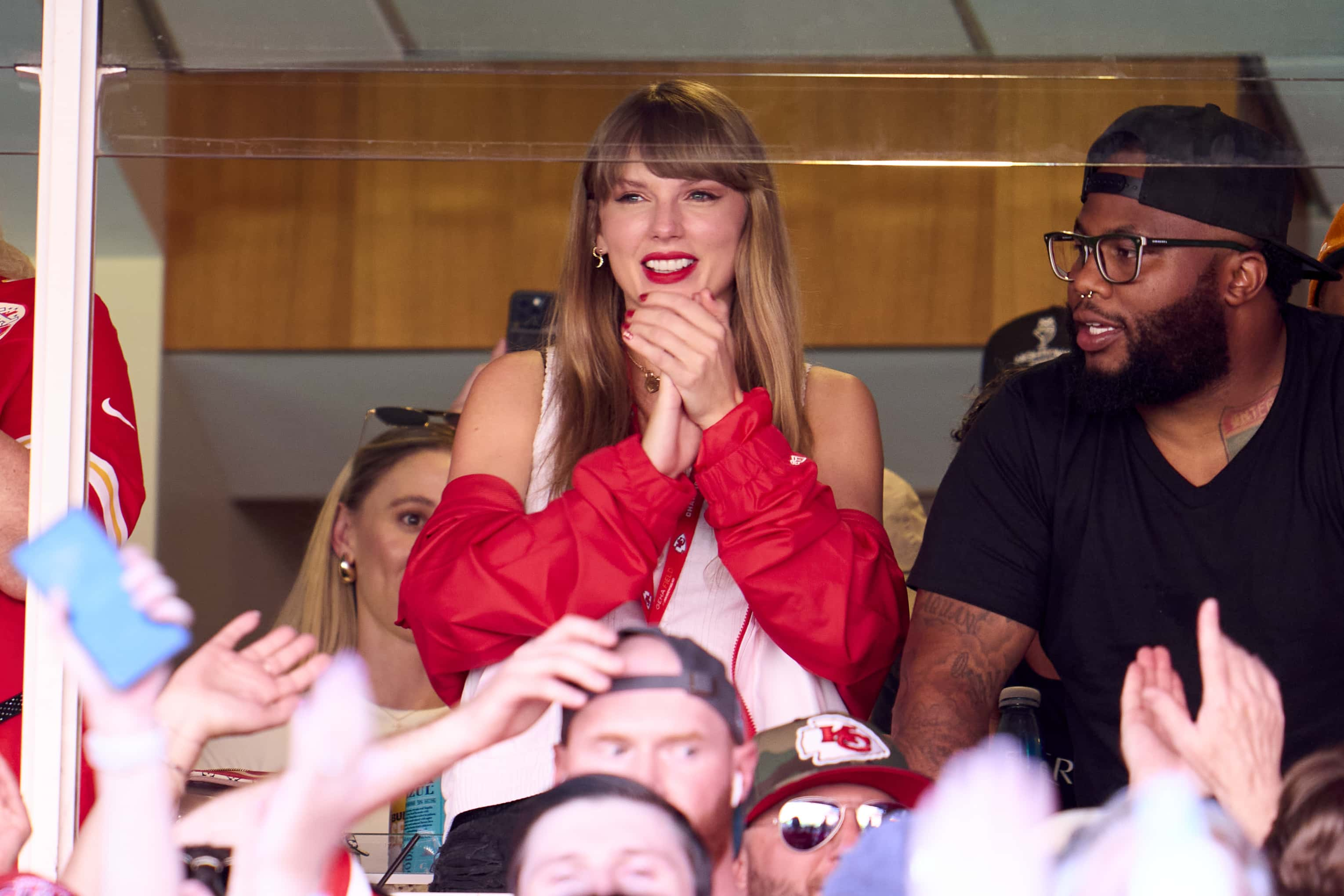 Also Read: Travis Kelce Gave This Nickname to Taylor Swift While Thanking Her for Social Media Love
Kelce suggested on his podcast the importance of discretion in his personal life, especially in light of Swift's previous high-profile romances. "She's not in the media as much as I am doing this show every single week and having fun during the NFL season on other guys' shows, like the McAfee show and any other show I go on from here on out, like you said on that Thursday night game, I'm enjoying life and I sure as hell enjoyed this weekend," Kelce said, per The New York Post. "So everything moving forward, I think me talking about sports and saying alright now will have to be kind of where I keep it."
Brittany has been married to Patrick Mahomes, a major figure in the Chiefs' extended family, since March 2022. Swift is immersing herself in the world of the Kansas City Chiefs, and sources have confirmed to NBC News that she will be attending the Chiefs' upcoming game versus the New York Jets at MetLife Stadium in New Jersey.
More from Inquisitr
Taylor Swift Set to Enjoy Quality Time With Travis Kelce in $6 Million Kansas City Mansion
Friends of Travis Kelce Are Convinced That His Romance With Taylor Swift Is the 'Real Deal'