In the ever-dramatic realm of the popular reality TV show 1000-Lb. Sisters, the limelight has been shifted from weight loss journeys to romantic hookups as Tammy Slaton, one-half of the dynamic duo, expresses her skepticism about her sister Amy's new boyfriend, Tony Rogers. The TLC reality show has been a rollercoaster ride of emotions, documenting the struggles faced by Amy and Tammy Slaton as they explore the complexities of weight loss, family dynamics, and now, Amy's post-divorce love life. Amy, who recently ended her marriage to Michael Halterman, has embarked on a new romantic chapter with Tony Rodgers, but not everyone is thrilled.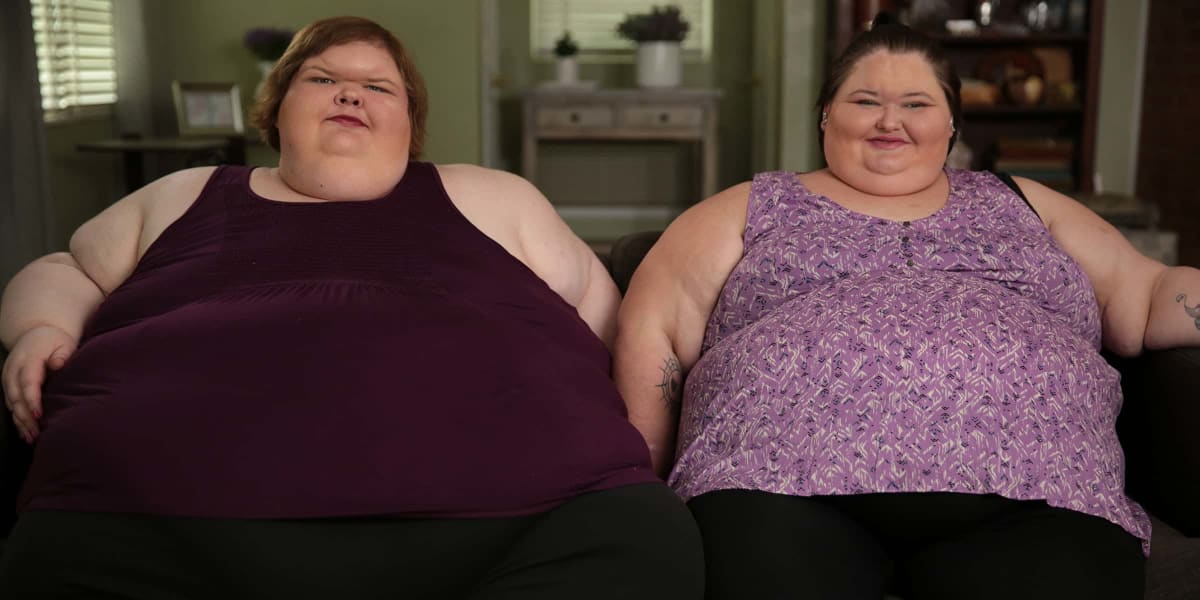 Also Read: '1000-Lb. Sisters' Star Tammy Slaton Looks Incredibly Slim and Happy in Her Latest Filter Free Picture
An insider close to the "1000-Lb. Sisters" stars revealed to The U.S. Sun that Tammy maintains strong negative feelings towards Tony, deeming him "a piece of c**p." The source further divulged that Tammy believes Amy is "rushing into the relationship," though as per Amy Tony is nothing more than a rebound. A major chunk of Tammy's concerns revolves around Tony's behavior and his interaction with Amy's two boys, Gage and Glenn, whom she shares with her ex-husband Michael. According to the source, Tammy bluntly stated, "Tony is terrible with the kids." This revelation raises questions about the relationship dynamic within Amy's new relationship and its effect on her family.
---
View this post on Instagram
---
It can be speculated that Tammy's unease with Tony has been persistent without fail. A previous source, back in August, disclosed that Tammy feels the couple is constantly fighting. The source added that Tammy firmly believes "Tony does nothing but live off of Amy," insinuating financial and lifestyle concerns for her. Amy has been cautious and contemplating making their relationship public, specifically in the aftermath of her divorce and custody battle with Michael. Despite Tammy's doubts, Amy and Tony's love life appears to be moving forward, with the insider stating that they are "going strong" and spending quality time with Amy's children. The revelation that Amy's children live with her and Tony adds another layer of complexity to the ever-changing and evolving family dynamics. Amy and Tony's relationship has been a topic of speculation and while it's confirmed that they have been "dating for at least three months,"
---
View this post on Instagram
---
Also Read: Fans Accuse Producers of '1000-Lb. Sisters' for Being Insensitive Towards Tammy Slaton's Tragedy
Amy's ex-husband, Michael, who filed for divorce this past winter, has seemingly taken a back seat in the unfolding drama, maintaining a quiet presence amid the changes. Amy, in contrast, seems to have moved on completely, with Tony becoming an integral part of her life. As the TLC reality show "1000-Lb. Sisters" continues to capture the highs and lows of the Slaton sisters' lives, viewers can't help but wonder how the addition of Tony to the mix will influence the family dynamics and, ultimately, the narrative of the reality show.
More from Inquisitr
When Tammy Slaton of '1000-Lb. Sisters' Was Slammed For Doctoring Her Selfies Post Weight Loss
When '1000-Lb Sisters' Star Tammy Slaton's Easy-Going Skincare Routine Surprised Her Fans