North West Reveals Having Dyslexia During Live Stream With Mommy Kim Kardashian North West, the eldest daughter of reality star and business tycoon Kim Kardashian and rapper Kanye West, recently made an unexpected revelation during a TikTok livestream. The 10-year-old revealed that she has dyslexia, prompting her mother to express a combination of emotions, reported Intouch Weekly.
Also Read: Kim Kardashian Sparks Controversy as Fans Decode 'Secret Intention' Behind North West's Met Gala Prep
"Guys, I have dyslexia. Do you even know what that is?" North said while handing Kardashian her phone to help with her grammar in a video on a shared TikTok account with her mother. Kardashian was caught off guard by this admission, leaving her to address the situation in real time. North's openness about her learning disability was welcomed with a mixture of support and protective instinct from her mother, as per US Weekly reports. She said, "Northy, you are sure spilling the tea on here, OK?"
Dyslexia is a learning disability that disrupts how your brain processes written language, as the Cleveland Clinic's website explains. The conversation, however, took an unexpected turn when North jokingly asked an online fan if she should "drop an album." Kim's answer was prompt, showing her concern for her daughter's unfiltered revelations in public. "I'm going to stop this live right now because you just really are saying way too much," Kardashian said, adding, "I love you, but I purposefully do not talk about stuff that you're going through." While North's artistic abilities and creativity have found an outlet on sites such as TikTok, the issue of her social media presence remains a source of disagreement for her parents.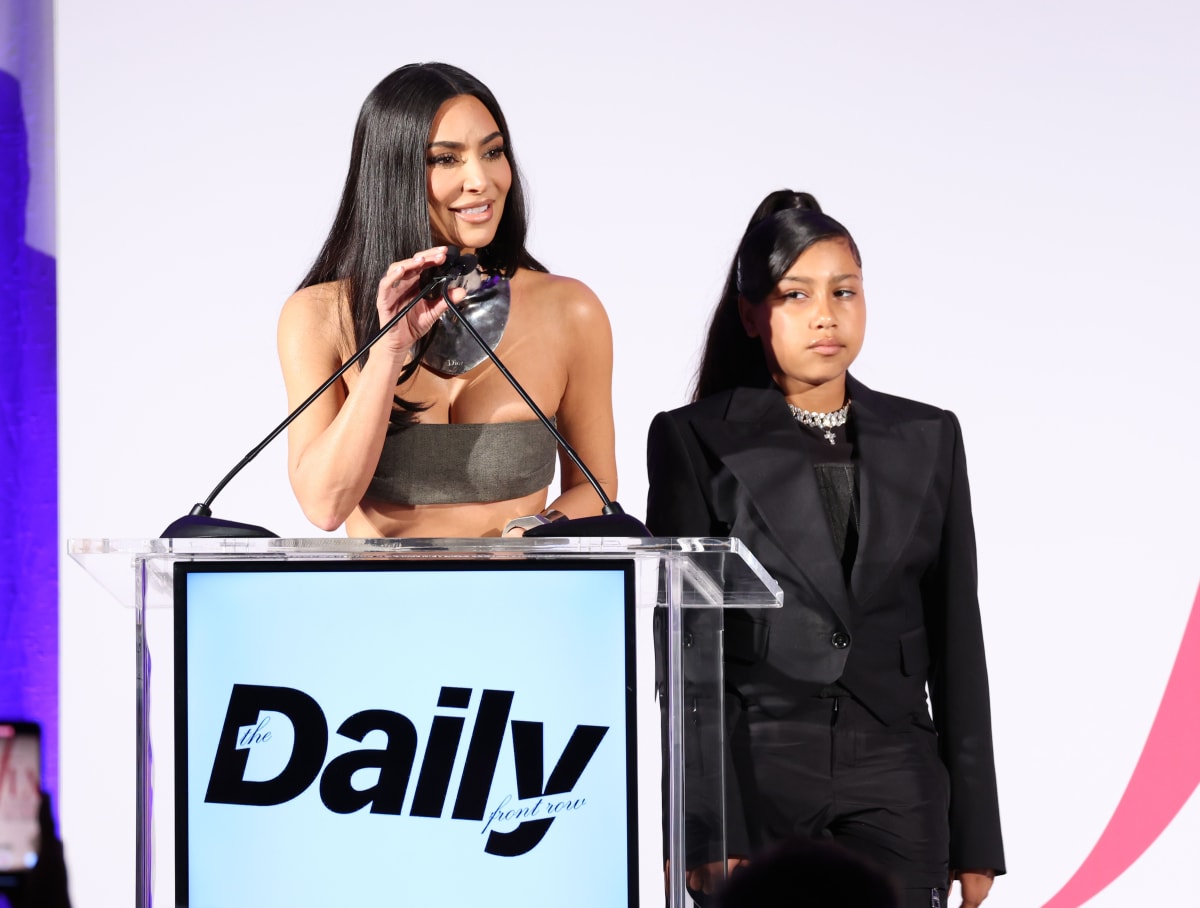 Also Read: Here's Why Kim Kardashian Wanted to Borrow Clothes From Madonna's Classic Wardrobe
Kanye West, North's father, has been open about his concerns about her social media presence. In a now-deleted Instagram post from February 2022, he stated his displeasure with North's presence on TikTok "against his will." He wrote, "SINCE THIS IS MY FIRST DIVORCE, I NEED TO KNOW WHAT I SHOULD DO ABOUT MY DAUGHTER BEING PUT ON TIK TOK AGAINST MY WILL ?"
Kim, on the other hand, has repeatedly defended her decision to enable North to express herself creatively on social media under adult supervision. She responded to Kanye in a series of Instagram stories. "Kanye's constant attacks on me in interviews and on social media are actually more hurtful than any TikTok North might create," she wrote. "As the parent who is the main provider and caregiver for our children, I am doing my best to protect our daughter while also allowing her to express her creativity in the medium that she wishes with adult supervision—because it brings her happiness."
Also Read: 10 Times Kim Kardashian and Kanye West's Daughter North West Wowed the Internet
---
View this post on Instagram
---
The public's reaction to North's TikTok revelation was largely positive. Many viewers complimented the young girl for being open about her issue, and some even advocated for greater dyslexia awareness. The response was overwhelming, with one fan writing, "Bring on the Dyslexia awareness! We need it!"
More from Inquisitr
When Kourtney Kardashian Was Criticized for Slapping Kim Kardashian's Friend Jonathan Cheban
Here's Why Viewers Think 'AHS' Producers Are Upset With Kim Kardashian For 'Leaking' These Details