Ron DeSantis Steps up His Attacks on Nikki Haley, Labels Her a "China Liberal" The primary outside group behind Florida Governor Ron DeSantis' presidential bid is releasing a TV commercial this Sunday criticizing Nikki Haley for luring Chinese firms into South Carolina when she was governor. As reported by The Daily Mail, DeSantis War Room's minute-long attack film blends together snippets of comments made by Haley and contrasts them to those delivered by President Joe Biden regarding China.
Also Read: Nikki Haley Targeted by Rivals at the Fourth GOP Presidential Debate as She Continues to Rise in Polls
According to the outlet, Carly Atchison, DeSantis spokeswoman, stated in the ad, "We already have a pro-China liberal in the White House. We don't need another one in Nikki Haley." The 2016 South Carolina manufacturing facility for a Chinese fiberglass firm is at the heart of the story. According to the South Carolina Department of Commerce, China Jushi spent $300 million and created at least 400 jobs when it opened its first U.S. facility on 200 acres in Columbia, South Carolina.
The advertisement labels China Jushi as a "communist party-owned high tech company" and highlights the close proximity of the company's manufacturing facility to a U.S. Army training facility. Haley is shown in the DeSantis PAC video boasting that Chinese companies "wanna do business in South Carolina." There is also a clip of her saying, "really in good faith, doing quite a bit" about China. The commercial features images of Nikki Haley and Chinese President Xi Jinping over a backdrop of Chinese symbols reading "Communist Party of China," with the announcer saying, "Nikki Haley: questionable judgment, dangerous on China."
---
Nikki Haley welcomed them into South Carolina, gave them land near a military base, wrote the Chinese ambassador a love letter saying what a great friend they were.

In Florida, I banned China from buying land. pic.twitter.com/HYhtYKrMZe

— Ron DeSantis (@RonDeSantis) November 9, 2023
---
Also Read: Trump 'Fake Electors' in Wisconsin Say They Were 'Tricked and Misled' in to 'Alternate Elector Scheme'
A spokesperson from the Haley campaign informed the Daily Mail, "'Ron DeSantis aggressively recruits Chinese companies and investment to Florida. He even scrubbed the Florida government website of proof of his recruitment. He signed a multimillion-dollar contract with a Chinese aircraft company and allowed a sanctioned, Chinese-owned company to expand near a military base. Ron DeSantis is lying about his record because he's losing, and he'll say anything to try to revive his corpse of a campaign."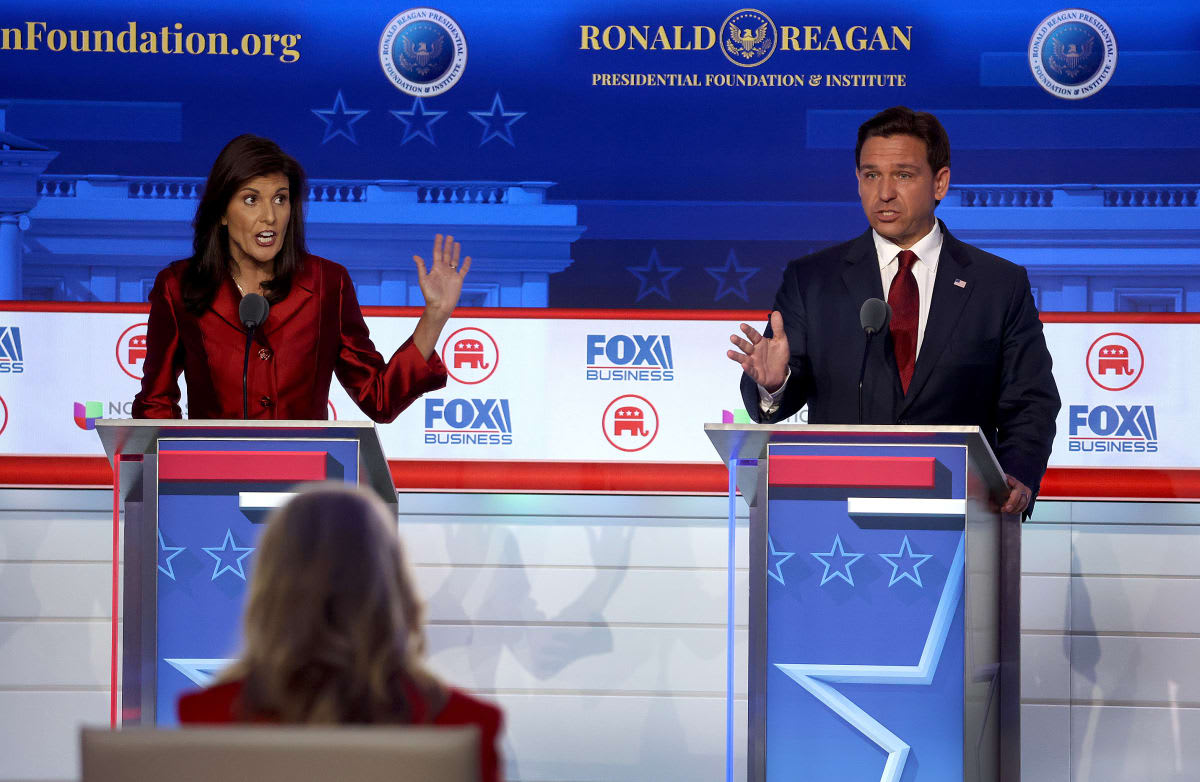 Also Read: 4 Moments From The 4th GOP Presidential Debate That Can Potentially Make Donald Trump Very Angry
Interestingly, as per recent reports by the New York Post, Republican presidential candidate Ron DeSantis ignored the expansion of a subsidiary of a US-sanctioned Chinese corporation less than 15 miles from a military post. Two new facilities for Cirrus Aircraft, a division of the Chinese company Aviation Industry Corp. (AVIC), were established in central Florida in the year 2022. There was one at the Orlando Executive Airport, which was located 12.7 miles from the Naval Air Warfare Center Training Systems Division. After remaining silent regarding Cirrus's growth in his state, DeSantis criticized President Biden's response to the Chinese spy balloon incident in front of a Cirrus SR 22 in February 2023. As per the outlet, the United States government sanctioned AVIC in 2020 for posing a threat to national security as part of a broader effort to restrict the expansion of Chinese companies. Defense analysts revealed that despite the fact that Cirrus is not directly targeted by sanctions, it may nonetheless threaten American national security because of its ties to AVIC.
More from Inquisitr
Christie Calls Out Other GOP Candidates for Being 'Afraid to Offend Donald Trump'
Ex-Aide Cassidy Hutchinson Says Trump's 'Volcanic Temper' Means He Shouldn't Be 'Near Nuclear Codes'