Nicola Beckham Baffled Fans with Her 'Inappropriate' Post for Father-In-Law David Beckham Fans have been calling out Nicola Peltz for her "inappropriate" and unrelated pictures to congratulate father-in-law David Beckham for his new Netflix documentary, BECKHAM. The entire clan showed up on the carpet to support the former footballer. However, Peltz's bizarre post on Instagram left people scratching their heads.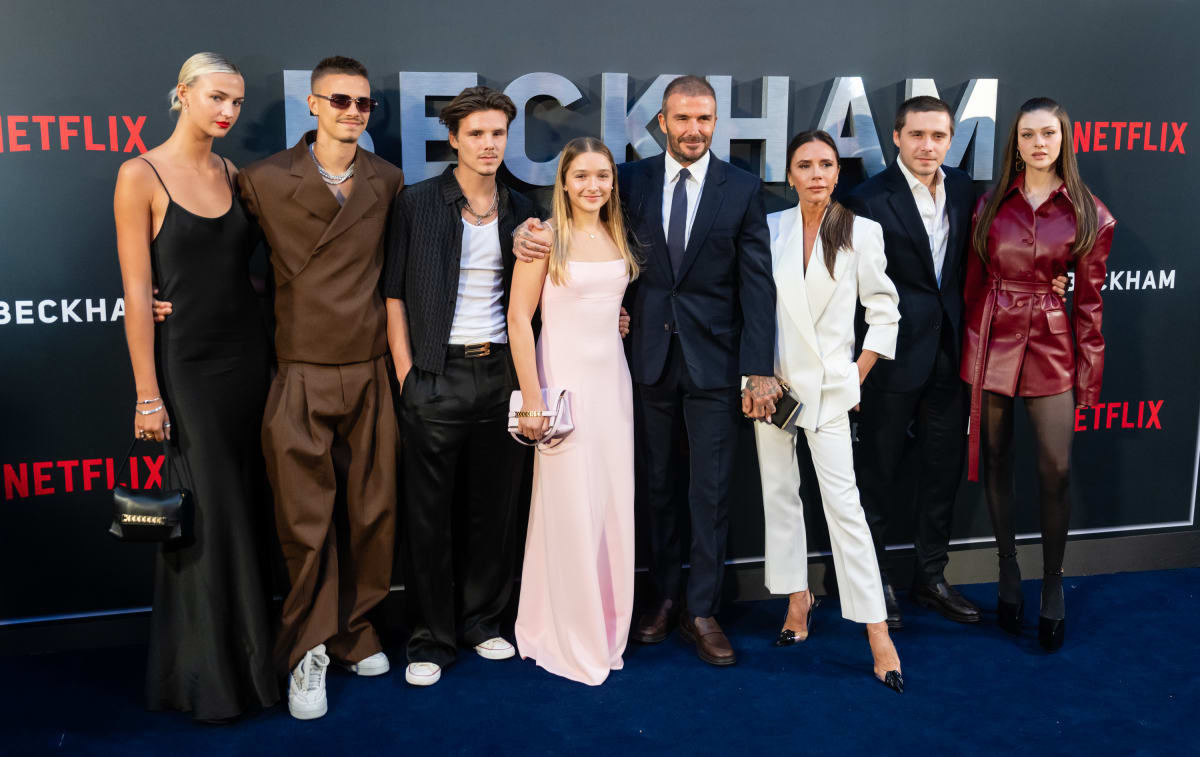 Also Read: Taylor Swift Meets Family of Deceased 23-Year-Old Fan and Hosts Them at Sao Paulo Performance
The docu-series premiered on October 3, 2023, and aside from being present at the event to celebrate the milestone, Peltz also posted a series of "risque" photos with her husband, Brooklyn Beckham, to congratulate her father-in-law. The 28-year-old went a little overboard.
The romance between the billionaire heiress and her husband, Brooklyn, is no secret. The couple frequently share loved-up photos on social media and doesn't shy away from PDA on camera. However, this time, while celebrating father-in-law's Netflix documentary, she chose photos that didn't align with her congratulatory post.
---
View this post on Instagram
---
She took to Instagram and captioned, "Last night was incredible, congratulations @davidbeckham," tagging her father-in-law in the post. Alongside, there were multiple photos of her with her husband cozying up and cuddling, including one where her leg was hoisted on him [Brooklyn] as he grabbed her buttocks.
Also Read: Kylie Jenner and Jordyn Woods 'Stayed In Touch' Following the Tristan Thompson Cheating Scandal
The racy photos didn't go well with fans, as they immediately called out Peltz. One fan, @pureblood_naiman, criticized, "Weird choice and/or order of pictures to congratulate your father-in-law, one might say." A second fan, @lisahclews, echoed, "Odd pictures when it was for her father-in-law's premiere."
---
View this post on Instagram
---
Also Read: Mauricio Umansky Won't Watch The 'RHOBH' Season 13 Amid Separation: 'It Will Only Create More Noise'
@karenmarybrown2022 called out, "It's always 5 pictures of her and 1 of the person she's supposedly celebrating. Narcissism poster child." Another fan, @stella_kiorpe, slammed, "This is how you say to your father-in-law congratulations???? FAIL..." @jennfair44 wrote, "These pictures are disrespectful af."
A fan, @kimg459, complained, "How disrespectful to the whole Beckham family, including her husband, but he can't see it. Why on earth would you have these kinds of pictures dedicated to David? Get over yourself, love, as this is nasty." Apparently, out of six photos in the slide, Peltz posted just one photo of the Beckham clan from the premiere event.
---
View this post on Instagram
---
Beckam family showed up on the red carpet at the Curzon Mayfair Theater in London to celebrate the ace footballer's legacy documented by Netflix, reported Miami Herald. His wife, Victoria Beckham, and kids- Brooklyn, Romeo, Cruz, and Harper also joined him at the event.
It was a family affair. However, Peltz's NSFW photos left fans in a frenzy, and likely, the 28-year-old lost some of her 'fan following.' One fan, @coach_carter24, declared, "Unfollowed. Sorry, super odd. Congratulations, Beckham, the legend. The rest in this post is uncomfortable."
Another fan,@vinodvagadurgi, echoed the mutual feeling, "Unfollowed, weird vibe, it's that sort of snobbish vibe." However, Peltz's one diehard fan, her devoted husband @brooklynpeltzbeckham, gushed, "My everything." As soon as the Netflix series dropped, Beckham's fans have been devouring in their favorite player's life.
---
View this post on Instagram
---
The BECKHAM docu-series explores the footballer's life from his love of football as a child to making Manchester United, his personal life with his wife Victoria, the ups and downs in their relationship, the red card at the World Cup, and much more, as reported by METRO.
More from Inquisitr
After Viral Documentary Dig Victoria Beckham Shares a Picture of Her and Her Dad's Rolls Royce
'Teen Mom' Fans Devastated as Farrah Abraham's Daughter, Sophia, Visits Her Father's Grave