Kourtney Kardashian Enjoys a Full-blown 'Disneyland' Inspired Baby Shower Before Barker Junior Arrives Soon-to-be mother Kourtney Kardashian and husband Travis Barker are setting the stage right for their baby boy with a 'Disney' themed baby shower. Surrounded by family and friends, the POOSH founder enjoyed the last leg of her pregnancy with treats and decor inspired by Disney favorites such as Alice in Wonderland, Mickey Mouse, and the 'It's a Small World' ride.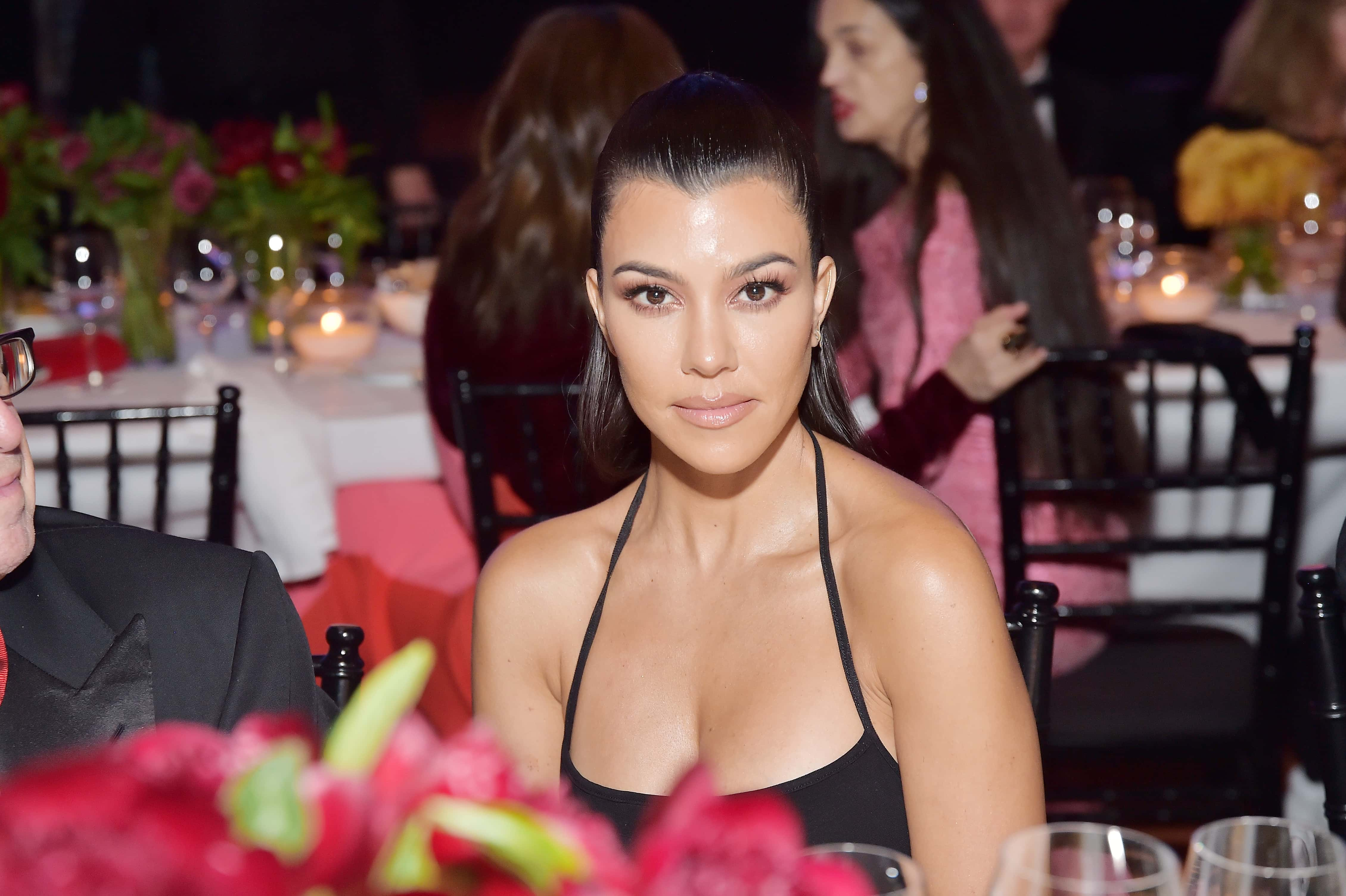 Also Read: Kris Jenner Upset by Kourtney Kardashian's Pregnancy Announcement; Kourtney Responds
The parents-to-be are counting the days to welcome their first child together. On Sunday, September 24, 2023, Kourtney's sister, Khloe Kardashian, gave an inside glimpse into the bash via a series of Instagram stories. In the first video clip, Khloe bumped into her mom in a blue co-ord set at the entrance, wearing mickey-mouse ears with her name on it.
"Hi, Mom!" waved the Good American founder. The momager gleefully smiled and turned around to show off her personalized Mickey Mouse ears: "It says Kris. No one will ever forget it!" As for Khloe, she styled herself in a royal blue dress for the family's "Disneyland" party alongside her two kids, 5-year-old True and 13-month-old Tatum Thompson.
Also Read: When Kourtney Kardashian's Ex Younes Bendjima Denounced Scott Disick for Supposedly Insulting Her
The event organizer, Mindy Weiss, ensured the hosts and the guests felt like they had 'literally' stepped inside the Disneyland. It was held at a private Los Angeles residence where Kourtney and the Blink-182 drummer rocked Mickey Mouse ears, as reported by E! News.
In a follow-up story posted on Instagram, True entered a photo booth. "What is this, a photo booth, Mama?" Khloe was asked by her eldest. The reality TV star said, "Oh, we have to do this together. You, me and Tatum, let's go." The mother of two introduced the decor of the baby shower, which included the apple tree from Snow White, which she clarified was fake, hydrangeas in giant cups, and mickey-mouse inspired balloons.
Also Read: Kris Jenner Shuts Down Kourtney Kardashian for Suggesting That the Family Should Try 'Therapy'
The event also had food, beverages, and sweet treats, including Mickey Mouse-shaped soft pretzels, pancakes, waffles, and cake pops, as well as bagels with Mickey Mouse-shaped pats of regular and vegan butter and Alice in Wonderland-themed mini bottles of green juice labeled 'Drink Me.' In another story, Khloe introduced, credited, and praised the Kardashian-Jenner party planner Weiss alongside the chef.
Another family member, Barker's step-daughter, Atiana De La Hoya, captured the couple near the pool area, sitting on the sofas and rocking their Mickey Mouse hats. A pregnant Kourtney donned a body-hugging full-length snakeskin bodysuit while the soon-to-be dad opted for a casual jeans and t-shirt look, which he paired with a jacket, as per The U.S. Sun.
In early September, Travis' band announced an 'urgent family matter,' resulting in the cancellation of their tour. Apparently, Kourtney underwent urgent fetal surgery amid an undisclosed medical complication. A source close to her informed US Weekly, "She is so happy to be past it now and relieved it's all behind her." Barker also hinted at personal medical news, sharing he's a COVID-19 positive on his Instagram stories on September 22, 2023. Hence, the drummer was captured wearing a mask, and so was Mama Jenner.
More from Inquisitr
Kim Kardashian Critics Spot Her 'Jealous Scream' at Kourtney Kardashian's Gender Reveal Party
Kourtney Kardashian Snaps at Mom Kris Jenner and Sister Khloé Kardashian for Being 'Too Controlling'