Kim Kardashian Proudly Flaunts Daughter North West's 'Bob Ross-Like' Painting The Kardashians star Kim Kardashian is known for being an incredibly doting mother with her four children. She shares a very close-knit relationship with her children. Kim often proudly shares her kids' achievements, be it in kindergarten or just a picture of them casually lounging about enjoying their time as a family. The SKIMS founder simply couldn't hesitate to share her oldest daughter North West's newest creations as a skilled artist at just 10 years old, as per reports on Page Six.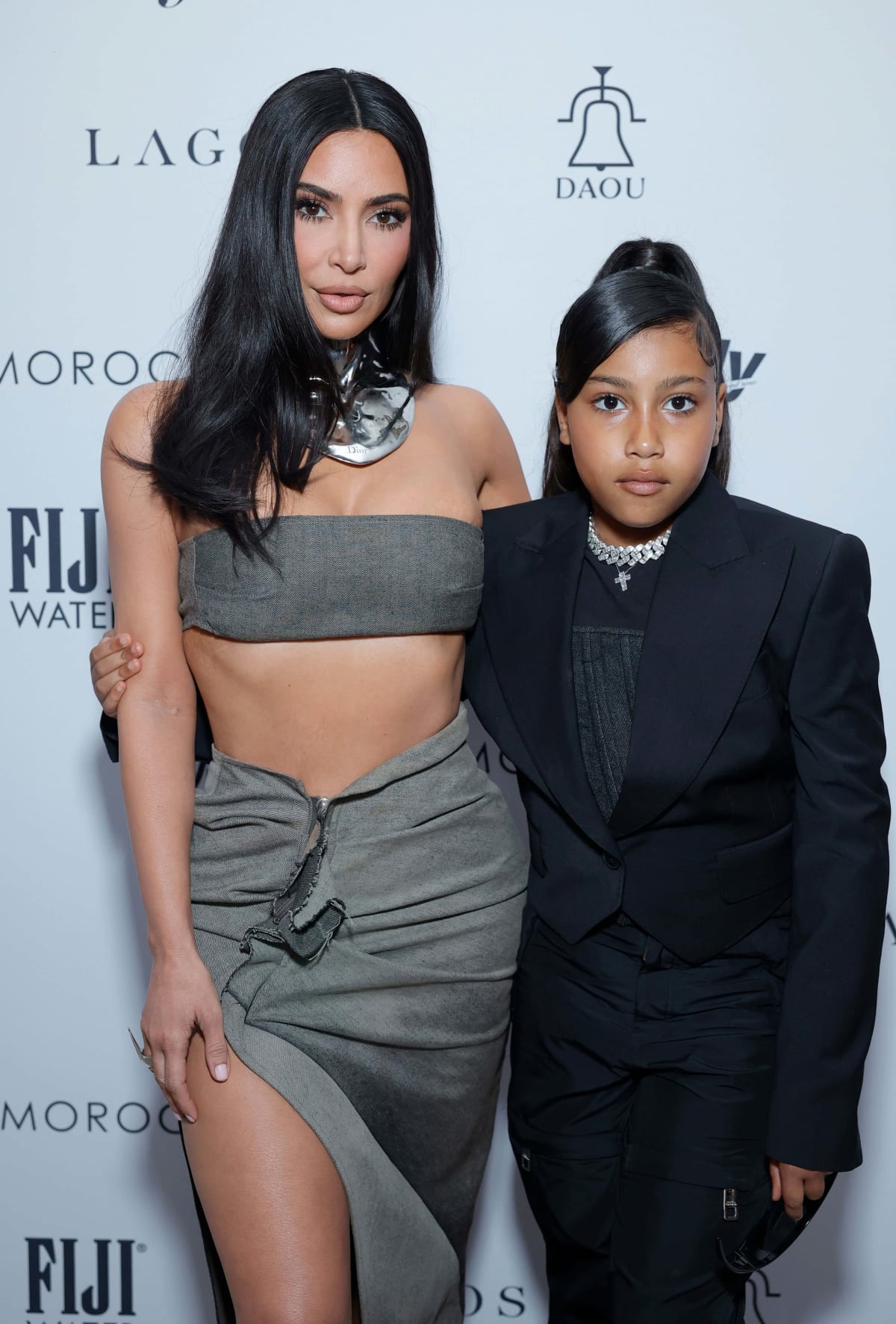 Also Read: Daughter North's Practical Abilities Cause Kim Kardashian to Take Another 'Humbling' Hit
Kardashian took to her Instagram stories, flaunting her daughter's skills as a gifted artist. The entrepreneur shared what she claims to be "North's Painting," eloquently crafted on canvas. The landscape painting was a picture of a warm sunset in an auburn setting with waves crashing over the shore of a beach. This realistic picture is truly a beautiful concoction that can be compared to a famous artist, Bob Ross, and has been meticulously done by Kim's gifted daughter.
The preteen has managed to perfectly capture the reflection of the sun on the surface of the waves as they broke for shore. The aesthetically pleasing picture had hues of purple, orange, and pink with gushes of blue and white. This masterpiece was supported by a wooden easel that had been smeared with strokes of numerous bursts of color that were similar to the ones included in the ethereal painting.
Also Read: Fans Slam Kim Kardashian for Encouraging Daughter North West's 'Rude and Disrespectful' Behavior
This isn't the first time that the entrepreneur has shared a glimpse into North's skillset as an artist; she's also revealed some equally impressive art pieces in the past on Instagram. Although Kardashian has made it clear that the paintings were all personally done by North, some critics feel otherwise. They allegedly called out the reality star for lying about her daughter being the original painter back in 2021.
---
Looks actually good but there is no way north did that painting plus that the wests are so fake, I don't believe anything they say.

— Anis Jerbi (@ArtistAJ17) February 9, 2021
---
Also Read: Kanye West Had a 'Break Down' After Hearing Daughter North West Yearned for a 'Simple Life' With Him
Critics on X(formerly Twitte)r, went on a rant, arguing their theory about the authenticity of the art pieces. "I'm supposed to work, but I can't stop thinking about how North West did not paint this," said one person. Another one made a comparison of the sensational piece to that of Bob Ross. "You're telling me North West is out here drawing like she is Bob Ross, and I'm over here still drawing stick figures at 25?!?" exclaimed another one.
Even though North's signature was visible in her works, numerous critics pointed out that perhaps it was the work of Photoshop. The Kardashian family has been quite vocal about using the picture-editing tool quite often in the past. But, after being observant of all the controversy, she decided enough was enough and slammed trolls on social media. She wrote in her stories at the time, "Don't play with me when it comes to my children!" the mother of four said.
She put the accusations to rest by further explaining, "My daughter and her best friend have been taking a serious oil painting class where their talents and creativity are being encouraged and nurtured." She then seriously asked her followers, "How dare you see children doing awesome things and then try to accuse them of not being awesome?!?" Kardashian concluded by strongly stating, "NORTH WEST PAINTED THAT PERDIOTDDABCDEFGZFDT!"
More from Inquisitr
This is Why Kourtney Kardashian Couldn't 'Trust' Niece North West During Pregnancy
Kim Kardashian's Hidden Disapproval of Kendall Jenner's Met Gala Outfit Exposed by Daughter North West