Kim Kardashian Reveals Secret Tattoo Connected to Ex Pete Davidson: 'Bumper Sticker on a Bentley' Pete Davidson left an indelible mark on Kim Kardashian - quite literally!
Kim revealed on The Kardashians on November 9 that she had a secret tattoo the night she hosted Saturday Night Live in October 2021, after keeping it concealed from fans for two years. "The night I hosted 'SNL,' all my friends and I got matching tattoos and everyone got them on their hands and I was like, 'There's not a shot I will get a tattoo'," she said on camera, resolving not to get one, per PageSix.
Also Read: North West Disses Kim Kardashian's Ex-Pete Davidson's Met Gala Look: 'Going to Gas Station'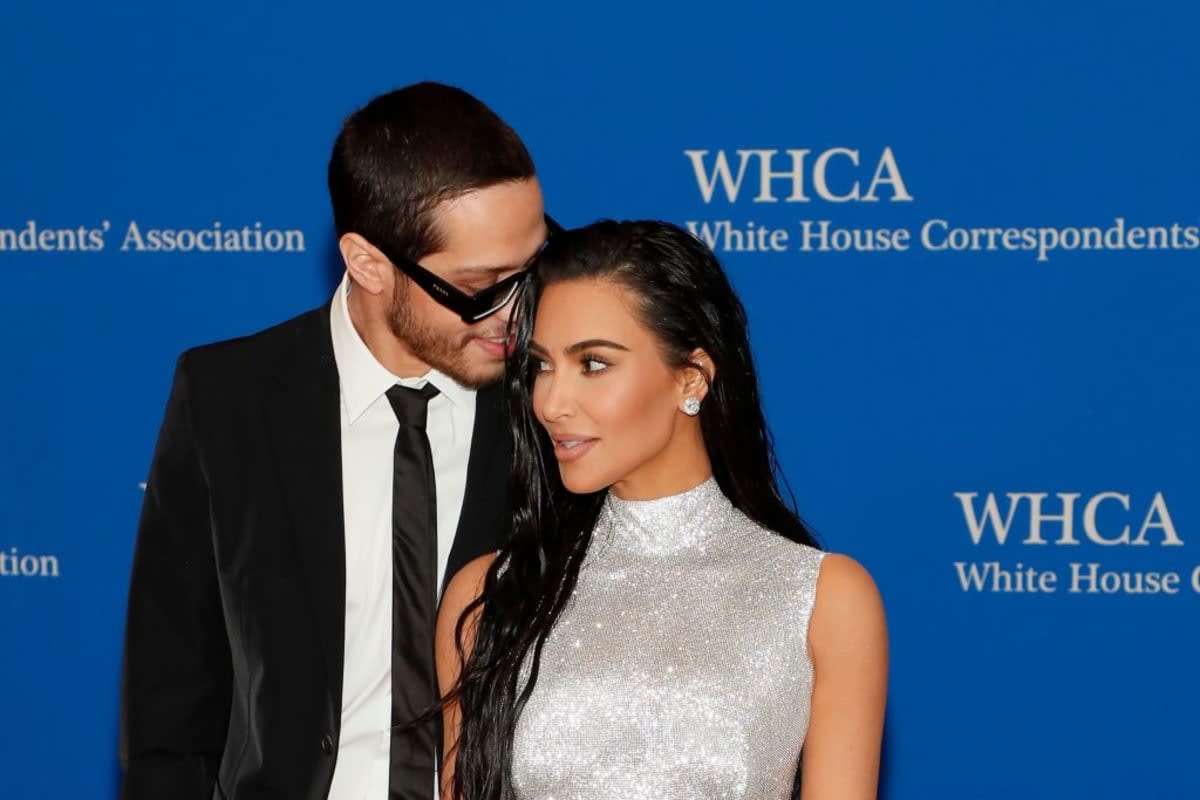 But it appears that the reality star's entourage, which included her sister Khloé Kardashian, friends La La Anthony, Tracy Romulus, Stephanie Shepherd, and Allison Statter, persuaded her to take the jump at 4:30 a.m. after she enjoyed her first kiss with future boyfriend Davidson.
Despite saying she would never "put a bumper sticker on a Bentley," the mother of four celebrated her unforgettable hosting gig with some permanent ink, getting an infinity symbol tattoo on her bottom lip to mark the kiss she shared with Davidson. The would-be-lawyer had kept the tattoo secret up until this point.
Also Read: Here's Why An Allegedly 'Outraged' Pete Davidson Yelled at a Fan During The Filming of His Gig
In a home video, Kardashian discussed the procedure and joked, "This is nothing," about the pain, giving the camera the finger while famous tattoo artist Jon Boy worked on his craft. "I finally put a bumper sticker on a Bentley," she quipped. "No one knows, no one sees it," Kardashian continued. "I forget [about it], but every once in a while I'll be flossing my teeth and I'll see black and I'll go, 'What's this black in my mouth?!'"
Kardashian has previously opened up about how much the kiss meant to her, per PEOPLE. During an April 2022 appearance on the Not Skinny But Not Fat podcast, Kardashian revealed to host Amanda Hirsch, "When we kissed, I was just like, 'Hmm!'"
Also Read: Kim Kardashian Finally Reveals the Real Cause of Her Split From Pete Davidson
"It was a stage kiss, but it was still like, a little zing. It wasn't anything like a super, crazy feeling. I was just like, 'Hmm,' and then I was like, 'Wow, I really haven't kissed anyone else in 10 years, so maybe I'm just like being stupid and it's just nothing and it's just a stage kiss."
Likewise, Davidson has his infinity symbol tattoo commemorating the occasion.
The 29-year-old King of Staten Island actor inked the names "Jasmine" and "Aladdin" on his collarbone following his beau's hosting role, along with the symbol, as a reference to the Disney-themed sketch in which they both appeared (and kissed).
Other homages to Kardashian were previously part of Davidson's huge body art collection. These included her first name emblazoned on his chest, the initials of her four children along with hers [KNSCP], and a phrase with the words, "My girl is a lawyer."
Although the comedian has removed most of those tattoos off his body since their split in the summer of 2022, per BuzzFeed, it appears Kardashian decided to keep her lip tattoo in place.
More from Inquisitr
When Kim Kardashian Unfollowed Miley Cyrus on Instagram For Her Flirtatious Chat With Pete Davidson
Pete Davidson's Emotional Career Comeback Leaves Fans in Tears