When Kim Kardashian Recalled Kanye West's Hurtful Statements Post Divorce and Broke Down in Tears Editor's note: This article was originally published on May 25, 2023. It has since been updated.

The Kardashians star Kim Kardashian had a meltdown in the recent episode of her series after recalling her past with Kanye West followed by the hurtful comments made against her and her struggle with being a good mother, reported The Sun.
Also Read: Here's Why Kim Kardashian Wanted to Borrow Clothes From Madonna's Classic Wardrobe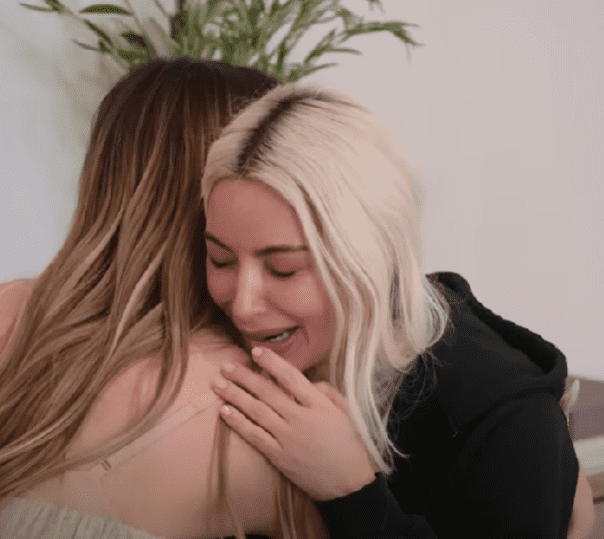 The mother of four had a very emotional moment on camera as she broke down in tears recalling the horror of having to live through the harsh reality of facing hurtful and uncouth remarks from her ex-husband Kanye West - a man who seemingly loved her while raising four children in the public eye.
Hulu hit series, The Kardashians, recently made its much-anticipated debut which certainly packed a fair share of expected drama. But what fans and viewers didn't expect was Kim's emotional response. It certainly appears that the mother and now ex-wife of rapper Kanye West has had enough of being traumatized by him since the former power couple's relationship took its curtain call back in 2022.
Also Read: 10 Times Kim Kardashian and Kanye West's Daughter North West Wowed the Internet
In the newest episode of the series, Kim appears to be flaunting her goddess white locks with a classic black jacket and appears to be in good spirits as she is in conversation with the coolest mom on reality television, Kris Jenner, looking hip and fabulous. Kim began to express her utter frustration and anguish during the whole ordeal between herself and her children's father, adding that she felt conflicted with her feelings as a mother.
"Even through all the craziness of all the things Kanye says about us, I never comment. I never post," she said. However, besides acting as a concerned parent in the best interest of her children, the beauty mogul was genuinely worried about how the drama affected her beloved mother and remained heartbroken by the thought of it.
Also Read: When Kourtney Kardashian Was Criticized for Slapping Kim Kardashian's Friend Jonathan Cheban
"He has made up the most insane narrative about you and the tape and we stay silent," said Kim to Kris while highlighting the incident of her 'leaked sex tape'. "We stay silent through all the lies and stuff," she added.
The entrepreneur emphasizes how all of West's 'shenanigans' that began with online slander and personal attacks on her throughout the messy break-up followed by their divorce, her relationship with now ex-boyfriend Pete Davidson, his attempts to reportedly win her back to restore his marriage, and more, will ultimately affect their four children regardless of the efforts put by Kim and the rest of her family to shield their innocent minds from it.
The Skims owner and ambassador is usually calm and composed during the event of a crisis or any drama and seems to handle pressure well. However, even she has a breaking point and cries out in desperation to be allowed to lose it for once. "I just want to lose it once. I want to have a bad day. I can't even be overwhelmed and have a bad day because no one else has their s*** together," added Kim.
More from Inquisitr
Here's Why Viewers Think 'AHS' Producers Are Upset With Kim Kardashian For 'Leaking' These Details
Kim Kardashian Critics Spot Her 'Jealous Scream' at Kourtney Kardashian's Gender Reveal Party