Karine Jean Pierre Asks Reporters "Shall I Unleash Commander on You" After Repeated Question on Biden's Pets Reporters at a recent press conference bombarded Karine Jean-Pierre with questions regarding President Joe Biden's German Shepherd. So far, it has been involved in twelve biting cases and is currently banished from the Presidential Palace, citing concerns about a possible thirteenth target. Hence, perplexed, she asks the journalists if they'd like to meet the dog she could bring into the briefing room, even though the 49-year-old confirmed the animal is no longer in the vicinity of the White House.
Also Read: Ron DeSantis Says He Doesn't Use the Word 'Vermin' as Much as His Presidential Rival Donald Trump
Reports asked the White House press secretary if the canine bit any Secret Service agents, leaving them injured, or if other officials feared its presence. Jean Pierre quipped, "Do you want me to bring the dog into the briefing room? That would be fun." She made this comment after a journalist jokingly suggested Commander should show up and answer some of the questions. But, one person shouted, "Is that safe?"
Jean-Pierre remained tight-lipped when asked where the German Shepherd went after twelve biting cases. However, as per Daily Mail, the White House clarified that Biden's Commander 'was being playful, and there was no bite, no pressure of the teeth on his skin, no mark–just some dog slobber.' While addressing the dog's biting issue, Jean-Pierre also made it clear she never felt concerned for her safety around the animal.
"I've seen Commander many times. I was never worried. And I've never been bitten by Commander," said the press secretary. "As it relates to me, I was never weary of Commander. I've seen him many, many times." She added, "And so I can only speak for myself though, and I can't speak to anything else outside of that."
Also Read: Ron DeSantis Blasts Trump and Also Reveals That He Will 'Supersede' Obamacare With a 'New Plan'
A reporter said she herself would feel scared around a dog who has a record of biting eleven or twelve people. But Jean-Pierre insisted, "I'm not sure what this has to do anything with me." The White House official then added, "I was just not nervous. So, that was not a concern for me. I can't speak to anything else outside of what you have heard from the First Lady's office, and so I'll just leave it there."
Also Read: Melania Trump Took a Pre-Meditated Decision For Attending Rosalynn Carter's Memorial Service
One of the reporters questioned if any of the staff members had been bitten, to which Jean-Pierre said, "I don't have numbers of, you know, exact numbers of any incidents with Commander." Beyond this, she revealed nothing, including where the German Shepherd is now housed.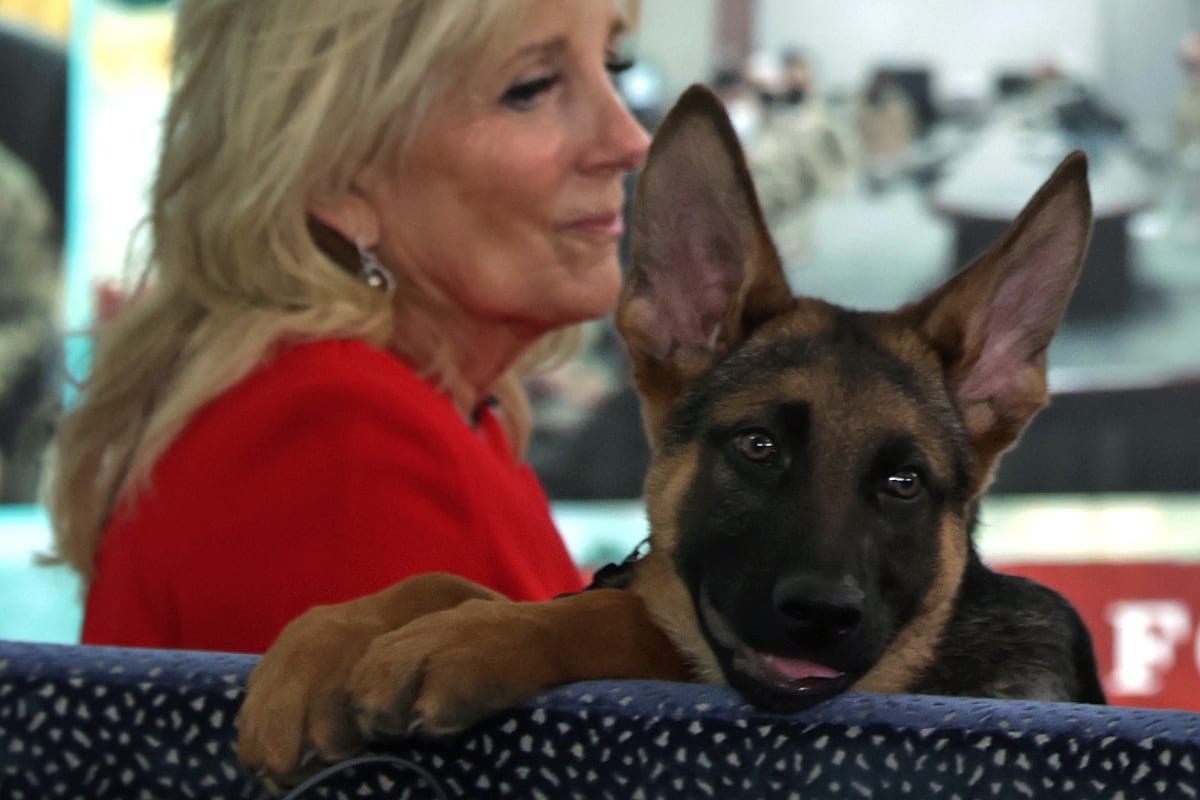 Elizabeth Alexander ( the Communications Director for the First Lady) said in a statement, "The President and First Lady care deeply about the safety of those who work at the White House and those who protect them every day. They remain grateful for the patience and support of the U.S. Secret Service and all involved. Commander is not presently on the White House campus while the next steps are evaluated."
More from Inquisitr
Donald Trump's Speech Interrupted by Fox News Host to Fact-Check 'Many Untruths' About Election Fraud
Melania Trump Faces Backlash for Not Wearing Black at Rosalynn Carter's Memorial: "Disrespectful"