Justice Engoron Issues a Gag Order After Donald Trump Posts About a Clerk During Civil Fraud Trial Former President Donald Trump has been accused of civil fraud and has lately been appearing in court. The Republican leader expressed his annoyance on social media throughout the trial. Just before noon, Trump attacked Judge Arthur F. Engoron's law clerk, Allison Greenfield, on his Truth Social page. As per the NY Times, a photo of Senator Chuck Schumer, the Democratic majority leader, and Greenfield appeared in Trump's post. In his mocking remarks, Trump called Greenfield 'Schumer's girlfriend' and asserted that the charges against him ought to be dropped.
Also Read: Trump's Obsession With Gag Orders Stems From a Need To 'Blame' Someone If He Loses the Case, Says Legal Expert
However, Justice Engoron did not appreciate this action of Trump's, stating, "Personal attacks on members of my court staff are unacceptable [and] inappropriate, and I will not tolerate them under any circumstances." The judge also warned Trump (and other involved parties) that his statement should be regarded as a 'gag order,' prohibiting any posts, emails, or public comments about his staff employees right after the session break. Justice Engoron further emphasized that if Trump weren't obedient, harsh punishments would be meted out. The judge didn't go into detail, but analysts pointed out that if the former President disobeys the directive, he might be fined up to $1,000 or even get thrown in jail for up to 30 days, though it's highly unlikely that any of those outcomes would occur.
New York Attorney General Letitia James accused Trump of misrepresenting the value of his assets in his annual financial statements in order to obtain favorable treatment from banks and insurance companies. Trump had also posted his remarks about James during this trial on social media. But, as per CBS News, after a behind-closed-doors conference between the parties involved in the case, the post in question was removed from Trump's profile.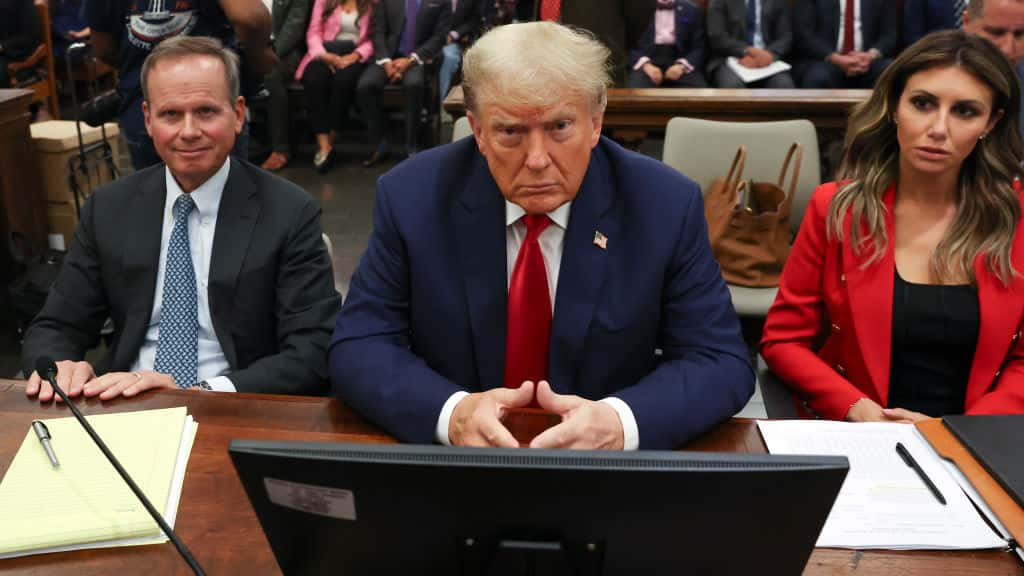 Trump has criticized Manhattan Supreme Court Justice Engoron and James, both Democrats, throughout the majority of the first two days of his civil fraud trial. Trump's tweet on his Truth Social website that contained insulting remarks had infuriated the judge. As per CNBC, Trump had expressed his sentiments as "How disgraceful!" in his now-deleted post, which included the clerk's full name, which was followed by "This case should be dismissed immediately!!" Later that day, during a break in the proceedings, Trump again brought up Schumer and the clerk while asserting that the trial was 'rigged' and "fraudulent." Eventually, he removed the post.
Also Read: Host Says Paramount+ PR Team Halted Kelsey Grammer's Interview With BBC After Voicing Support for Trump
Tuesday saw a lengthy email from Trump's team denouncing Engoron as a 'Far-Left Democrat.' The email, with the subject line 'Meet Judge Arthur F. Engoron,' referenced multiple articles in conservative media that accused Engoron of political bias."And she should probably be dismissed also," the email said while attacking James, whose lawsuit is the subject of the case.
Also Read: Jimmy Kimmel Says Trump Is 'Going Straight to Hell' For His 'Jesus and God Keeping Score' Comment
Following the judge's strong warning, the trial quickly proceeded with the cross-examination of a retired accountant who had formerly worked with Trump. Meanwhile, Trump didn't say much to his lawyers during the afternoon as he watched his accountant, Donald Bender, getting grilled with difficult questions.
More from Inquisitr
Trump Claims He Would Win The Blue States if 'Jesus and God' Came Down to Keep Score of Elections
Trump Mocks DeSantis' Debate Against Newsom in a New Dubbed Video: 'Battle of Loserville'