Jennifer Aniston Said This 'Relationship' Helped Her Heal Post Brad Pitt Split The Jennifer Aniston-Brad Pitt romance is one of the most famous Hollywood pairings ever. Their breakup devastated fans and prompted massive coverage of the relationship and the rumors that Pitt cheated on Aniston.
For Aniston too, the breakup and the press that followed were very hard to deal with. Thankfully, a relationship she was in just after this one turned out to be a savior for the Friends actress. In 2005, Aniston and Vince Vaughn met while shooting the film, The Break-Up. In addition to costarring in the romance from 2006, the two actors also had real-life romance, per The Things. About two years after their breakup, in 2008, Aniston talked to Vogue about her feelings about their relationship.
Also Read: When Amy Adams Strictly Rejected to Hug Brad Pitt, Becoming "The First Woman Ever" to Do So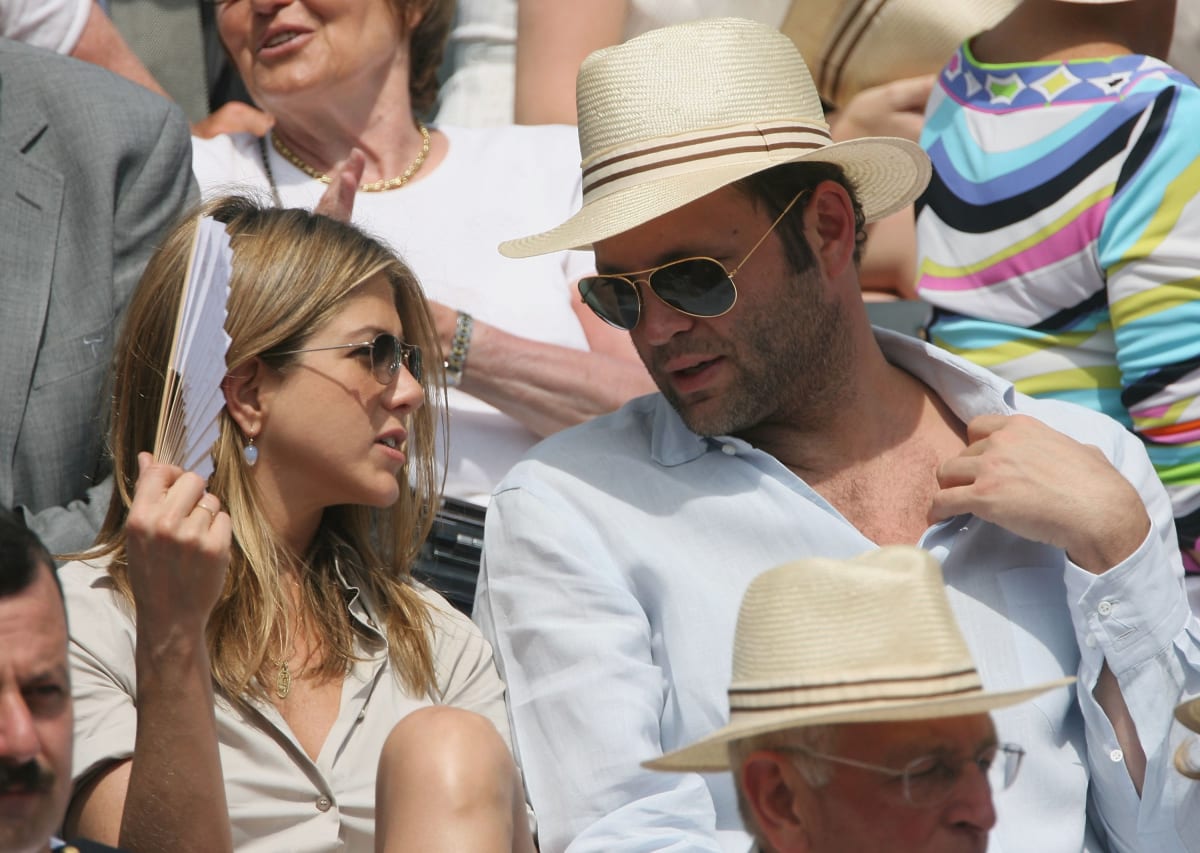 Aniston, who met Vaughn the year she filed for divorce from Pitt, calls the comedian and actor an adorable name. She told Vogue, "I call Vince my defibrillator. He literally brought me back to life. My first gasp of air was a big laugh! It was great. I love him. He's a bull in a china shop. He was lovely and fun and perfect for the time we had together. And I needed that. And it sort of ran its course."
The comedian, who is currently blissfully married to Kyla Weber, who's also the mother of his two children, has amazing things to say about his relationship with Aniston too! He opened up to Playboy magazine about dating the former cast member of Friends for more than a year in 2006, sharing an explanation for his reluctance to share a lot of information about their relationship at the time, per US Weekly.
Also Read: An Appalling Thing Brad Pitt's Stalker Did After Breaking into His Home That Got Her Arrested
"You know, she's great," the Couples Retreat star shared. "For me personally — and I think most well-known actors who are together feel this way — I never enjoyed the paparazzi side of it. You like someone and you're spending time with them; that's separate and that was all fine. But I really spent most of that time finding ways not to be drawn into the attention."
Avoiding the attention couldn't have been easy, dating one of the most talked about celebrities in Hollywood! "I think lying low and not talking about it put me in a good position later," he continued. "Because I just wasn't part of anything."
Also Read: Here's How Jennifer Anniston and Brad Pitt's Agents Set Them up on Their First Date
For Aniston too, talking about her exes in public isn't something she enjoys. "I'm not interested in taking public potshots," she explained to Vanity Fair while talking about her ex-husband Bradd Pitt. She added, "It's not my concern anymore. What happened to him after the separation—it's his life now. I've made a conscious effort not to add to the toxicity of this situation. I haven't retaliated. I don't want to be a part of it."
She pleaded to her fans to stop deliberating about the past in the interview, adding that it's not something that defines her. "I would much rather everyone move on. I am not defined by this relationship. I am not defined by the part they're making me play in the triangle. It's maddening to me."
More from Inquisitr
Barack Obama is a Distant Relative of Brad Pitt, Angelina Jolie and Hillary Clinton Are Related As Well
Classmates of Zahara Jolie Want Her Estranged Father Brad Pitt to Visit Their Campus