Here's Why Donald Trump Jr. Mocked a Video Clip of Ron DeSantis from GOP Debate Donald Trump is a political pioneer whose motto is to "never surrender" regardless of the numerous legal challenges he's facing amid his election campaign. The former President has been quite passionate about hopefully getting re-elected as President of the United States. Although he's up against an equally strong opponent, he's still doing his absolute best to stand out and hopefully earn enough votes to become a successful candidate in the presidential elections. Trump's son, Donald Trump Jr. appears to be just as passionate about politics as his father.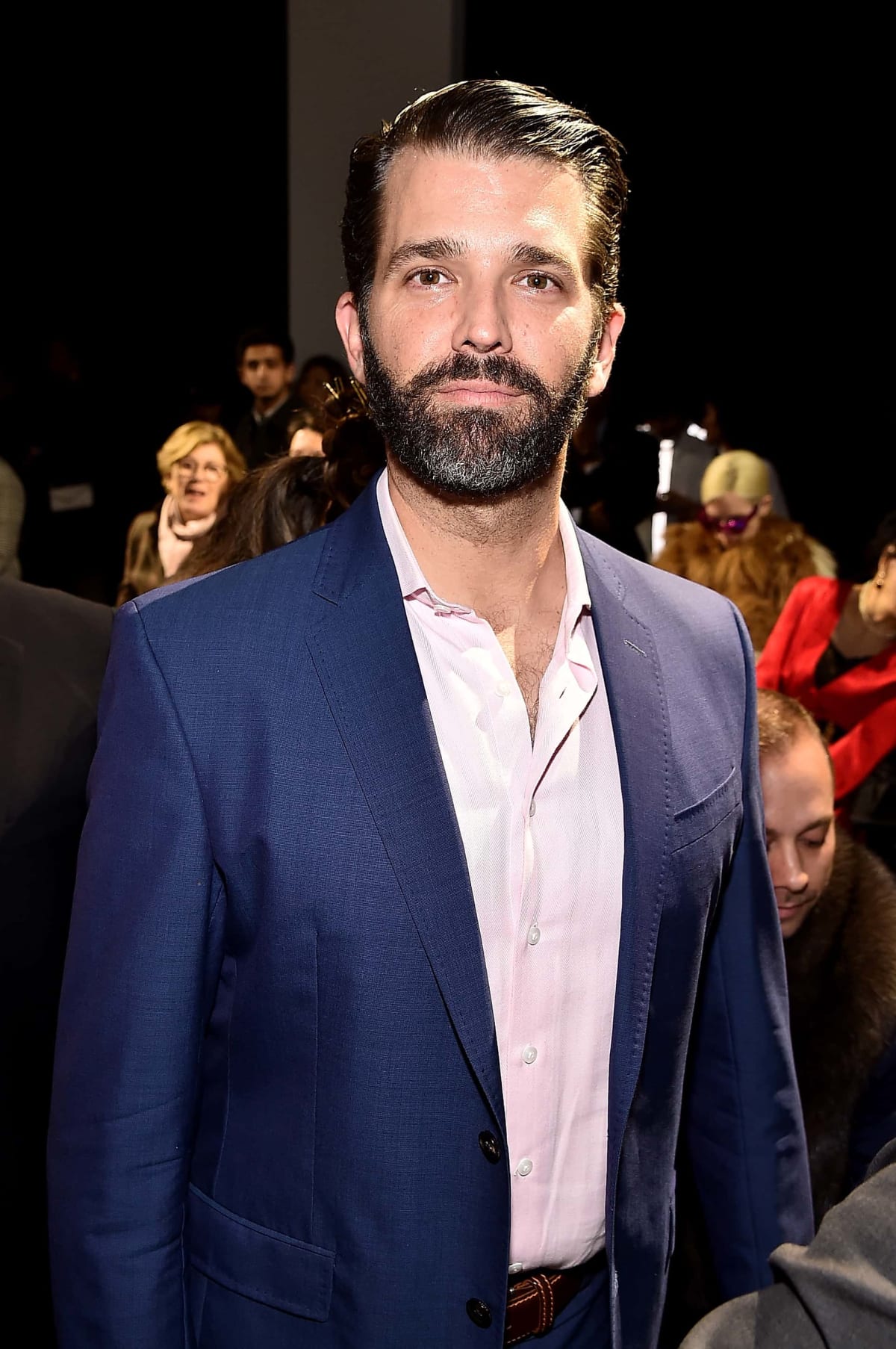 Also Read: Ron DeSantis Says He Doesn't Use the Word 'Vermin' as Much as His Presidential Rival Donald Trump
According to NY Breaking, Donald Trump Jr. allegedly mocked Republican member, Ron DeSantis in a video clip online. The video posted featured DeSantis getting his makeup re-applied amid the Republican Party's presidential debate earlier this week.
In the video, DeSantis donned his iconic formal attire featuring a black suit with matching pants, a white shirt, and a red tie. He appeared to be standing perfectly still near the podium as a possible makeup artist proceeded to apply a tinge of perhaps 'orange-ish' makeup on his face. He captioned the video as, "Rhonda Santis" and added a flurry of laughing emojis at the end of it.
Also Read: Ron DeSantis Blasts Trump and Also Reveals That He Will 'Supersede' Obamacare With a 'New Plan'
This comes after DeSantis allegedly made some harsh comments directed at the former President who wasn't present during the 2nd Republican presidential debate which was held yesterday. A possible reason that Donald Trump Jr. fired the shots online was that DeSantis accused the twice-impeached President of being "missing in action."
Also Read: Gavin Newsom Says He'd Rather Vote for Joe Biden at 100 Than Ron DeSantis At Any Age
The conversation began with DeSantis comparing the former President to the current one, Joe Biden. He said, "Donald Trump is missing in action. He should be on this stage tonight," said DeSantis. This led to quite a commotion including banter between other candidates present, venomous words spewed at the other and some moderators even threatened to switch off microphones due the the kerfuffle that had begun.
Even though things may have calmed down, it escalated into chaos after fellow Republican candidate Vivek Ramaswamy's actions concerning China, TikTok, the border, and lastly, whether or not he had sufficient experience in the field of politics.
Apart from this, DeSantis at one point even accused his rival Trump of being the possible reason behind the $7.8 Trillion debt of the United States of America and that it has propelled the financial "inflation" that they now have. Although Donald Trump Jr. may have been kidding and perhaps didn't intentionally mock DeSantis, this thread on X, formerly Twitter received much criticism from followers of the platform.
A first-person took a dig at Donald Trump Jr. and urged him to avoid "allegedly mocking" DeSantis. "You should sit this one out," said the person. There were numerous others who slammed Donald Trump Jr. for attacking DeSantis that way. A final one asked, "Have you seen your father? Have you forgotten that he was on TV for years, covered in makeup?"
More from Inquisitr
Donald Trump's Team Slams Ron DeSantis, Calls Him 'Thirsty, OnlyFans Wannabe Model'
Karine Jean Pierre Gives One-Word Response to Reporter's Query on Joe Biden's Dropping Poll Results