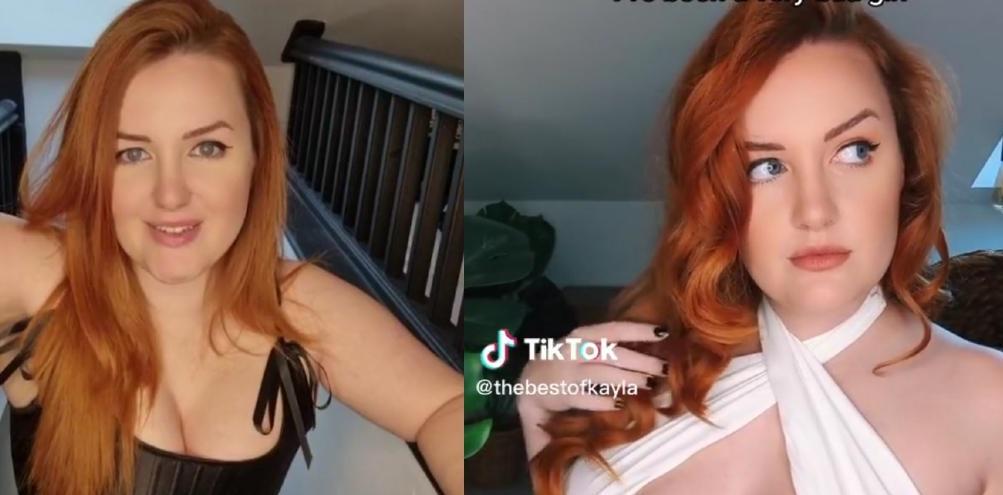 Woman Flaunts Halterneck Top Her Boss Called "Inappropriate" in Viral TikTok
A TikToker went viral after claiming her boss criticized her work outfit for being too scandalous, so she went on the popular social media platform to show off what she decided to wear and get a second opinion.
Article continues below advertisement
Throngs of folks who saw how she looked in the outfit fawned over the woman, telling her that they thought she looked amazing. The woman, who goes by Kayla on the popular social media application, posts several thirst trap videos that show off her figure in a variety of different outfits and dresses.
She writes in a text overlay for the video: "when my boss says my work attire is inappropriate and I've been a very bad girl."
Article continues below advertisement
In the video she is rocking a white, shiny, criss-cross halter top that covers about half of her chest. She looks away from the camera as she twirls her red hair before mouthing, "What you say?"
Article continues below advertisement
Folks responded with a deluge of fire emojis and words of praise for the woman's physical appearance. While some quipped that the TikToker doesn't have a boss and that the post was a form of one-sided role play.
Article continues below advertisement
In a recent post uploaded on December 4th, 2022, Kayla poses for the camera wearing a long black dress that has a slit which she uses to show off her legs. The camera begins on her lower body and then pans up to her face, revealing Kayla's smile as a voiceover says, "So I'm a sex worker, right? I know some people get so shocked they don't even know but that's what I am, that's what I do."
Article continues below advertisement
She's posted several videos utilizing this same sound, and judging from her TikTok account description it appears that Kayla has some adult-themed content she sells online to folks.
Article continues below advertisement
Commenters had a lot of different things to say about her "boss" post. There were some people who just wanted to know where her top came from, while there were others who told her that she was gorgeous and others wanted to know why the application classified the upload as "news."
Article continues below advertisement
"your literally on my morning news feed, how tiktok and 'news' is now tangling crazy world we live in. your gorgeous but some fights arent worth it."
"I wanna know where you got that top from!"
"You are beautiful, and sexy af. Are you a teacher, lawyer, librarian, work in administration? It can be inappropriate in some workplaces. Just depends"