Britney Spears' Fling Wade Robson Mentored Dance Students after Cheating Scandal Surfaced in Memoir Justin Timberlake once 'cried a river' after his breakup with Britney Spears, and in her tell-all memoir, the Toxic singer confessed she did cheat on the Palmer's actor. The bombshell revelations in her book opened old wounds of a love triangle in 2002. However, the person in question, Wade Robson, was seen focused on his work amid the resurfaced news.
Also Read: Britney Spears Marks Her Birthday By 'Hugging it Out' With Her Mom Lynne Spears Amidst Family Feud
Spears is not holding back in The Woman in Me, admitting the cheating allegations were true. She wrote, "We were out one night, and we went to a Spanish bar." She continued, "We danced and danced. I made out with him that night," reported by The U.S. Sun. However, she insisted on her loyalty to Timberlake for years "with that one exception."
However, it seems Robson has neither time nor energy to get into the past drama as the choreographer was seen leading his dance class. The 41-year-old was back to business and posted a video clip on his Instagram account days after the excerpt from the memoir surfaced. He was mentoring kids in the dance class.
---
View this post on Instagram
---
Robson gave his undivided attention to the work and led the kids at the RADIX Dance Competition in Miami, Florida. Apparently, Robson is Radix's faculty member, giving one-on-one workshops to dancers across the United States. The choreographer taught the teens some incredible moves and grooved with them on the beats.
Also Read: Lynne Spears Spotted Buying Things Amid Accusations of Selling Britney's Belongings
The first Instagram Story was captioned, "Wade Robson making sure the juniors are grooving out." In the subsequent video clip, Robson posed with his not-so-little students, smiling ear to ear, along with a snapshot of a group of kids jumping in excitement. Aside from being a dance mentor, Robson is a self-proclaimed "healer."
Also Read: Sam Asghari Once Scolded Donald Trump Jr. for Using Ex-Wife Britney Spears' Video for Political Purpose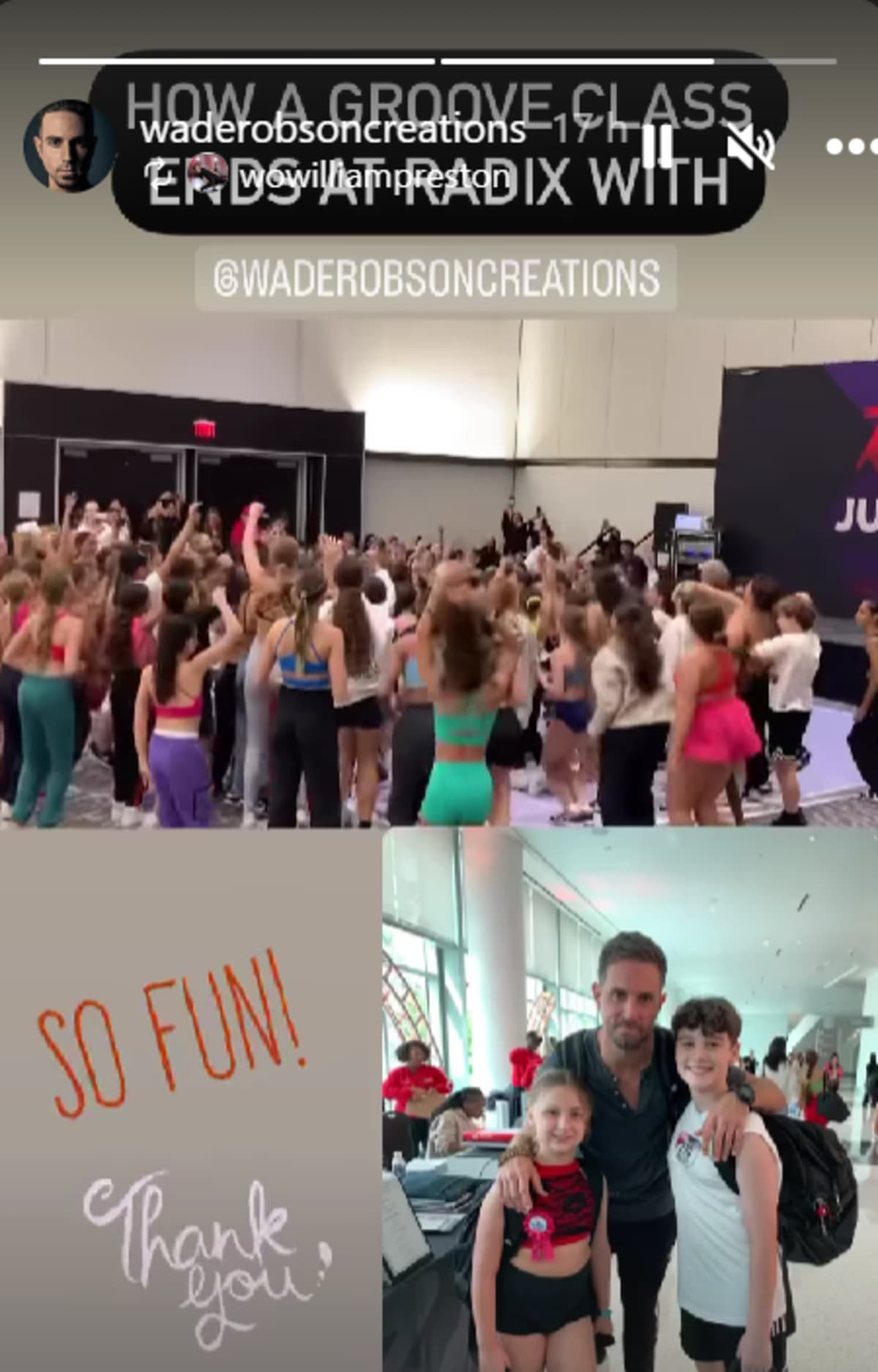 His official website mentions he provides life mentoring through several healing practices. It reads, "I will guide and support you to identify particular area/s of your life that you feel are stagnant, problematic, or in crisis and/or life goals you desire to achieve."
Adding, "Through a variety of healing modalities, including deep listening, supportive feedback, empowering conversation, guided meditation, somatic awareness, and independent daily practices, we'll work on healing any aspect that requires it." Apparently, the dancer was spotted on October 21 after the explosive revelation.
He was approached and asked to comment about Spears' "infidelity" confession, but he stayed silent and refused to make any statement on his past fling with the Oops!... I Did It Again singer. Although brief, the singer's unfaithfulness somehow contributed to her and Timberlake's split in 2002.
The hit song Cry Me A River was reported to be Timberlake's heartbreak in a song. Spears claimed in her book her fling with Robson was nothing serious, but songwriter Annet Artani, who co-wrote the song "Everytime" with the Princess of Pop, says otherwise. She believes Robson and Spears' relationship was deeper than she described.
---
View this post on Instagram
---
Artani said, "My understanding is that if you're writing somebody a 14-page letter, I would think that it's more than 'we kissed one time.'" reported TMZ."I think it's deeper also because they were all friends. … I think it's much more complicated than to say, 'We tap kissed at the end of the bar one night.'"
More from Inquisitr
Jamie Lynn Claims Britney Spears Was "Really Embarrassed" While Attending Grammys the First Time
Britney Spears Says Her Brother Bryan is 'Like a Dad,' Calls Him Her 'Best Friend' Amid Family Feud