9 Top Politicians Who Caused Political Outrage With Their Insensitive Outfits Politicians who shocked all when they wore extremely insensitive outfits
Also Read: Drug Dealer Jonathan Braun Whom Donald Trump Pardoned Reportedly Had 'Links' With Jared Kushner
Public personalities in the dynamic arena of politics are frequently evaluated for their choices in clothing as well as their policies and judgments. Style may be a potent means of self-expression, but when it comes to politics, it can also be a double-edged sword. Politicians must be careful when choosing their clothing in the digital age since social media amplifies every element of their lives. Even a basic fashion decision can cause political uproar. These politicians have often left an enduring impression—often for all the wrong reasons—on the public consciousness through their tone-deaf attire at significant occasions, such as Melania Trump's "I don't care" jacket while visiting children in detention facilities, or seemingly careless costume selections, like Nancy Pelosi's well-intentioned but racist undertones Kente cloth.
1. Donald Trump dressed shabbily to meet the Queen
For any politician, meeting Queen Elizabeth II is undoubtedly a tremendous honor. Therefore, such an important event calls for world leaders to dress their best. It seems Trump did not receive that memo when he saw the Queen in 2019, USA TODAY reported. The president at the time sported an ill-fitting tux, complete with an oddly long waistcoat that barely concealed his bulk and a little jacket that seemed several sizes too small. The queen was decked up in an immaculate white dress, matching gloves, and tasteful jewelry that complemented her crown, and the then-president's attire stood in stark contrast to the royals' regal apparel.
Also Read: Here's How Nikki Haley's Net Worth Ballooned to $8 Million After She Quit The Trump Administration
2. Alexandria Ocasio-Cortez's "Tax the Rich" outfit at the Met Gala in 2021
Also Read: Ivanka Trump Said Mike Pence is a 'Good Man' After He Rejected Donald Trump's Call to Overturn the Election
Despite being known for her liberal fiscal views, Congresswoman Alexandria Ocasio-Cortez incurred the wrath of progressives when she attended the 2021 Met Gala wearing a white dress with the slogan "TAX THE RICH" printed in bold red on the back that sparked fury. While many originally supported her vital political message, some thought her attire was improper given that a ticket to the Met Gala costs $35,000 and that tables may cost anywhere between $200,000 and $300,000. Making a statement like "Tax the Rich" at such an elite and exclusionary event felt incredibly staged and reductive, as per the New York Times.
3. Justin Trudeau's racially insensitive yearbook photo
TIME Magazine was able to secure a copy of a West Point Grey Academy yearbook from the time when Canadian Prime Minister Trudeau was working there as a teacher in 2000–2001. At an event with an Arabian Nights theme, Trudeau sported a turban and "brownface" makeup, which was really shocking for a progressive leader like him. He was the only person wearing such makeup at the party, which was even more shocking. "I shouldn't have done that. I should have known better and I didn't. I'm really sorry," Trudeau told reporters, adding that he did not recognize that his actions were racist at the time, as per Time.
4. Melania Trump's 'I don't care' jacket
In June 2018, Melania Trump, the country's First Lady at the time, boarded an aircraft to visit a Texas immigration detention facility while wearing a jacket with the words "I REALLY DON'T CARE, DO U?" emblazoned on the back, as per the New Yorker. This outfit choice prompted a great deal of debate and criticism. Given the setting of her visit to a facility where immigrant children who had been separated from their parents were being detained, many people perceived the jacket as being disrespectful and insensitive. The phrase on the jacket, according to its detractors, appeared to imply indifference or a lack of empathy toward the situation the kids were in.
5. Nancy Pelosi's Kente cloth after George Floyd's murder
The institutional murder of George Floyd by a police officer in 2020 horrified the country and sparked widespread Black Lives Matter protests. Speaker of the House Nancy Pelosi and Majority Leader Chuck Schumer took a knee and wore Kente cloth, a traditional garment from Ghana, to pay tribute to Floyd. Although they wore Kente stoles to express their support for the Black Lives Matter campaign, many people called them out for their insensitivity and perceived the behavior as theatrical, culturally inappropriate, and offensive.
6. Tennessee Governor Bill Lee wore a Confederate outfit
Bill Lee, the governor of Tennessee, is renowned for his conservatism. But even the most seasoned Republicans may find Lee's embracing of Confederate symbology to be too much. Photos of Lee wearing a Confederate outfit from his school yearbook at Auburn University in 1980 reappeared in 2019, and a separate page with a very unsettling caption really had everyone shaking. "The South shall rise again, right Bill! When the band plays 'Dixie', a tear comes to our eyes. I'd do anything Lee, but she comes first," as per NBC News.
7. John Hickenlooper wore indigenous headgear
Liberal-leaning John Hickenlooper, a former mayor of Denver and a senator representing Colorado, startled his Democratic base after he was photographed wearing traditional Native American clothing. At the One Shot Antelope Hunt, where the politician is depicted on the website sporting Native American regalia, Hickenlooper wore the outfit. A group of Native American women later started the hashtag #DropOutHick and published an open letter on Medium urging Hickenlooper to withdraw from the 2020 Senate election, per CPR News. "Former Gov. Hickenlooper's actions are inexcusable and set the wrong example for an elected official," the women wrote. "We ask that he withdraw from the race and that he does the work to educate himself on the legacy of violence and discrimination towards Indigenous women so that repair and reconciliation might follow."
8. Kyle Biedermann dressed up as 'Gay Hitler'
Republican representative for the Texas House of Representatives Kyle Biedermann came under fire in 2016 after donning a very offensive attire eight years prior. Outrage was generated by the Texan's choice of fancy dress attire, as he went dressed as the so-called "Gay Hitler," per Express News. Biedermann wore the ensemble while having a Nazi salute photo taken, which included a pink scarf and a jacket with the swastika on it. What's worse is that he doubled down and refused to accept responsibility after being called out. "What would be offensive about that photograph?" Biedermann asked. "This whole thing is about political correctness. It's not a problem for me whatsoever."
9. Kamala Harris sparked controversy for wearing Dolce & Gabbana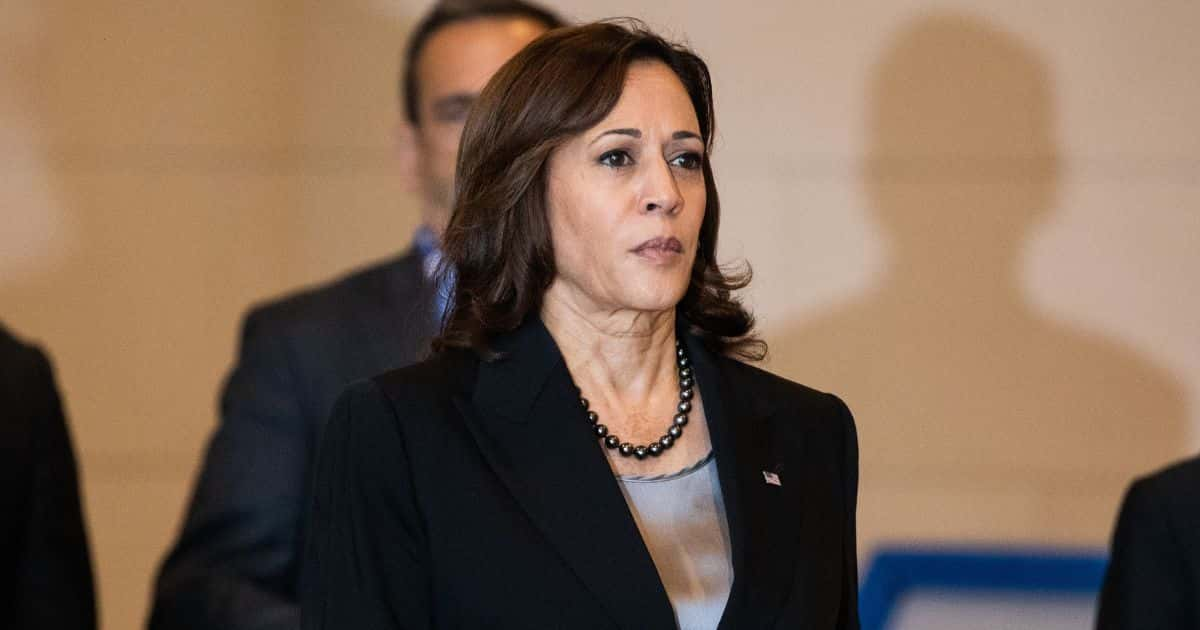 Kamala Harris sparked controversy in 2021 after being pictured wearing troubled Italian label Dolce & Gabbana on multiple occasions, per Independent. Several commentators criticized Harris' choice of apparel because the D&G founders have a lengthy history of racism, fatphobia, sexism, and even homophobia, although both Domenico Dolce and Stefano Gabbana are gay themselves. Vittoria Vignone, owner of the Kamala's Closet Instagram account, wrote on her Instagram Story that she was "disappointed" to see Harris wearing the label. "D&G is a brand surrounded by a lot of political controversy," she wrote. "Someone seriously needs to tell her team about Dolce and their problematic issues with race."
More from Inquisitr
Here's Why Trump's Lawyer Alina Habba Is Being Roasted Online for Her Resemblance to Melania Trump
When Jared Kushner Was Battling a Deadly Disease in the White House: "In the Hands of God"