8 Most Expensive and Luxurious Celebrity Homes That are Too Pretty To Be Real Here are the Most Expensive and Luxurious Homes Owned by Celebs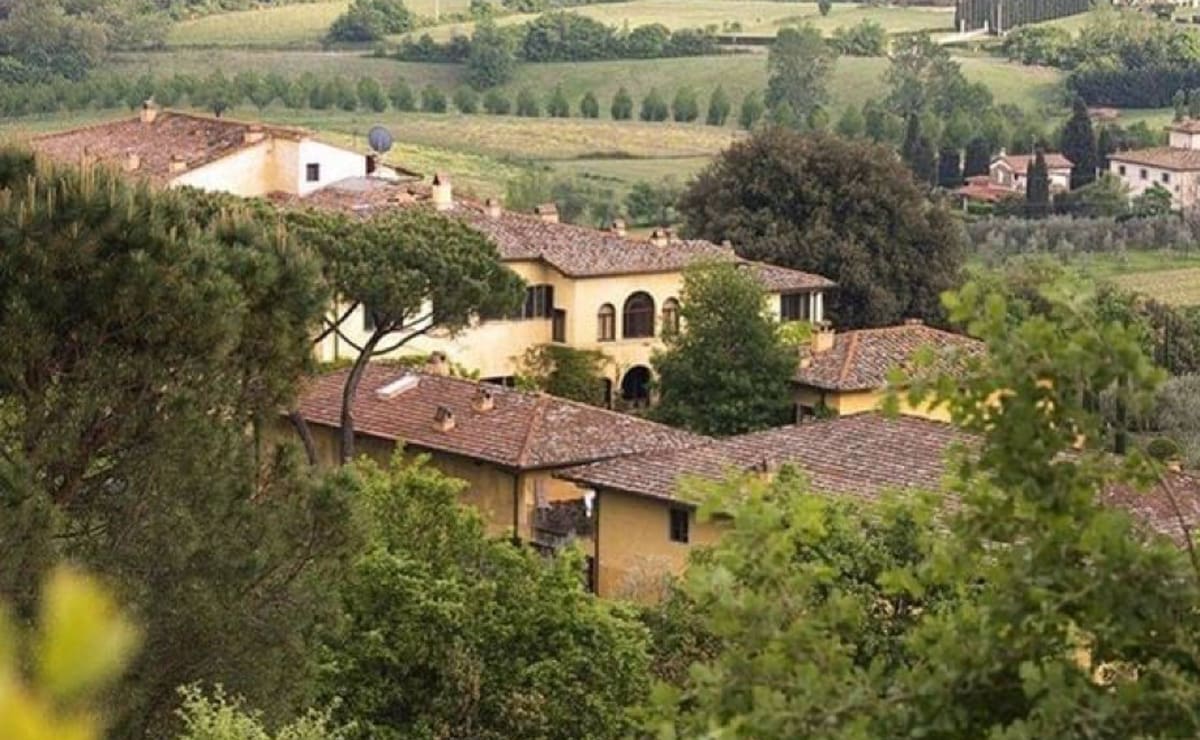 Also Read: Beyoncé's Touching Moment With Blue Ivy at 'Renaissance' Premiere Brings Tina Knowles to Tears
Homes are the epitome of creating some pretty incredible memories and reflect an individual's general aesthetic. When it comes to celebrity homes, given the wealth they've amassed through their hard work and passion, they are known to invest in some pretty lavish real estate. These homes aren't in the slightest bit 'ordinary'. The dexterous interior designs followed by the panache-fueled furnishings and amenities sometimes exclusive to their homes, transform a celeb's abode into perhaps a mansion of the Gods. As mentioned, celebrities shell out heaps of money to ensure their homes reflect their own unique identities. These don't in the least part of it come cheap. Take a look at some of the most breathtaking celeb homes and how much they're worth as per Style Magazine:
1. Taylor Swift's Beverly Hills Mansion
Taylor Swift is a global sensation who has managed to break record after record in her career and personal endeavors. Recently, she even officially entered the Billionaire's Club through the monetary funds from her Eras Tour. Of the many real estate she's invested in, this particular one steals the spotlight. Swift is the proud owner of a $25 Million Mansion located at the heart of Beverly Hills as per ABC. This 10,982-square-foot home lacks absolutely nothing and boasts caramel, taupe, and beige interiors. There are a total of six bedrooms, each fitted with interiors as per Swift's taste which are mostly a blend of rustic-meets-modernity. The five bathrooms within the mansion are equally filled with premium fixtures and a marvelous luxe bathtub to enhance the bathing experience.
Also Read: Nick Cannon Defends Beyoncé's Renaissance Premiere Look: "Kim Kardashian Wishes She Looked Like That"
2. Kylie Jenner's Holmby Hills Abode
Also Read: When Jay Z Confessed to Cheating On His Wife Beyoncé: 'In My Case, It's Deep'
Kylie Jenner is known for her extravagant lifestyle given her business empire and participation in the famed reality show The Kardashians. This mother of two can certainly more than afford a grand place for her to call home and unwind. While Jenner too has made some pretty amazing investments in real estate, this one is the most memorable. As per a 2020 article by TMZ, Jenner shelled out a whopping $36.5 Million for a one-of-a-kind home in L.A in Holmby Hills. As per sources, the home boasts a vast space of about 15,350 square feet in total and is known to have been built as a "resort compound". The home screams of exuberant interiors with its overall modern and radiant vibe. The money is well-spent given the facilities within the mansion. Highlights include a professional chef's kitchen, a state-of-the-art home theatre, an outdoor projection screen, an infinity pool with a super-functional gym with the latest equipment, and lastly a championship-level sports court.
3. Ellen DeGeneres' Tuscan Villa
Ellen DeGeneres is a phenomenal comedian with a wealth of knowledge in the entertainment industry. While she's often in the limelight, she does prefer a nice quiet place to wind down for the day. Since she's practically a millionaire, DeGeneres did not play it cheap when it came to purchasing this stunning home. This Wallace Frost-designed home is buried at the heart of California and is worth $45 Million!! This Tuscan-style villa is one with nature surrounding it, making it a beautiful location to reside in as per Mansion Global. This 17-acre property has about 10,500 square feet of space to spare. Apart from the 6 bedrooms, a highlight is its carefully constructed stone exteriors making it a masterpiece from the many homes she owns. Furthermore, while the interiors are plush with luxury, the home still has a very dainty vibe; the many fireplaces and the numerous libraries can transform one into a different time entirely.
4. The Skywalker Ranch
George Lucas is renowned for his role on Star Trek which went on to become a legendary sci-fi franchise beloved by all to this date. Although fans may expect the home named in his honor to look something out of a space comic book; full of techno lights, glistening LEDs, modern art, and more. The aesthetic it's maintained is the polar opposite of modern. But, that doesn't mean it's a mediocre-range-priced home. The home is reportedly worth a whopping $100 Million as per CBS News and is known as 'The Skywalker Ranch' which is often occupied by 'Skywalker Sound' staff. The home is located on a gargantuan proportion of land; 10.5 hectare estate. Don't let its humble appearance fool you because it's paradise. From a 300-seat theatre to a vineyard, and an incredibly glistening outdoor swimming pool which is perfect for a hot summer day, this place has a very relaxing aura to it.
5. George Clooney's Villa by The Lake
George Clooney is a veteran actor whose suave personality won the hearts of many across the world. Famously known for the Oceans franchise, Clooney is worth quite a lot and has invested in some beautiful homes across the globe. However, his famous villa situated by a calm and ethereal lake is truly breathtaking. This 18th Century Villa is located in Lagilo, Italy on the magnificent Lake Como. As per Milan Design Agenda, although it's an archaic home, the charm it holds is simply irreplaceable and a rare treasure to find. As per sources it is worth $100 Million and is not an ordinary villa. This extraordinary home has 25 rooms in total each with regal-style interiors that are certain to define the very bounds of luxury. For entertainment, it also has a theatre, and an infinity-style swimming pool, among many other facilities that make it worth every penny.
6. Bill Gates' Xanadu 2.0
Bill Gates made his fortune via his genius skills as a gifted software engineer who forged a new path for technology to progress. Through the years, Gates even reached the point of becoming the richest man in the world! But what he became even more renowned for was his stunning $130 Million home famously known as the 'Xanadu 2.0'. Like Clooney's villa, this not-so-humble abode is located by a lake with a beautiful pier and a gorgeous view of the sunset. But a highlight, however, is Gates reportedly imported sand from a Caribbean Island! He practically brought the island to him after he constructed a man-made stream and filled it with some beautiful salmon. The home is located at an ethereal location surrounded by the serenity of nature that spans over 66,000 square feet. Apart from the usual luxuries such as breathtaking interiors that go beyond the bounds of creativity, modern art, amazing furniture, and more, this home is simply a masterpiece by itself.
7. Brad Pitt and Angelina Jolie's French Villa
France is one of the most awe-inspiring locations given its beholding beauty in the countryside. Back then, the famous couple [who are now divorced] Brad Pitt and Angelina Jolie were beyond thrilled when they were able to invest in a Villa at Correns in the south of France known as 'Chateau Miraval'. Given the aforementioned location and its scenic views, this did not come cheap at all. But the former couple paid $160 Million to transform this villa into a modern vacation home to spend time with their family in 2008. The property is spread across 485.6 hectares and boasts of certain 'Roman architecture' in regards to the road. Although it's old, the home has about 35 large rooms with pleasant interiors and furnishings with walls adorned with French art. Although it's located a bit away from the city, guests and residents needn't look further as it has everything from entertainment to relaxation covered. The home has two massive swimming pools - Indoor and outdoor followed by a cinema, spa, and even a helicopter pad; this is luxury personified.
8. Jay Z and Beyonce's 'Paradise Cove'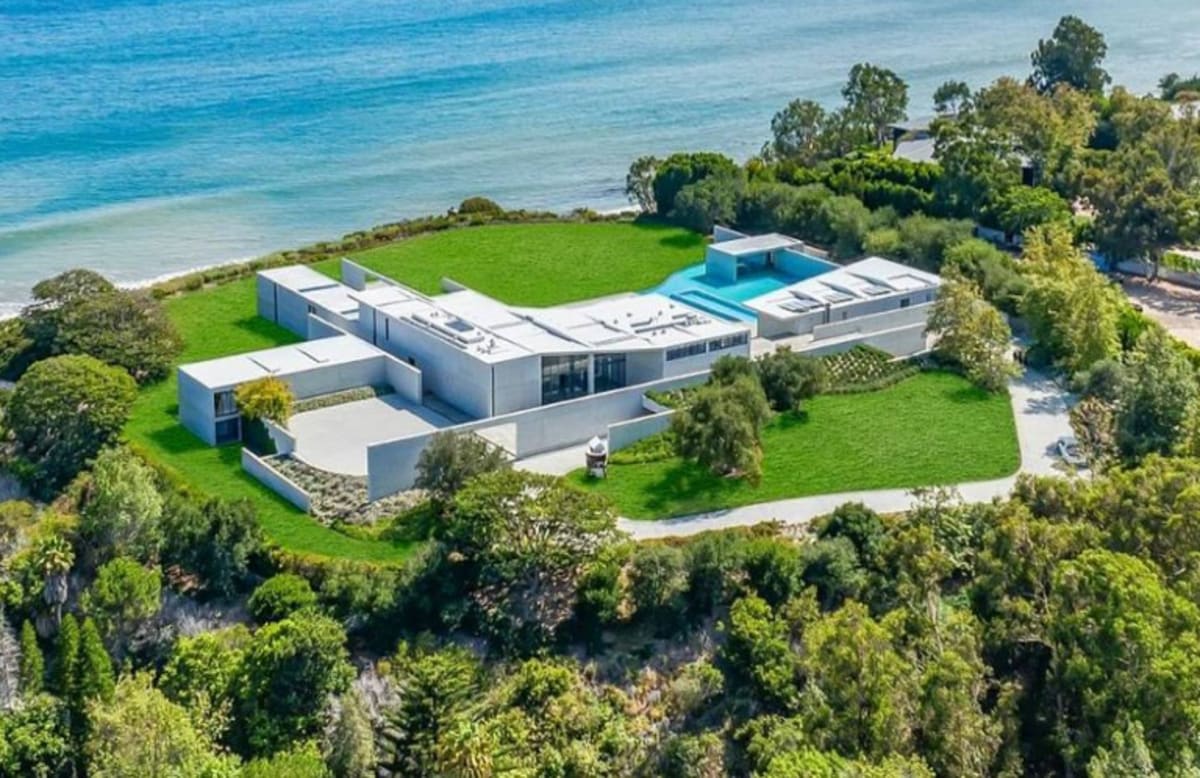 Last on the list is Jay-Z and Beyonce's extravagant mansion at 'Paradise Cove' located in California. Not only has this couple created waves through their endeavors but also managed to hit a jackpot with real estate. This mansion tops the list in terms of price as it's worth $200 Million!! As per TMZ, this is the priciest home ever to have been sold in California. The home is right beside an enchanting shoreline with azure waves crashing by, the best part? The beach is absolutely private and exclusive to the property. The scenic beauty followed by the ultra-luxe amenities within the compound itself make it noteworthy. This 30,000 square feet home was designed by famous Japanese architect Tadao Ando and took about 15 years to construct for William Bell. The highlight of this home is its 'all concrete' structure with every corner standing as an innovation of luxury in tandem with creativity. From the astounding luxe rooms to the amenities such as a swimming pool, gym, motor court, an expansive driveway and so much more. The home is an augmented masterpiece that has managed to push the creative bounds of architecture, hence the price tag.
More from Inquisitr
When Beyonce Shared the List of Things She Wanted to Accomplish Before Turning 40
Blue Ivy, Beyoncé's Daughter Works Harder on Dance Moves at Renaissance Tour After Nasty Criticism