A powerhouse matchup of NFC payoff teams streams live online Sunday, as the Arizona Cardinals watch the Green Bay Packers invade their own house looking to get the upper hand in the postseason seedings when the NFL begins its playoffs on January 9. A win for the Cardinals seals a first-round bye and at least the second seed in the NFC.
But a Packers victory could lead to Arizona dropping to the third seed — if the Packers can finish off the season a week later by defeating their divisional rivals, the Minnesota Vikings, while at the same time the Cardinals fall to the Seattle Seahawks, who recovered from a 2-4 start and have won their last five in a row.
The Cardinals, who missed out on a potential Super Bowl bid in 2014 thanks to injuries, not only to quarterback Carson Palmer, but backup Drew Stanton as well, have kept the injury problems to a minimum this year. But they must now go into the final two games of the regular season and the playoffs missing 2013 First Team All-Pro defensive back Tyrann Mathieu, who will miss the remainder of the season and postseason with a torn ACL.
The Packers managed to nail down their seventh straight playoff appearance with last Sunday's 30-20 downing of the Oakland Raiders, despite some offensive struggles and an uncharacteristically subpar stretch from quarterback Aaron Rodgers. Rogers has posted passer ratings under 70 in three games this season, including last week when he recorded a 68.8 rating completing 22 of 39 attempts, 56.4 percent, with one touchdown and an interception.
The win was Green Bay's third straight — following a dismal sequence in which they lost four of five games.
---
RELATED STORIES: 
Green Bay Packers News: Eddie Lacy Benched For Missing Curfew 
Aaron Rodgers Girlfriend Problems? Olivia Munn Blasts Reporter Who Blamed Her For QB Struggles 
Arizona Cardinals Lose Tyrann Mathieu For Season
NFL: Arizona Cardinals Beat Injured Minnesota Vikings, Clinch Playoff Berth
---
Check out a preview of the Packers vs. Cardinals game in the video below.
To find out how to watch the Green Bay Packers vs. Arizona Cardinals Sunday afternoon game live online, see the streaming information in the final paragraph of this article. Kickoff is scheduled for 2:25 p.m. local time at University of Phoenix Stadium in Glendale, Arizona, on Sunday, December 27. That's 4:25 p.m. for Eastern Time Zone viewers, 1:25 p.m. Pacific.
Most of the country will receive the Packers-Cardinals game to stream live online, though some regions of the midwest and northwest will only be able to watch the St. Louis Rams vs. Seattle Seahawks live online. See the map below, courtesy of 506 Sports, to see which regions, shaded in pink, will stream Green Bay vs. Arizona.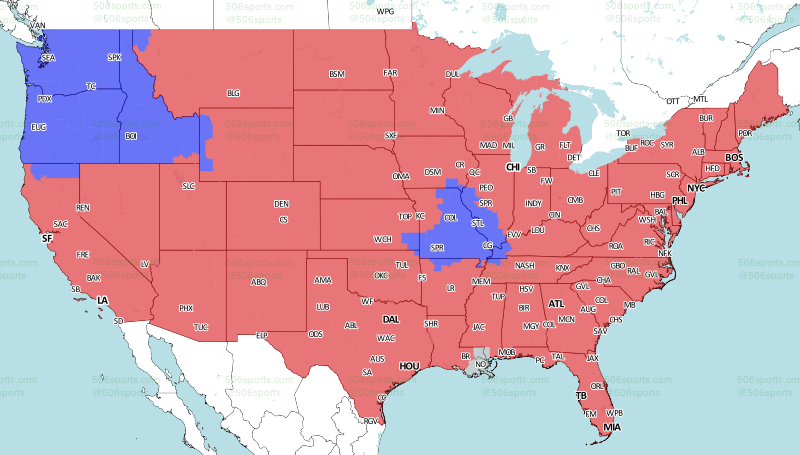 If the Cardinals win, they would claim the first playoff bye in their history — a history of 95 years going back to their founding as the Chicago Cardinals is 1920. They have never won a Super Bowl, and in the pre-Super Bowl era, have just two NFL championships to their credit, last winning in 1947.
"It's a huge setup for a first-round bye," Arizona safety Rashad Johnson said on Friday. "Two wins to get into a Super Bowl than three, and I'd rather go two instead of three. For us, we want to get a home field game. We know how great our crowd is and how well we play at home. But at the end of the day, none of that matters if we don't take care of Sunday."
Las Vegas sports books have installed the Cardinals at home as a 4.5 point favorite over the Packers.
Watch the Green Bay Packers Vs. Arizona Cardinals NFC battle for playoff supremacy live online from University of Phoenix Stadium in Glendale, Arizona, by going to Fox Sports Go at this link, or by downloading the Fox Sports Go app to watch on tablet computers. NFL games on Fox Sports Go are not available to watch on smartphones, due to contractual agreements. But Fox Sports Go also streams live on the Amazon Fire TV device, allowing fans to watch the 75th Packers vs. Cardinals game in the 94-year-long rivalry live online on their TV sets.
[Featured Image By Jonathan Daniel/Getty Images]