UFO Photographed By Guy Stuck In Houston Traffic Jam, Sighting Makes Local News — Convinced?
A UFO sighting in a Houston suburb was apparently convincing enough to make the local news, when a man stuck in a traffic jam decided to pass the time by pointing his cell phone camera at the sky and seeing what was up there. One of the photos he snapped, he believes, reveals a mysterious flying object in the sky.
"I found out it was a UFO, it absolutely was one," Alfonso Servin, who took the picture said, as quoted by the local ABC Channel 13 News.
Back on February 20, Servin had just left work after a day on the job in a Magnolia, Texas, grocery store when he found himself stuck in an unbearable traffic jam — a fairly regular occurrence in the area.
Servin sat in his car for about a half-hour, not moving, when he decided to pass the time by snapping pictures of the sky with his phone.
What he photographed was this…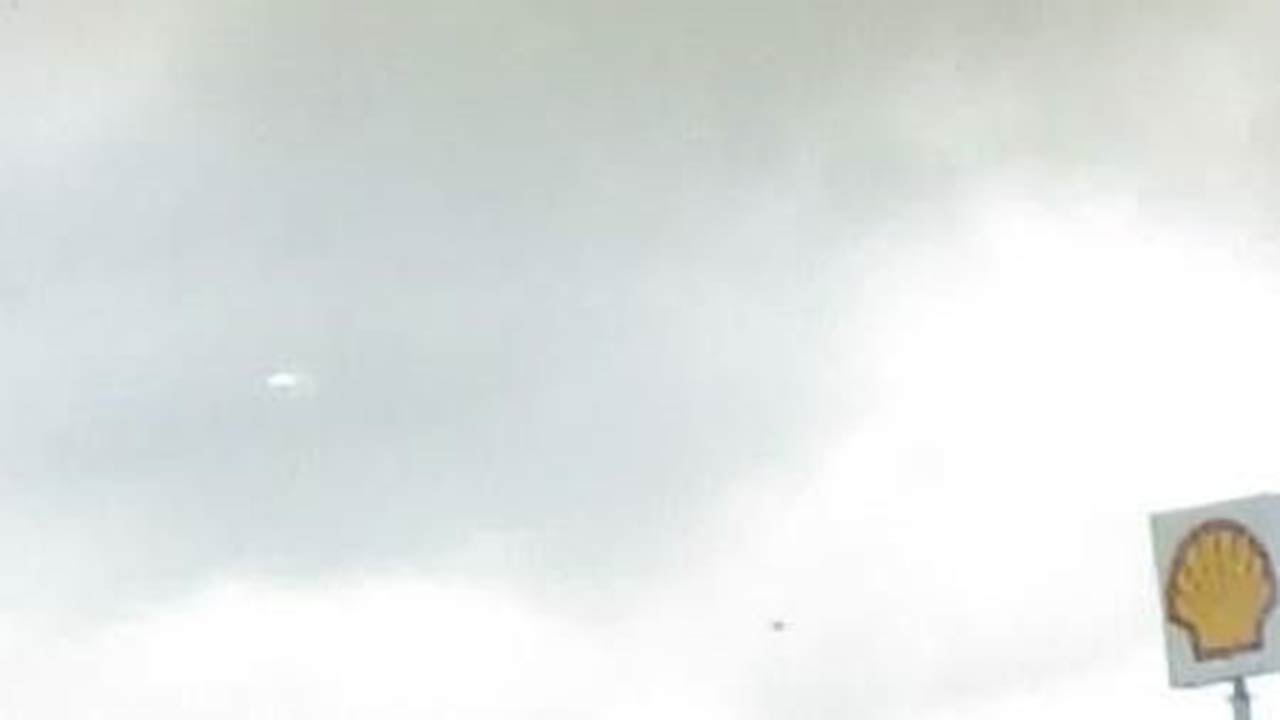 A close examination of the photo reveals a white dot to the left, about halfway up the image. At first, it doesn't look like much.
But the odd little anomaly in his cell phone photo did not escape Servin's notice — perhaps because he's no stranger to looking for UFO sightings. According to Your Houston News, the traffic jam photo was not the first UFO sighted by the grocery store employee.
In fact, Servin told the local news site that he has previously spotted not just one, not just two — but five UFOs, including two in one week last November.
So Servin enlarged and digitally colored in the object that he believes he photographed against the cloudy sky that day in late February. And here is what the UFO looked like once Servin had finished enhancing the photograph:
The photograph convinced one prominent UFO watcher, Scott Waring of the popular UFO Sightings Daily site.
"This UFO is hard to see unless you take the original and turn it into a negative effect. Then we can see there is something big there," Waring wrote on his blog. "This has the classic disk shape, and it looks like its semi cloaked to look like its surround clouds. Meaning it reflects the surround white-grey cloud colors off of it. Nice catch by a guy just waiting in traffic."
The Inquisitr in January reported on the sighting of a "slow moving fireball" UFO over the Houston area, as well. Read that report at this link.
While there were no other eyewitness reports of a UFO over Magnolia on February 20 — a fact that Servin says he finds surprising — there was a sighting over Asherton, Texas, about 300 miles to the west of Magnolia.
That sighting was reported by an oil field worker, to the Mutual UFO Network (MUFON).
"I observed other oil field workers looking up in sky I started seeing bright orbs moving across the sky," reported that UFO watcher, who was not named by MUFON. "Prior to the sighting myself and several other workers heard a loud boom across the field from fracking site."
What do you think of the traffic jam UFO photos from outside of Houston? Is it the real deal, or just a case of one man seeing what he wanted to see?
[Top Image: Dave Einsel/Getty Images]
[Interior Images: Alfonso Servin]