It's time for Queen Elsa of Arendelle to pack her bags and retreat to her ice castle once again. Police in Harlan, Kentucky, have issued a warrant for the Disney's Frozen princess after a harsh and frustrating winter season.
Elsa's "warrant" was issued on Harlan City Police Department's Facebook page February 18 with her description being, "blonde female last seen wearing a long blue dress" and a reference for Elsa's need to burst into song.
Disney's' Frozen is an animated musical about two sisters, Queen Elsa and Princess Anna. Elsa has a magical power that turns things to ice. She is able to keep it hidden until things go awry during Anna's coronation ceremony. Elsa inadvertently freezes their entire city and, afraid that she will harm her sister and the other villagers, she flees. Anna is convinced Elsa holds the key for thawing the city and sets out on a quest to find her.
Of course, the Kentucky town's warrant for Elsa is all in good fun as the state copes with another severe cold snap this week. Local media expects temperatures to drop well below frozen to a negative thirty degrees, after factoring in the windchill.
Kentucky's Harlan City Police went on to provide a more serious message following the joke warrant, stating that their singling out of Elsa was meant to be humorous but safety in such severe weather is a serious topic. Officials are warning residents to avoid driving except for emergencies and to "watch out and help others who may need help."
Elsa is in good company for shouldering the burden of responsibility when it comes to the freezing temperatures and heavy snow. It turns out this wasn't the first warrant issued for a celebrity in the matter this winter. Just last week, New Hampshire's Merrimack Police Department put an arrest warrant out for famed Pennsylvania groundhog Punxsutawney Phil.
"He told several people that Winter would last 6 more weeks, however he failed to disclose that it would consist of mountains of snow! If you see him, do not approach him as he is armed and dangerous."
While the police in both cities try to find humor in the situation, residents who are currently bundled up and hunkered down in the snow covered, frozen states undoubtedly will grumpily tell you that Phil and Elsa still appear to be on the lam as posts like this one make the rounds on social media.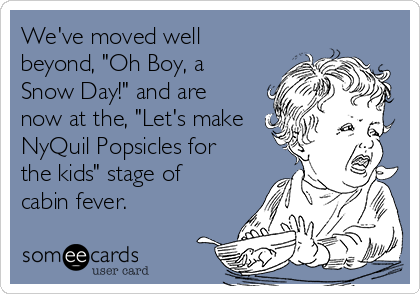 It's okay, Elsa and Phil. We know that spring will be here eventually and you'll be able to go back to your fictional lives.
[Image courtesy of the Columbus Dispatch]