10 Women Who Have Been Romantically Linked with Harry Styles Over the Years These are the 10 Most Famous Women Harry Styles Dated in His Early Days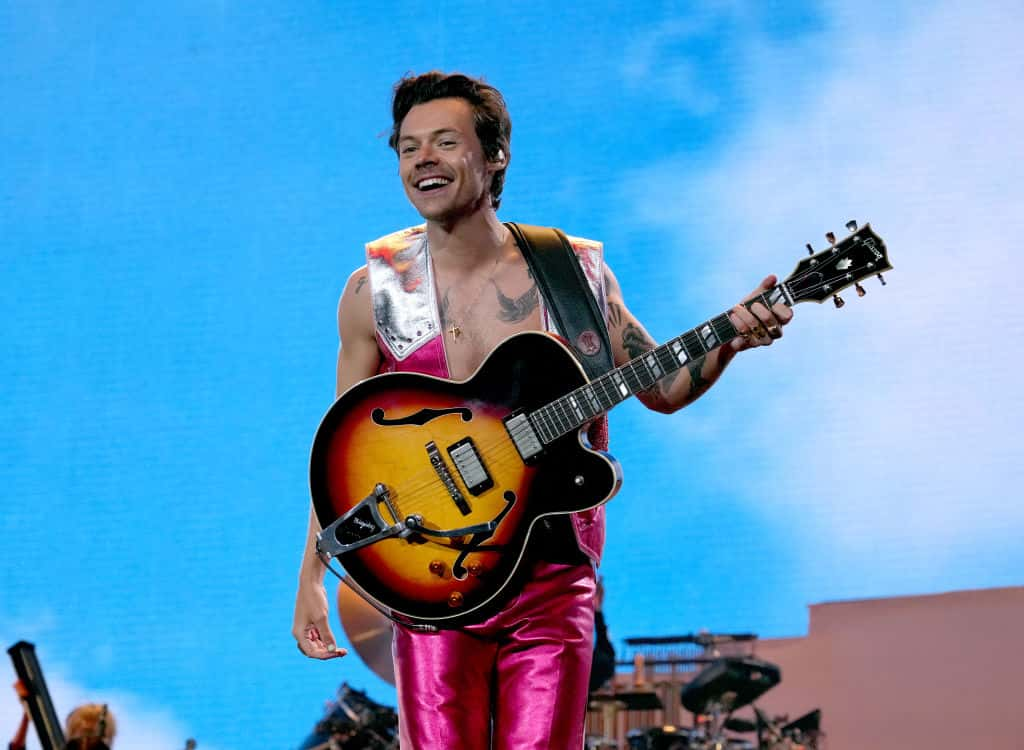 Also Read: Here's An Adorable Story About How Harry Styles Once Ended Up Feeding A Fan's Pet Fish
Harry Styles has been known to be quite the charmer with women ever since his musical career began. His popularity skyrocketed when he was a part of the famous boy band One Direction, and it has only been booming ever since. The As It Was singer's fame was propelled further after his debut as an actor in Dunkirk, Christopher Nolan's legendary war-themed movie. Styles' charisma, incredible voice, and vigor have managed to capture the hearts of fans throughout the world. But it also caught the attention of some pretty talented women in the entertainment industry. So, let's take a look at the ten most accomplished women Styles has been with in the past.
1. Kiko Mizuhara
Queer Eye: Japan host Kiko Mizuhara met Styles back in 2019 after frolicking through Tokyo city. Sparks between the two flew when they went on a karaoke escapade amid the fast city. Apart from being a host for the famous show, she's also a gifted actress, model, and singer. Although they both appeared to be hitting it off quite well, unfortunately, things didn't pan out well. In the end, after Styles made his return to the States, the romance seemingly died down, and they broke up due to it.
Also Read: Taylor Swift Fans Wonder if Harry Styles Is the 'Lying Traitor' She Sings About in New Song
2. Nicole Scherzinger
Also Read: Harry Styles Paused Midway During His Concert to Convince a Fan to Dump Her Cheating Boyfriend
Nicole Scherzinger is well-known for being a judge on Australia's Got Talent since 2019. Before that, she held the same position on the now-discontinued show, The X Factor, from 2006 until it was canceled in 2015. She's one of the numerous 'older' women who has been in a relationship with Styles. According to The Daily Mail, she hooked up with Styles when he was merely 19 years old and she was 35. However, information about their secret romance remained hidden until 2015.
Next on the list is none other than supermodel and reality television star Kendall Jenner. According to People, the two had supposedly been in an on-and-off relationship for some time before finally going their separate ways. The pair first interacted back in 2013 at West Hollywood. However, after a skiing trip, a few yacht parties, and even a trip to the Carrabien to bring in the new year, the couple called it quits in 2016. According to Rolling Stone, in 2017, it was revealed that Styles dedicated his debut album to the supermodel.
4. Georgia Fowler
Another person who played a critical role in the success of Styles' debut album was model Georgia Fowler. The pair was speculated to have been together during the time he and Jenner were supposedly taking a break in 2015. Speculations of him moving on from Jenner began after the New Zealand supermodel shared glimpses of them playing the famous word game Scrabble. Although neither of them addressed rumors that Styles wrote Kiwi for her, the only thing he did mention was the fact that she was 'a huge part of the album.'
5. Sara Sampaio
Since the Watermelon Sugar singer was allegedly not in a relationship with Fowler, a sensual picture of him with Victoria's Secret Model Sara Sampaio surfaced in 2015, and the two were spotted sharing a sweet kiss in New York. Shortly after, the paparazzi even snapped a picture of her leaving Styles' residence in the Big Apple but in the same clothes as the night before. However, much like Fowler, neither of them confirmed being in a relationship with the other.
6. Erin Foster
Erin Foster was formerly involved with the famous Hadid family since her father was married to Yolanda Hadid between 2011 and 2017. Although Styles and Foster had a 12-year age gap between them, it didn't stop them from pursuing each other romantically. However, the two apparently never really got into an serious relationship due to numerous reasons, and he reportedly went on a handful of 'casual dates' before calling it off. Foster, however, moved on with her life, got engaged, and is a very successful entrepreneur today.
7. Kimberly Stewart
Before he was briefly involved with Foster, Styles dated the very person who introduced the two in the first place. And that phenomenal woman was Have You Ever Seen the Rain singer Rod Stewart's daughter, Kimberly Stewart. The former couple appeared to have gotten serious in the short time they were together. In 2013, Kimberly confirmed their relationship and revealed that Styles met with the family. "Harry's car was here in the morning. Let's just put it that way," she gushed back then.
8. Emily Atack
The Inbetweeners actress Emily Atack and Styles met when they were both significantly young; he was only 16 and she was 21. Due to the age gap, she revealed feeling terrible about finding herself infatuated with a teenager. On Twitter, which is now known as X, she expressed her thoughts on the platform. She wrote at the time, "Does Harry from One Direction HAVE to be 16?" Even though they did see each other in 2012, it was reportedly strictly casual. Long after they decided to go their separate ways, Atack shed light on the relationship they shared. "We were never boyfriend and girlfriend... We had a short-lived thing that was just a bit of fun."
9. Caroline Flack
Styles is known for nonchalantly dating women who were much older than him, but it supposedly all began with Caroline Flack, whom he encountered on the X Factor. At the time, he was 17 years old, whereas she was a 31-year-old woman in 2011. Their 14-year age gap is what astounded fans of theirs. Although they appeared to have been making it work, due to harsh criticism and backlash, their relationship fell apart. Flack even noted in her autobiography that the reason they never worked out was because of the scrutiny and insults that they had to endure.
10. Taylor Swift
This list would be utterly incomplete without mentioning one of the most influential and gifted women in the music industry. Swift and Styles had the ultimate whirlwind romance. They were engaged in a blissful romance from 2012 until 2013. Both their fandoms were dearly rooting for their relationship to work out. Their love story might've been a very short one, but it enabled them to deliver some pretty big hit songs. Swift produced three banger songs, namely, I Knew You Were Trouble, Style, and Out of the Woods. Styles dedicated Perfect and Two Ghosts in her honor.
More from Inquisitr
Taylor Swift Seemingly Wrote the Song 'Style' After She Started Dating Harry Styles
Harry Styles Is Smitten By New Love Taylor Russell, 'Definitely Sees a Future'