Taylor Swift's New Friend Brittany Mahomes Would 'Love to Set Up' Sophie Turner After Her Divorce Brittany Mahomes, the wife of Kansas City Chiefs quarterback Patrick Mahomes, is ready to extend a helping hand to her new friend Sophie Turner, who is newly single after her split from Joe Jonas. Mahomes, who has become closer to Turner through their mutual friendship with Taylor Swift, is eager to 'play matchmaker' for the Game of Thrones actress.
Also Read: Sophie Turner Finds New Romance in Peregrine 'Perry' Pearson After Joe Jonas Divorce: Sources
A source exclusively revealed to Us Weekly that Brittany knows Turner personally, having hung out with her during one of the Kansas City Chiefs games. Brittany's husband, Patrick Mahomes, is a teammate of Travis Kelce, who has been romantically linked to Swift since September. It seems like love is in the air, with Brittany eager to connect Turner with one of Travis Kelce's friends following her split from Jonas. As per the insider, Brittany thinks Turner is a 'doll' and she 'would love to set her up' with one of her husband Patrick's friends.
Turner and Swift have a friendship that has strengthened recently, especially after Turner's separation from Jonas. When Turner needed a place to stay while dealing with custody arrangements in New York City, Swift generously lent her apartment to the Dark Phoenix star, as per Page Six. Recently, the trio of Mahomes, Turner, and Swift enjoyed a girls' night out in New York City. Gigi Hadid, Selena Gomez, and Cara Delevingne also joined in on the fun. Mahomes seems to be having a blast with her newfound friends, appreciating their down-to-earth nature. The insider disclosed that Mahomes is keen on expanding her friendship circle with these amazing women.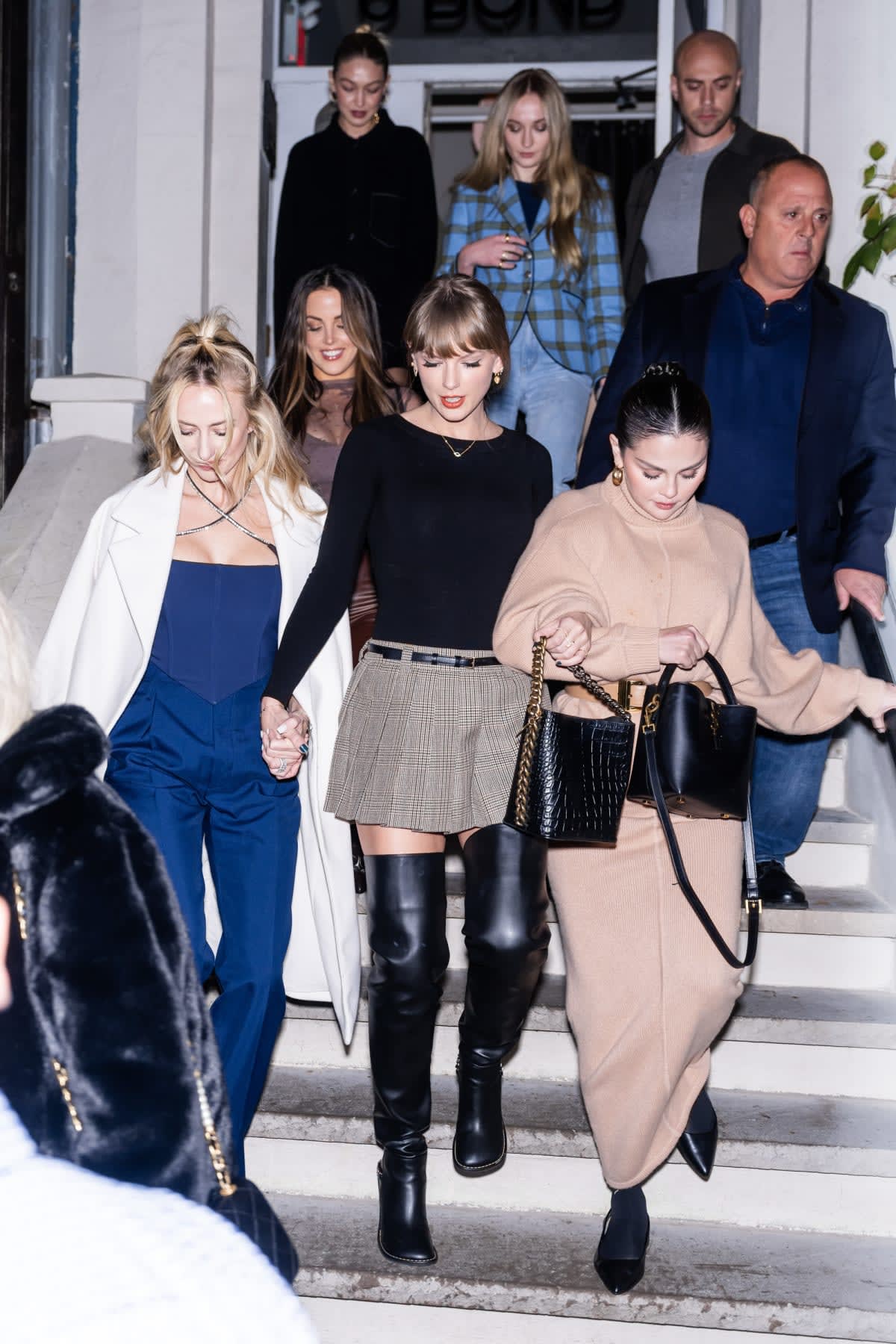 Also Read: 'The View' Host Sunny Hostin Feels Joe Jonas is "Jealous" over Sophie Turner's Kiss with Alleged New BF
Mahomes and Swift have formed a strong friendship, fueled in part by their respective partners' shared success on the football field. They have been seen enthusiastically supporting their significant others at several Chiefs games. The two women's camaraderie was on full display when they celebrated a Chiefs touchdown with a unique handshake at a recent game against the Los Angeles Chargers. Besides, most reports highlight that Mahomes is delighted by her growing friendship with Swift. They've had a few hangouts and have become quite close in a short period. Mahomes admires Swift's sweet and down-to-earth personality, and the two seem to get along well.
---
I bet you Mahomes admires Swift, even. & is so stoked to be friends with someone she is a fan of.
All speculation. But Brittany doesn't come across as a spotlight monger. But I bet they not love the spotlight. There is nothing wrong with that & who says ppl gotta act greedy.

— Atheo Genesis (@AtheoGenesis) October 1, 2023
---
Also Read: Sophie Turner And Joe Jonas Welcome Their First Child
Mahomes and Turner's friendship began to take shape in September when Swift invited them, along with Blake Lively, to dinner in New York City before a Chiefs game. The next day, they cheered on the Chiefs, alongside Ryan Reynolds, Shawn Levy, Sabrina Carpenter, and Hugh Jackman, at the MetLife Stadium.
---
I need Brittany Mahomes to wear a wire so I can hear the conversation between Gigi Hadid and Sophie Turner

— janie (@janiePHL) November 5, 2023
---
Another source revealed that Turner decided to attend the NFL game to meet new people as she tried to navigate life as a newly single individual. Her presence at the Chiefs game with Swift was not merely coincidental. As the insider pointed out, "One of the reasons she [went] to the Chiefs game with Swift is because she's newly single, and Travis has a lot of single friends who play in the NFL."
More from Inquisitr
Pregnant Sophie Turner Looks Adorable In A Bubblegum Pink Mini Dress
Pregnant Sophie Turner Is Reportedly Due In The 'Next Couple Of Weeks'