North West's Solo Interview Creates Waves on the Internet: "One Day I Want to Own Yeezy and SKIMS" North West, the 10-year-old daughter of Kim Kardashian and her ex-husband Kanye West recently gave her first solo interview. The interview is breaking records with her stupefying answers and confident stature. The exclusive feature in i-D's Fall/Winter 2023 issue reveals the bright ambitions, interests, and fun attitude of young Northie.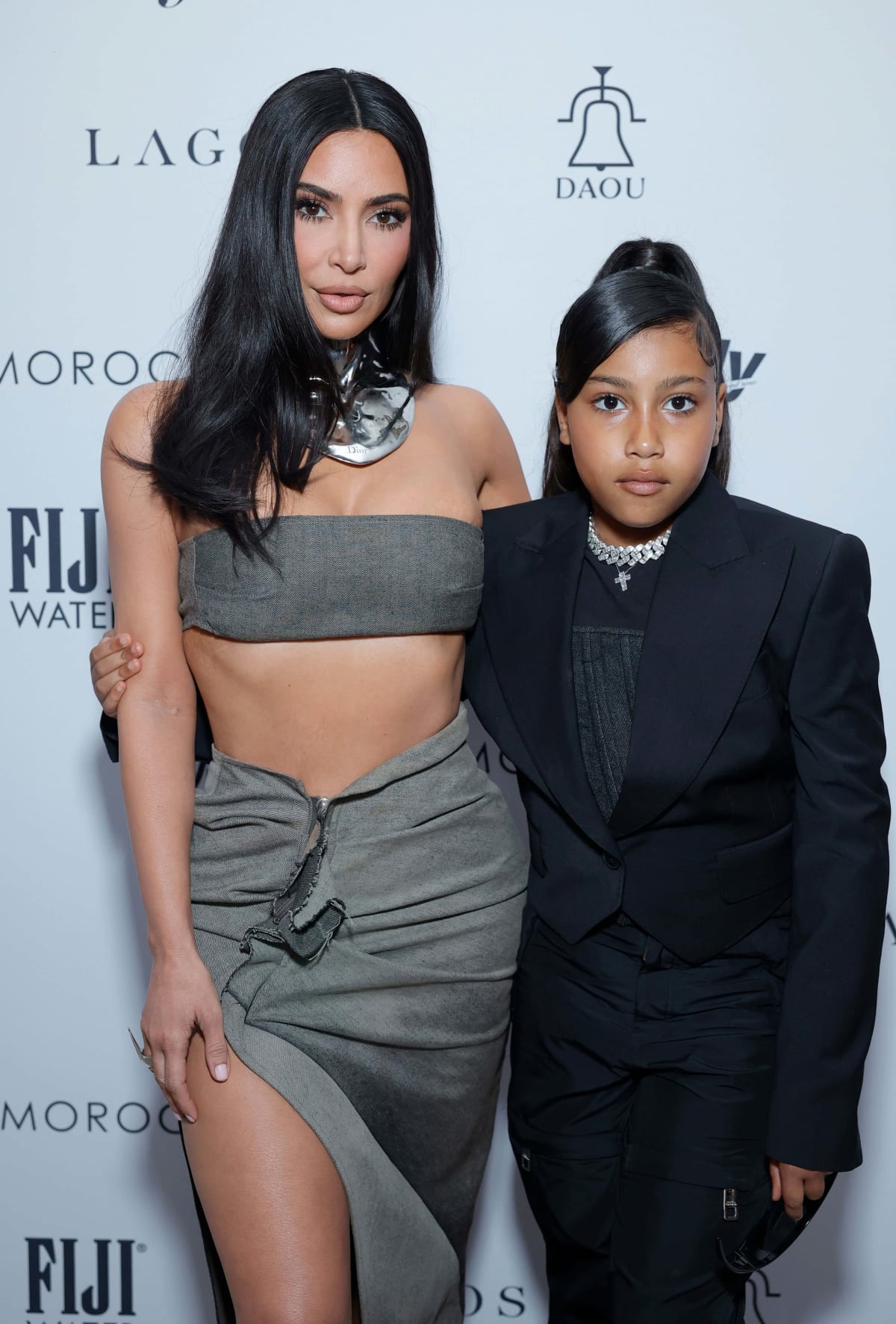 Also Read: Daughter North's Practical Abilities Cause Kim Kardashian to Take Another 'Humbling' Hit
North confidently gave a peek to her followers into the big aspirations she was going to follow. When asked the areas she wishes to dominate when she grows up she responded, "A rapper, a basketball player, and I'm going to make artwork that I sell. Also, one day I want to own Yeezy and SKIMS, and I want to be a business owner." North clarified that her interests and goals are both a reflection of talents she received from her celebrity parents.
"A basketball player, a rapper, um... Well, when I was seven, I wanted to be a boxer. But now I don't want to be a boxer. I'm going to do art on the side," she said. Sharing her future plans she exquisitely revealed, "When I'm, like, thirteen, I want to walk dogs, to make money to buy art supplies, because everything around here is so expensive." North's inclination towards art is not new in the family as her proud mum Kim often shares her artwork over social media leaving everybody in awe.
---
View this post on Instagram
---
Also Read: Fans Slam Kim Kardashian for Encouraging Daughter North West's 'Rude and Disrespectful' Behavior
North also continued to share a secret project for her mum's upcoming birthday. Hinting at it she said, "Last week I finished a landscape and a sunset and I made a little circle thing," as she seems excited to pursue her dreams and make her family proud. Despite her exposure to the glitzy world of fame, North remains discerning about when and how she engages with the public eye. While she admits to occasionally wanting to share her art, she is quick to clarify that it won't be at the behest of paparazzi. Her autonomy over her public image, even at such a young age, suggests a level of maturity beyond her years.
---
View this post on Instagram
---
Also Read: Kanye West Had a 'Break Down' After Hearing Daughter North West Yearned for a 'Simple Life' With Him
Pointing at her five-year-old sister, Chicago, she playfully shared insights into attending her sister's fashion show, hosted right in the family closet—a testament to the unique and glamorous upbringing these celebrity offspring experience. Meanwhile, mum Kim Kardashian is proud and shared the snaps from her eldest daughter's photoshoot post the interview. The post captioned, "NORTH FOR I-D Photography @willyvanderperre Editor-in-Chief + Fashion @alastairmckimm," was loved by fans.
---
View this post on Instagram
---
Followers poured in compliments like user @bootlegrocstar commented, "The rise of next Kardashian generation 🤍" While others threw in sarcastic comments like user @misslina2549 said, "Kayne is seething. you got her doing one-eye symbolism. already sold your poor babies into the industry before they even had a chance to live life."
More from Inquisitr
This is Why Kourtney Kardashian Couldn't 'Trust' Niece North West During Pregnancy
Kim Kardashian's Hidden Disapproval of Kendall Jenner's Met Gala Outfit Exposed by Daughter North West