Lady Gaga Shares Bare-Faced Selfies for the Launch of Her Beauty Line Mother Monster a.k.a Lady Gaga shared two 'au naturel' bed-head selfies on Instagram to commemorate the launch of her beauty line Haus Labs in the UK. The Judas songstress can be seen wearing a powder pink sweatshirt as she is lounging on the bed with her blonde hair open. Gaga celebrated the occasion by praising the beauty and fashion scenes of the UK.
She captioned the post - "I've always been so inspired by beauty and fashion from the UK, and how bold and innovative it is. I started @hauslabs as a company that is also bold and innovative in its artistry and formulas, combining beautiful colors with skin-loving ingredients that make our makeup good for your skin! I am so honored to have launched in @sephorauk and to see all of the incredible love from the beauty community there. I love you all and am so happy to see you creating with our products!"
---
View this post on Instagram
---
Gaga's de-glam avatar has certainly taken her fans by surprise since the Applause singer is used to creating a sensation on the red carpet with her dramatic styles. In a recent bare-faced video, she almost looked unrecognizable while promoting her beauty brand.
Fans were baffled and exclaimed that the Poker Face singer resembled Miley Cyrus. Some went on to point out how she looks like someone cosplaying Lady Gaga. Many fans have also had it hard trying to figure out whether she's Lady Gaga or Miley Cyrus. A fan penned, "I was literally about to say that this person looks like Lady Gaga until I saw the name."
According to Popsugar, Gaga soft launched her beauty line Haus Lab in 2019 with an alluring post. It showcased the pop diva in emerald cat eye makeup, flamingo-pink blush, and matching lipstick. Haus Lab is known to sell beauty products including foundation, cheek colors, lipsticks, balms, and glosses.
In a 2019 interview with Harper's Bazaar, Gaga's makeup artist, Sarah Tanno, let in on a beauty secret. She shared that the Just Dance singer introduced her to 'argan oil' to remove makeup. "If you have heavy eye makeup or waterproof products, just straight-up argan oil is really great to just remove everything and melt it off. I learn so much from Gaga!"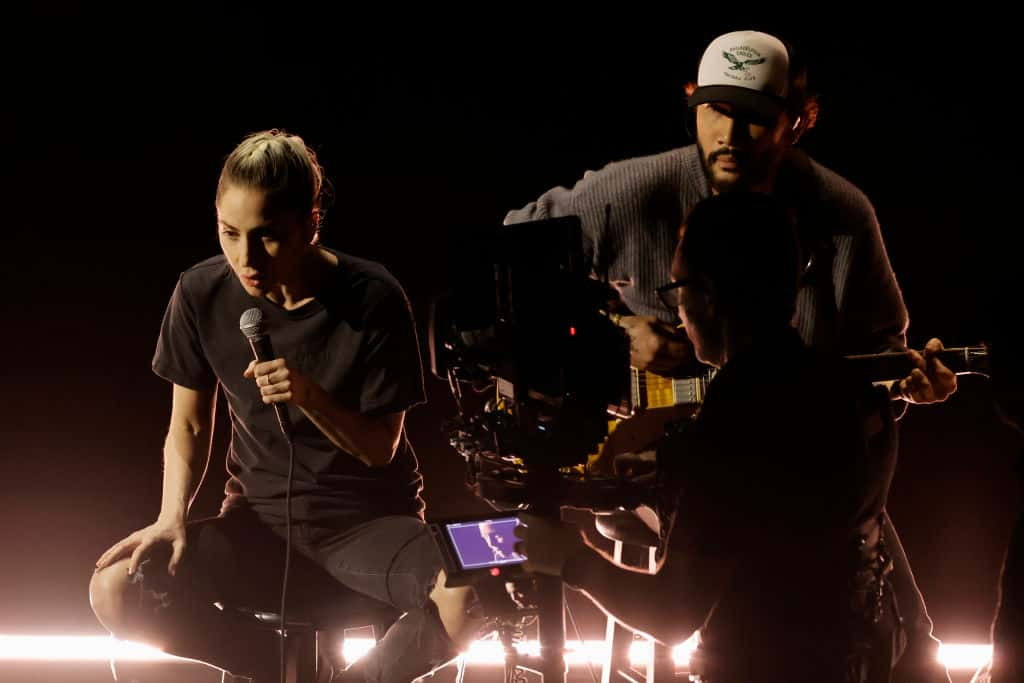 However, this is not the first time that the Grammy winner has stunned her fans with her makeup-free look. She rendered a heart-warming performance during the Academy Awards in 2023 with a raw rendition of Hold My Hand from Top Gun: Maverick which was nominated for Best Achievement in Music Written for Motion Pictures (Original Song).
Gaga performed with a 'no makeup look' wearing a black T-shirt, skinny jeans, and sneakers. Praising her natural beauty once again, makeup artist, Sarah Tanno told PEOPLE, "Everything about it was authentically her. She wasn't afraid of seeing any imperfections, she actually welcomed them."