Kylie Jenner Is Set to Launch New Brand Khy, Filed Two Trademarks in Secret Before the Grand Launch "Can't stop, won't stop," Kylie Jenner is set to expand her flourishing business empire as the fashion mogul prepares to introduce her new brand. The 26-year-old self-made billionaire is seeking opportunities on the horizon with her new business ventures. And before the grand launch, she also filed for trademarks in secret.
Also Read: Kylie Jenner Tells Jennifer Lawrence About Her 'Opposite Dynamics' With Sister Kendall Jenner
The youngest of the Kardashian clan, Jenner, cemented herself as a successful entrepreneur in the beauty industry. However, she's all set to chase her future business prospects, which include her newfound company, K Brand Inc., for which she has already filed two trademarks: Khy and Khy Studios.
Jenner filed the two trademarks in May 2023 and incorporated K Brand Inc. in February 2023. The beauty mogul's plans for Khy include goods under these categories: Watches, Keychains, Body jewelry, Costume jewelry, and so on. But hold your horses, there's more.
The trademark also includes bags, wallets, loungewear, clothing, lingerie, and more. The plans for the physical store also feature apparel, footwear, handbags, jewelry, and fashion accessories." The source told the outlet, "We are the agent for service of process for K Brand Inc. We are not involved in their day-to-day operations," reported The U.S. Sun.
Also Read: An Inside Look at Kylie Jenner's Clandestine Trip to Paris in Support of Timothée Chalamet
Previously, Jenner left a subtle hint on her social media handle. The Kardashian star posted a photo of herself sitting on the floor wearing a black trench coat and bright red footwear. Though she gave no details about what the post entailed, she wrote a two-word caption alongside, which read, "Meet Khy."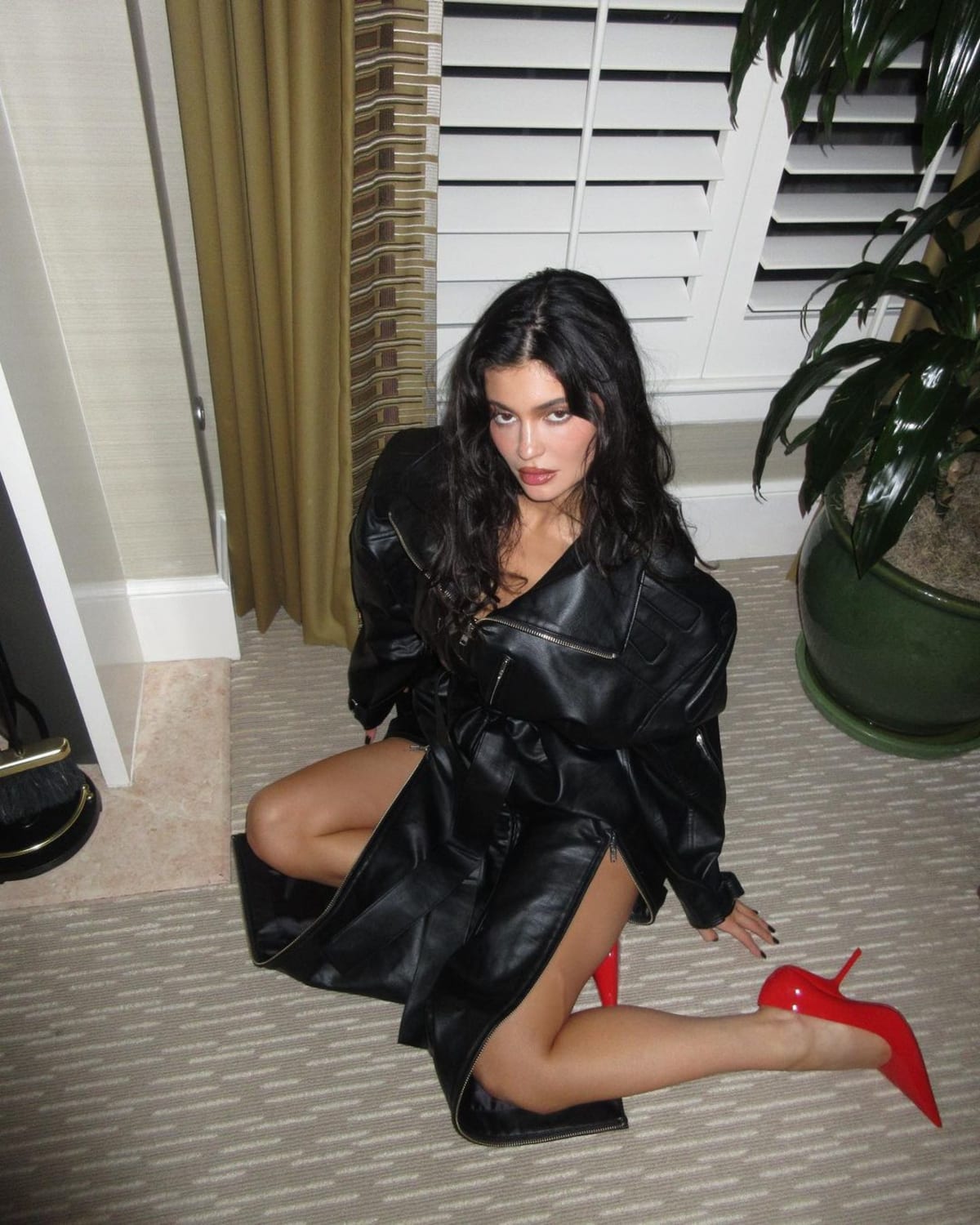 Also Read: When Timothee Chalamet Was Urged to 'Walk Away' from Kylie Jenner to Save His Career
The post created a buzz in the industry, where many suspected a possible new venture. She also added a website link to her Instagram bio, khy.com. Although it was unclear what Khy would sell, back in July 2023, it was reported that Jenner was set to launch her own clothing label, reports Puck.
The outlet also revealed two names: Jens and Emma Grede, the duo who were behind her two sisters' brands- Kim Kardashian's SKIMS and Khloe Kardashian's Good American. Reportedly, the two were also on board Khy with Jenner for the grand launch.
Another outlet disclosed the brand would promote quiet luxury and "wouldn't be cheap," as reported on Page Six. While fans are unaware of when the brand will be available to shop, Jenner's vision for her new launch is crystal clear. Earlier this year, Jenner filed 30 more trademarks under her personal brand.
The filed trademarks were named Kylie Hair, Kylie Hair by Kylie Jenner, Kylie Baby, Kylie Baby by Kylie Jenner, Kylie, and Kylie Jenner on May 15, 2023. She's no stranger in the business world. The Hulu star launched Kylie Cosmetics in 2014, which earned her the "billionaire" tag.
At 21, Forbes declared her a self-made billionaire. Kylie Cosmetics alone inflated her finances, especially after Jenner signed a deal with beauty retailer Ulta. In 2019, the makeup brand sold $54.5 million worth of products in Ulta, reported Forbes. Jenner said, "I popped up at a few stores, I did my usual social media—I did what I usually do, and it just worked." She continued, "I didn't expect anything. I did not foresee the future," adding, "But [the recognition] feels really good. That's a nice pat on the back."
---
View this post on Instagram
---
More from Inquisitr
Kylie Jenner and Jordyn Woods 'Stayed In Touch' Following the Tristan Thompson Cheating Scandal
Kylie Jenner Says She Wanted to 'Prove People Wrong,' Especially Mom Kris Jenner, With Kylie Cosmetics