These Were The Iconic Moments From the Kardashian Family Weddings Here are the Top Moments from the Kardashian-Jenner Family's Weddings:
Also Read: Taylor Swift Is About to Make Over $100M Just From Spotify in 2023
Weddings are truly one of the most beautiful and heartwarming affairs that exist. Apart from a legally binding ceremony, the location, the ensemble worn by both bride and groom, the wave of emotions emanating in the room, the location, and, of course, the joining of two hearts are some of the things that possibly portray one of the many joys of getting married. When it comes to the Kardashian family, marriage for some of the coveted members hasn't necessarily been an easy path. Even though Kim, Khloe, Kris, and Kourtney Kardashian were the ones who experienced being married women, as of now, it is only Kourtney who's in a happy marriage. Although things didn't work out well for her sisters and mom in their relationships, the weddings that each of these incredible women had were breathtaking. The memories that they created are something that fans cherish to this day. Glance through the top 10 moments from their respective weddings through the years:
1. Kourtney Kardashian & Travis Barker's Dreamy Wedding:
Kourtney's wedding was possibly one of the most glamorous of all three of them. Like her big sister Kim, she too wed in Italy in an intimate ceremony of just family and extremely close friends. Although The Kardashians featured mere glimpses from their wedding, this one is possibly a fan favorite. She appeared to be in great delight at beginning this newfound journey with the love of her life. As Khloe's enormous veil flew with the gush of wind, a bright smile graced her face as she held a pair of chalices in her hand. Her husband, Travis Barker seemed to share the same emotions as her, fondly gazing at his wife while he stood right next to her, in an attempt to possibly forever burn the picture of this memory in his heart and mind. A documentary featuring their wedding titled 'Til Death Do Us Part began streaming on both Hulu and Disney+ on the 13th of April and offers fans a glimpse of some behind-the-scenes footage from their special day.
Also Read: 'Sister Wives' Star Kody Brown Says He Didn't Feel 'Safe' With First Wife Meri Brown
2. The Famous Altar Picture:
Also Read: 'The View' Star Sara Haines Opens Up About Plans of Welcoming Her Fourth Kid
Another iconic moment from the blessed event was the two of them exchanging their vows at the altar. They were right in front of a grand, solid gold altar decorated with tasteful gold decor and candle stands, and they stood upon a maroon carpet that matched the roses on either side. As per reports, #Kravis [ a ship name given by fans] got married thrice to each other in 2022. The first time was at a Chapel in Las Vegas, the second was a legal one held at the Santa Barbara Courthouse. And lastly, the place where this memorable picture was taken: an Italian Castle.
3. Kim Kardashian & Kanye West's Wedding:
Kim Kardashian and Kanye West's wedding is one for the history books. The two may have their differences now, but back then, they appeared to be taken by each other. Kim and West exchanged their vows at the Forte di Belvedere in Florence, Italy on the 24th of May 2014 as E! News reported. The former couple shared numerous pictures of their wedding on social media, but this one seemed to portray just how much West cherished Kim. While Kim posed in her snow white wedding gown with a delicately designed viel, West seemed to be giving her a feather-light kiss close to her temple. To make sure his beloved's hair or veil didn't go out of place, he only placed a soft peck on her veil.
4. The Golden Hour with Kim Kardashian and Kanye West :
Kim and West indeed had some beautiful wedding photographs taken of them from the day. However, it appears that this particular moment stood out most among the plethora of pictures from the day. West and Kim were standing by a bridge with metallic railings and an ethereal view beyond it. The time that this specific picture was captured was perfect, given that it seemed to be amid a gorgeous setting sun. Kim and West's guests for their wedding were equally glowing. Famous personalities such as All of Me singer John Legend and his wife Chrissy Teigen, Karate Kid's Jason Smith, Serena Williams, and Director Steve McQueen were among a few of them many of whom graced their special day.
5. Kanye West's Candid Picture with The Kardashians: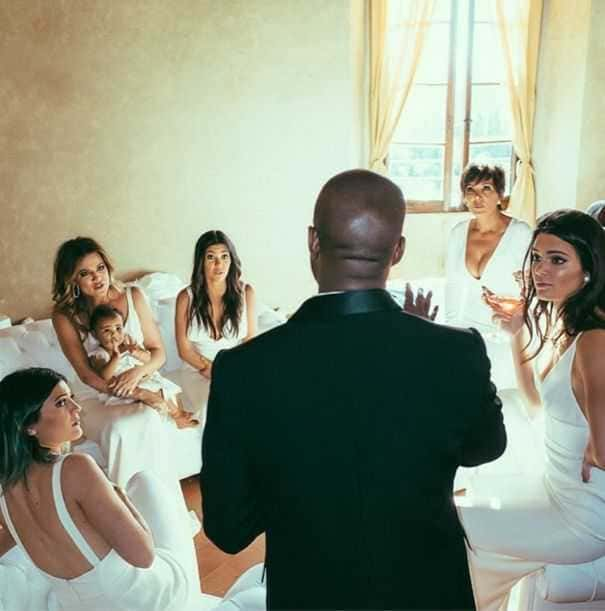 Another moment from the Kardashian-West wedding was the time that the American Boy rapper had a wholesome conversation with his then-soon-to-be bride's family. The father of four is known for his close relationship with his ex's family. And has reportedly always been close to them since the time the former couple first started seeing each other. As per People, he'd often gush about the Kardashian family and would always express how grateful he was for them looking out for him, loving him, and supporting him in all his endeavors. West even credited his ex-wife's family for pushing him to be a better version of himself and appreciated them for looking out for him.
6. Khloe Kardashian and Lamar Odom Exchange their Vows:
Khloe and former basketball player Lamar Odom had a whirlwind romance when they met in 2009 at a party. Both of them apparently zinged and wasted no time in getting engaged and married by the end of the same month they met at their mutual friend - Irving Azoff's home in Beverly Hills. Their wedding was featured on her family's reality television series, Keeping Up With The Kardashians [now known as The Kardashians]. They got married on the 27th of September 2009. Khloe's gown was custom-made by famous wedding dress designer, Vera Wang, she completed her ensemble with a lovely pair of Jimmy Choo high heels.
7. Kris Jenner & Robert Kardashian's White Wedding:
Kris's wedding to her late ex-husband, Robert Kardashian marked a truly new beginning in her life. They wed on the 8th of July in the year 1978 and separated in 1998 in March. Although not many pictures of the day have been captured, her oldest daughter, Kim, often shares glimpses from back in the day. However, this particular sneak peek into the day has fans gushing about how in love the two looked. Robert and Kris appeared to host an all-white wedding in a dainty aesthetic. She looked as stunning and evergreen as ever in her vintage-style gown with mesh sleeves. Her husband, groomsmen, and bridesmaids donned the same special color as she did and looked as dapper as ever.
8. Kris & Caitlyn Jenner Pose with The Mini-Entourage:
After Kris' failed marriage with Robert, she went on to fall in love and marry Caitlyn Jenner, who formerly went by 'Bruce'. Just a month after her divorce from Robert was finalized, they decided to get hitched on the 21st of April in 1991 and were married until the 23rd of March 2015. The picture captured an adorable moment between the bride and groom, huddled up closely by the flower girls and ring bearers of the day. Each of the young ones looked adorable as they swarmed the couple and posed for the cherished photograph.
More from Inquisitr
Kris Jenner Upset by Kourtney Kardashian's Pregnancy Announcement; Kourtney Responds
'The View' Producers Warn Show Is 'Really Gonna Change' After Joy Behar Threatened 'Jealous' Co-Hosts