Here are 10 Most Astonishingly Expensive Choices Made by Former President Donald Trump Donald Trump and His High-End Lifestyle
Also Read: Trump 'Fake Electors' in Wisconsin Say They Were 'Tricked and Misled' in to 'Alternate Elector Scheme'
Yesteryear President of the United States of America, Donald Trump is well known for his extravagant lifestyle. The business mogul leads a lavish lifestyle, from high-end haircuts and opulent mansions to extensive golf courses and designer Italian suits, Trump's penchant for luxury has been widely documented. The Trump family is very much synonymous with fame and exuberant getaways. Let's explore 10 of the most unexpected spending habits according to AoI that define Donald Trump's financial style.
1. Getting His Boeing 757-200 Outfitted
Dubbed "Trump Force One" during the 2016 election, the former president's personal aircraft is a 757-200 acquired from Microsoft co-founder Paul Allen in 2010. While Trump asserts he invested $100 million in this flying luxury, a CNBC report suggests the purchase price was less than $50 million. Operating a plane of this magnitude incurs expenses ranging from $8,000 to $13,000 per hour, as estimated by Forbes. Unlike typical 757-200 jets with a seating capacity of over 230 passengers, Trump's customized version accommodates just 43 individuals. Post-purchase, Trump dedicated an additional $10 million to renovations, elevating the opulence with gold seatbelt buckles, gold service buttons, and a lavish 24-carat gold-plated sink. The interior boasts a state-of-the-art multimedia system and sumptuous leather chairs, creating an extravagant airborne experience.
Also Read: 4 Moments From The 4th GOP Presidential Debate That Can Potentially Make Donald Trump Very Angry
2. Fast Food Obsession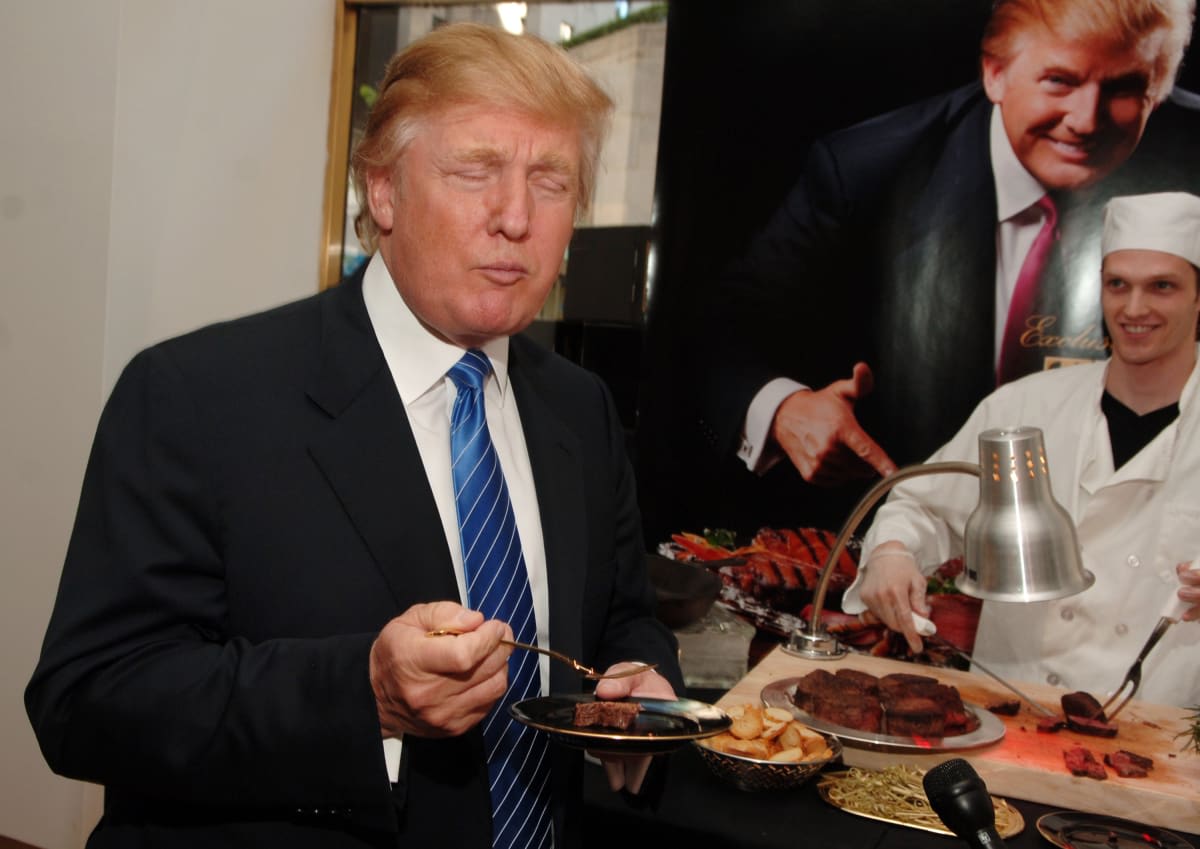 Also Read: Christie Calls Out Other GOP Candidates for Being 'Afraid to Offend Donald Trump'
A self-proclaimed enthusiast of fast food, Trump doesn't shy away from expressing his love for popular chains like McDonald's and KFC. In a February 2016 town hall, he enthusiastically disclosed that his top pick from McDonald's is the "fish delight." While McDonald's doesn't officially feature a "fish delight" on its menu, it's presumed that Trump was referring to the Filet-O-Fish sandwich. As a standalone item, this sandwich typically costs approximately $4.69. If he opts for the full meal deal, complete with fries and a beverage, the price ascends to $7.69—an apparent testament to his appreciation for both flavor and value.
3. Luxury Car Collection
As a former president, Trump has relinquished the need to navigate the streets himself, preferring the comfort of being chauffeured. This trend was not exclusive to his time in office, as even during his civilian days, Trump enjoyed the luxury of being driven around New York in a limousine. Despite his limited time behind the wheel, Trump possesses an impressive collection of high-end automobiles. Among his prized vehicles are a 2015 Rolls-Royce Phantom and a 2015 Mercedes-Benz S600, both with starting prices of $400,000 and $100,000, respectively, as per Kelley Blue Book. Given Trump's penchant for extravagance, it's safe to assume that he opted for enhancements beyond the standard features for both of these luxury rides.
4. Head & Shoulders Squad
Despite the iconic status of Trump's distinctive hairstyle, the secret to his well-coiffed mane might surprise you—it's not an exclusive, high-end shampoo. In a 2011 interview with Rolling Stone, Trump candidly revealed that he relies on Head & Shoulders to maintain the cleanliness of his locks. This anti-dandruff shampoo, widely available at most drugstores, comes with a modest price tag of around $2.29. Interestingly, Trump's economic approach extends beyond hair care. In his book Trump: Think Like a Billionaire, he imparts a valuable financial lesson—opting for generic products. The former president advocates for practicality when it comes to spending, emphasizing the importance of making savvy choices, even in the realm of everyday items like shampoo.
5. Trump Loves Collecting Self-Portraits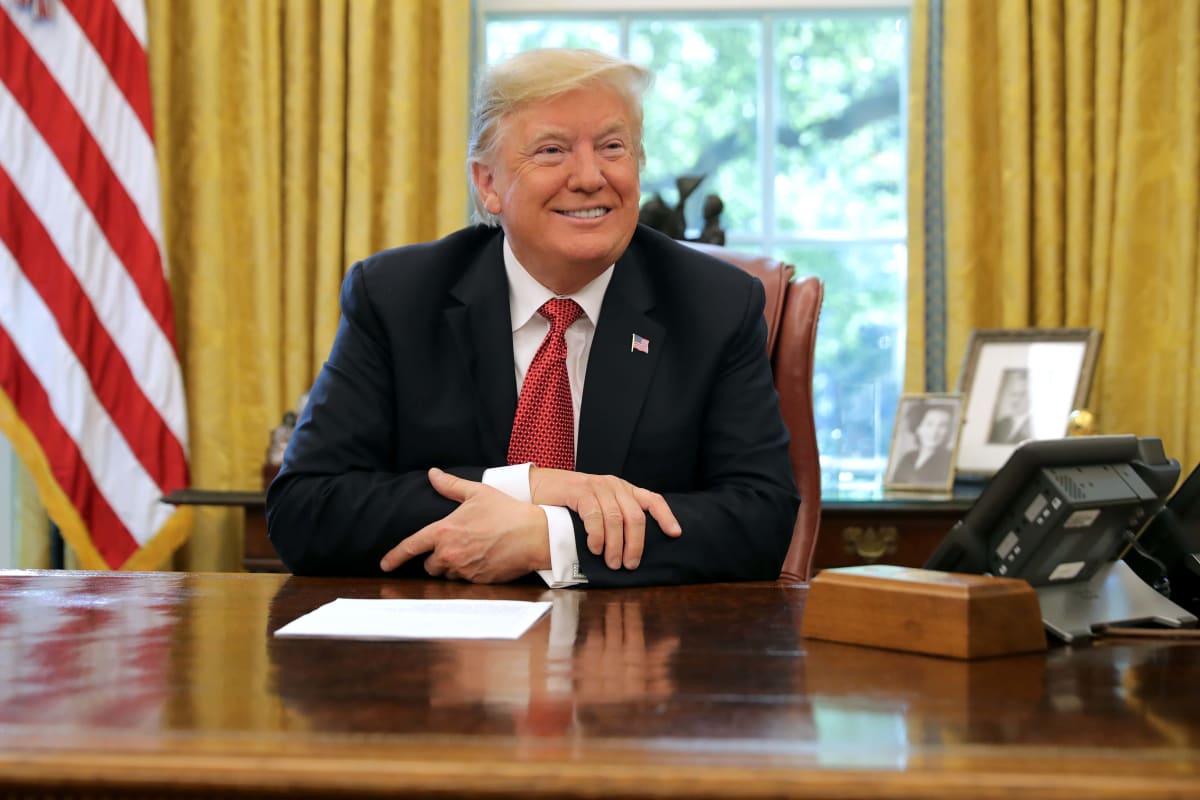 In 2013, Trump took self-admiration to a new level by directing his art collector friend, Stewart Rahr, to spend a whopping $100,000 on a 9-foot oil painting of him, crafted by artist William Quigley, at a charity auction in the Hamptons. This audacious act further solidified Trump's penchant for making a bold artistic statement. This wasn't the first time Trump invested in his own image. In 2007, reports surfaced of his acquisition of a $20,000, 6-foot portrait of himself during a fundraising auction at his Mar-a-Lago estate. Notably, the funds for this acquisition flowed from the coffers of the Donald J. Trump Foundation rather than directly from Trump's personal finances, as reported by The Washington Post. This twist adds an intriguing layer to Trump's art collection, blurring the lines between personal indulgence and charitable pursuits.
6. Buying Expensive Homes
Earning the descriptor of palatial, Trump's residences boast a hefty price tag. Since the early 1980s, Trump has resided in the opulent triplex penthouse apartment at Trump Tower, an abode that came with an estimated construction cost of $12 million. Fast forward more than three decades and this lavish 30,000-square-foot property is now valued at an eye-watering $100 million, with ongoing security expenses reaching into the millions. In 1985, Trump expanded his real estate empire with the acquisition of Mar-a-Lago, a sprawling 118-room residence in Palm Beach, Florida. Initially acquired for a sum between $10 million and $15 million, this grand estate has appreciated significantly over the past 30 years. Today, Mar-a-Lago serves a dual purpose as an exclusive private club, with its current valuation ranging between $200 million and $300 million, as reported by Fortune. Trump's penchant for luxury extends beyond the initial investment, with his residences standing as enduring symbols of opulence and prestige.
7. Acts of Charity
In 2020, The New York Times gained access to Trump's tax information spanning over two decades, revealing a reported $130 million in combined personal and corporate charitable contributions reported to the IRS. However, a substantial portion of approximately $119.3 million was attributed to charitable deductions on various real estate properties, including the Seven Springs estate in Westchester County, New York, and the Trump National Golf Club in Los Angeles. Examining the actual donations, a 2016 Washington Post investigation shed light on notable contributions. Among them were $1 million to the Marine Corps-Law Enforcement Foundation and $100,000 to a Baton Rouge, Louisiana, church grappling with flooding, both occurring in 2016. Additionally, an undisclosed donation of less than $10,000 was made to the Police Athletic League of New York City in 2009.
8. Showering Melania With Presents of Love
Demonstrating a penchant for opulent gestures, Trump has been generous in showering his wife, Melania, with lavish gifts. Notably, for their 10th wedding anniversary in 2014, he presented her with an extravagant 25-carat diamond ring, an extravagant token of love valued at an estimated $3 million. Yet, in a shift from this tradition, CNN reported in April 2018 that Trump cited being too "busy" to arrange a birthday gift for Melania. This departure from his usual extravagant displays sparked public curiosity, offering a glimpse into the complexities of their relationship during that particular period.
9. Golf Course Hobby
Embracing his passion for golf, Trump has established a significant presence on the golf course by owning an impressive collection of 19 golf properties. Among his acquisitions, Trump National Doral, situated near Miami, stands out as the largest. CNN reported that Trump acquired this expansive golf resort in 2012 for a substantial sum of $150 million.
10. Running for the Presidential Elections
When vying for the presidency in 2016, Trump's campaign came at a considerable personal cost, with him investing a substantial $66 million of his own money, as revealed by campaign finance disclosures. Interestingly, Trump-related businesses also benefited from this endeavor, receiving payments totaling $11 million from his campaign. This strategic move likely allowed him to offset some of his campaign expenses through these business transactions. In stark contrast, during the 2020 campaign, Trump took a different approach. Forbes reported that he chose not to contribute his own funds to his re-election bid. Instead, a noteworthy tactic unfolded as Trump consistently redirected money from his campaign fund to his personal businesses, presenting a distinct financial strategy for his second run at the presidency.
More from Inquisitr
Ex-Aide Cassidy Hutchinson Says Trump's 'Volcanic Temper' Means He Shouldn't Be 'Near Nuclear Codes'
Liz Cheney Accuses Fox News Anchor Sean Hannity of Shielding Donald Trump Since January 6 Attack