Baseball Hall of Fame Hero Chipper Jones Sold His Lavish Canton Abode in Georgia for $11 Million Baseball's Hall of Fame legend Chipper Jones recently sold his stunning Georgia Mansion in Atlanta for a whopping $11 Million, reports Mansion Global.
The Atlanta Braves baseball player sold his breathtaking Atlanta mansion, packed with stellar views and facilities that are a work of art. The legendary player bought the lavish abode back in 2018 for a decent price tag of $9.25 million. He reportedly made the said purchase through a Trust.
This work of art is 37 acres of luxury that meets a rustic atmosphere and has incredible amenities on the property such as a boating shed, an Olympic size swimming pool, a four-stall stable, dirt bike tracks, a Cabana, an outdoor dining area and much more gracing the premises. It is perfectly located amid the serene county and the woods away from the hustle and bustle of city life, making it an ideal living situation.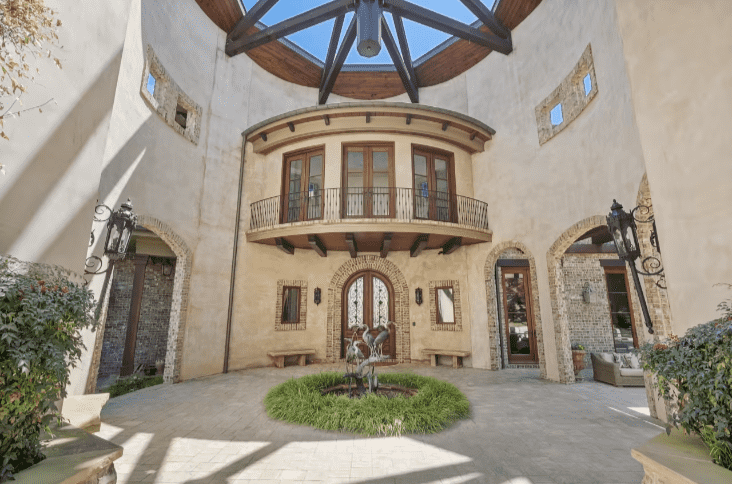 The spacious double-height domed hall entrance is a masterpiece that paves the path for fellow residents to make a grand entrance regardless of the occasion. Lined completely with oak aesthetics and accents of brown that surround it, the wooden gateway leads to the 23,000 square feet property. It boasts floor-to-ceiling windows that illuminate the home, enabling a vibrant and well-ventilated unit. The stunning windows offer a rather panoramic view of the lush green that surrounds the home.
The outdoor dining room is one of the major highlights of the home, with wide open spaces, stone flooring, solid wood furniture, a fireplace, and - to complete the aesthetics of the place - a view of the pool from a stunning balcony whose railings appear to be made out of iron. Right above the fireplace rests an animal skull: an homage to Jones's love for hunting. Sitting snugly below is a television unit that can be used to entertain guests and enjoy a hearty evening. This outdoor space offers any wildlife enthusiast one of the best spots to tune into nature's natural radio, as it is surrounded by ample greenery and bushes that add a certain depth to the rustic place with its flora and fauna.
In another part of the stunning property lies a unique fireplace experience with an amazing ambiance. This particular fireplace is made entirely out of hard stone and is surrounded by accents of beige furniture which complement the stone aesthetic quite well offering a sacrosanct warmth with a comforting, cozy experience for one to enjoy beneath the stars shining through the gazebo of the room.
Other amenities of the authentic and rustic-styled home include natural stone furnishings, wooden flooring, skilled carpentry within the mansion that enhances its natural features and top-notch lighting. Although away from the regular grind in the city, the home has no lack of entertainment and has a home theatre, gaming room, sauna, a kid's playroom and many other such amenities.