From Vaccine War To Gun Ownership: Controversial Statements by Robert F. Kennedy Jr. All The Statements Robert F. Kennedy Jr. Has Promoted: From Vaccine War To Gun Ownership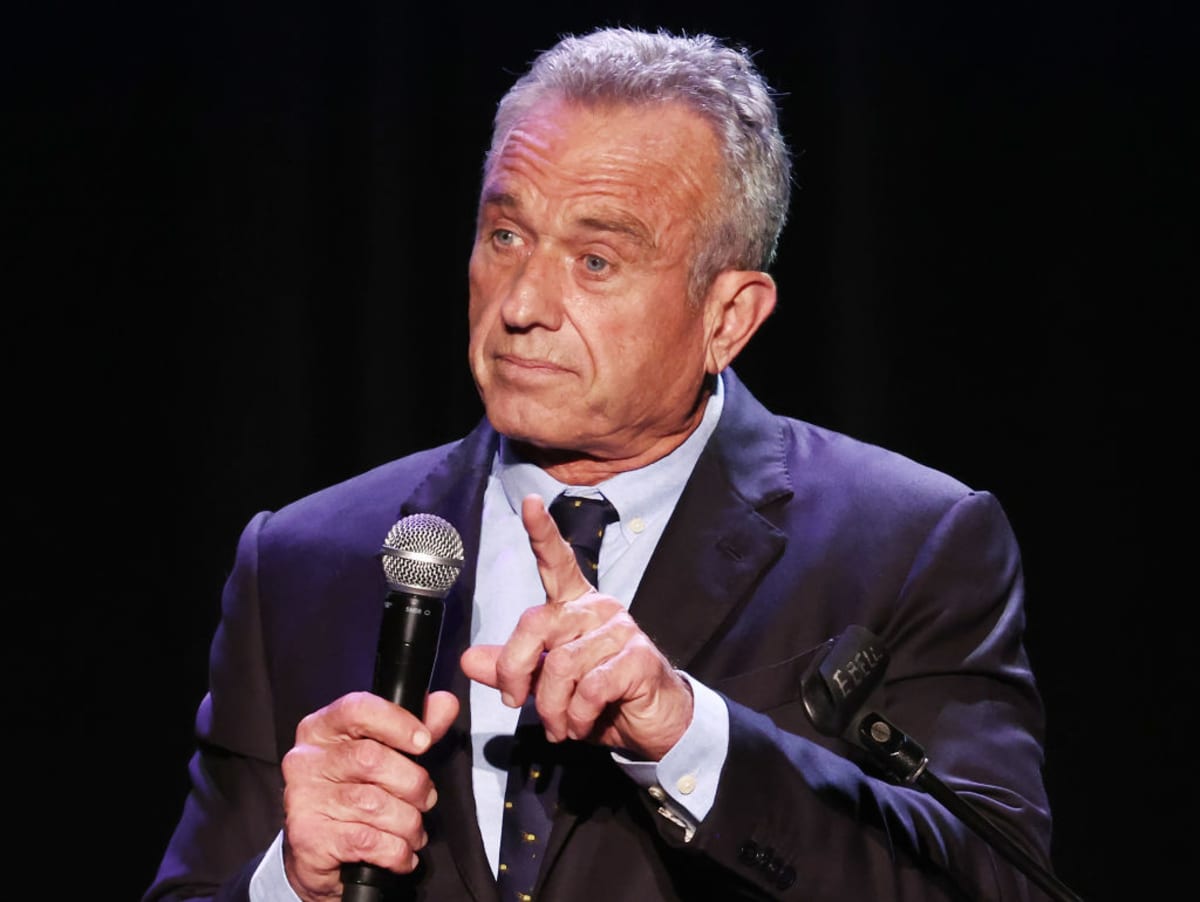 Also Read: RFK Jr.'s Lead in Swing States May Change the Course for Republican Rival Donald Trump in 2024
The Kennedy scion Robert F. Kennedy Jr. is contesting the 2024 presidential race as an independent candidate. "Today, we turn a new page in American politics. There have been independent candidates in this country before, but this time it's going to be different. Because this time, the independent is gonna win," he said while announcing his sole candidacy last week, as reported by CNN. However, throughout the years, the environmental lawyer has courted various controversies through his baseless conspiracy theories. Let us take a look at them.
1. CIA Involvement in the Assassination of Former President John F. Kennedy
Robert F. Kennedy Jr. has claimed that he may become the subject of a sinister deep-state operation, much like his uncle allegedly was. The Democratic leader thinks that the CIA was responsible for killing his uncle. In a recent interview, he informed Joe Rogan, according to Rolling Stone, that he is "aware" that he too may be a target of U.S. intelligence, but he doesn't "live in fear" of the potential. Kennedy Jr. has frequently expressed his conviction that the CIA was behind the murders of both his father, Robert F. Kennedy, and his uncle, former President John F. Kennedy. During the exclusive podcast, Rogan brought it up, saying, "You're talking about your uncle, who was assassinated, and you believe the intelligence agencies were a part of that," he asked Kennedy. "What happens to you?" "I gotta be careful," Kennedy Jr. replied, "I'm aware of that; I'm aware of that danger. I don't live in fear of it — at all. But I'm not stupid about it, and I take precautions."
Also Read: Robert F. Kennedy Jr. Breaks His Silence on Using Jeffrey Epstein's Plane, AKA the 'Lolita Express'
2. The Wrong Person Was Convicted for His Father's Murder
Also Read: Cheryl Hines Slams Biden Over No Secret Service Protection After Double Intrusion at RFK Jr.'s LA Home
In May 2018, fifty years after the assassination of Sr. Robert F. Kennedy, Kennedy Jr. called for a new investigation. In 1968, a gunman in Los Angeles shot and killed the then-presidential contender. The murderer of Kennedy, Sirhan, is currently receiving a life sentence. Kennedy Jr. claimed that he left their face-to-face meeting last year thinking the shooter had been wrongly implicated. He had revealed to The Washington Post, "I didn't feel it was something I could dismiss. I was disturbed that the wrong person might have been convicted of killing my father." Sirhan was in front of Kennedy when he was shot, but an autopsy examination revealed that Kennedy Sr. was hit from behind at point-blank range. According to recent data, as many as 13 rounds were fired that night. However, Sirhan's gun had just eight rounds in it. RFK Jr. is among many who now doubt Sirhan's guilt for this reason. "There were too many bullets. You can't fire 13 shots out of an eight-shot gun," the presidential hopeful told the Post back then.
3. Gun Ownership Control
As reported by The Hill, gun restrictions, according to RFK Jr., cannot ' meaningfully' reduce gun violence. "I do not believe that there is, within that second amendment, that there's anything we can meaningfully do to reduce the trade in the ownership of guns," he said, "and I'm not going to take people's guns away." "Anybody who tells you that they're going to be able to reduce gun violence through gun control at this point I don't think is being realistic," Kennedy Jr. added.
4. The 2004 Presidential Election Was Stolen
As per the reports from The NYTimes, asserting that Republicans had "mounted a massive, coordinated campaign to subvert the will of the people" and ensure the reelection of President George W. Bush, Kennedy Jr. initially advanced that notion in a 2006 piece in Rolling Stone. Their actions, according to him, "prevented more than 350,000 Ohio voters from casting ballots or having their votes counted." Across the board, Bush had defeated Kerry by 35 electoral college votes; he won Ohio and its 20 electoral votes by more than 118,000 votes. Kennedy Jr. still believes that the Democratic candidate, Kerry, should have won the race back then.
5. Mass Shootings Are Linked to Anti-depressant Drugs
While on Twitter, now known as X, in a discussion with Elon Musk, Kennedy Jr. stated without any specific evidence that anti-depressant drugs are responsible for mass shootings. "I also am going to look very closely at the role of psychiatric drugs in these events," Kennedy had promised. "And there are no good studies right now. That should have been done years ago on this issue because there's a piece of tremendous circumstantial evidence [that] SSRIs, benzos, and other drugs are doing this." As per Rolling Stone reports, it was unclear what "circumstantial evidence" he was referring to, and he acknowledged that there is no data to support such an effect. "Kids always had access to guns, and there was no time in American history or human history where kids were going to schools and shooting their classmates," he told comedian Bill Maher on a recent episode of the podcast, Club Random With Bill Maher. "It really started happening concurrently with the introduction of these drugs, with Prozac and the other drugs," reported The NYTimes.
6. Vaccine War
Aptly dubbed the 'Vaccine Conspirator,' Kennedy Jr. has proposed various theories regarding vaccines and the COVID-19 pandemic. "Covid was clearly a bioweapons problem," he had shared on Twitter Spaces, now X, while reiterating an argument put out by some hard-right lawmakers that the virus may have come from a lab mishap, according to U.S. intelligence services, but there is no proof that it was intentionally leaked. As per the information in Forbes, he also accused Anthony Fauci and Microsoft cofounder Bill Gates of creating the global pandemic to promote their vaccine agenda. The presidential hopeful also claimed that childhood vaccines cause autism; he alleged without any credible sources that the government knew but "knowingly allowed the pharmaceutical industry to poison an entire generation of American children." Kennedy Jr. also incorrectly connected transsexual identity to toxins found in water sources. "A lot of the problems we see in kids, particularly boys, it's probably underappreciated how much of that is coming from chemical exposures, including a lot of sexual dysphoria that we're seeing," he said. He had cited studies on the herbicide atrazine, where researchers discovered that it "induces complete feminization and chemical castration" in some frogs.
More from Inquisitr
Robert F. Kennedy Jr.'s Wild Card Move Might Impact Election Outcomes for Joe Biden and Donald Trump
Robert Kennedy Jr. Once Admitted to Having Conversations With 'A Lot of Dead People'