7 Things That Prove North West Brings Out Her 'Daddy' Kanye West's Good Side Here's Looking Into Kanye and Northie's Love
Also Read: Taylor Swift Recalls Kanye West Feud, Slams Kim Kardashian for Taking Her Down 'Psychologically'
In the Kardashian-West family dynamics, the spotlight now turns to the evolving relationship between Kanye West and his eldest daughter, North West. Despite the tumultuous controversies surrounding Kanye, North remains an unwavering admirer of her father. Kanye West, known for his chart-topping hits like Can't Tell Me Nothing, has been a source of both inspiration and scrutiny. Despite the challenges and the high-profile divorce from Kim Kardashian, the reality star's top concern remains preserving Kanye's connections with their children. Kim Kardashian, in a candid revelation during a 2022 appearance on the IRL Podcast, disclosed her commitment to shielding Kanye from the storms surrounding his public image, especially in the eyes of their four children. "I protected him, and I still will, in the eyes of my kids, for my kids," she asserted. Throughout the unfolding chapters of their father-daughter relationship, North West has been a vocal celebrant of Kanye's creative triumphs.
1. Ye's New Purpose Came From His Daughter
In a poignant moment in 2013, Kanye West, showcasing his softer side, extended a generous gesture towards his then-mother-in-law, Kris Jenner. The rapper agreed to be a guest on her talk show "Kris," to engage in a candid conversation about parenthood without any hesitation. During the episode, Kanye went above and beyond, allowing Kris Jenner the honor of unveiling the first photo of North West to the eager audience. In the discussion, he shared, "My only goal is to protect my daughter." A standout issue for Kanye was the struggle to ensure North's safety in her car seat, a relatable concern for many parents navigating the intricacies of parenthood. He further shared how he coped with difficulties in belting her daughter in the car surrounded by paparazzi.
Also Read: Kanye West Fights Lawsuit Over Donda Academy's Sushi-Only Menu and Lack of Janitors (Among Other Claims)
2. Ye Regretted His Behavior With Taylor Swift at VMAs After Becoming a Dad
Also Read: Kanye West 'Delighted' to Reunite With Wife Bianca Censori Who Seemingly Exudes Mixed Emotions
Fatherhood prompted a reflective moment for Kanye West, leading him to revisit a notable incident from his past—the infamous interruption of Taylor Swift's acceptance speech at the 2009 MTV VMAs. As he embraced the responsibilities of being a father, Kanye found himself contemplating how he would feel if his daughter, North, were in Swift's position. In a moment of introspection, Kanye acknowledged that he wouldn't want his daughter to experience a situation where, as he put it, "some crazy drunk Black guy in a leather shirt" would come up and cut her off at an awards show.
3. North West is Dad Kanye's Clone
Acknowledging the strong resemblance between North and her father, Kim praised her daughter's creativity, expressiveness, and the evident presence of Kanye's distinctive personality traits in a 2014 appearance on Today. One noteworthy aspect that North seems to have inherited from Kanye is his unfiltered outspokenness. Kim, during an appearance on The Ellen DeGeneres Show in 2017, humorously recounted North's candid expressions, mentioning instances where the youngster would openly declare her dislikes. According to Kim, attempts to hush North proved futile as she confidently questioned, "Why, Mom? I'm being honest."
4. Northie Changed Her Father's Views of Profanity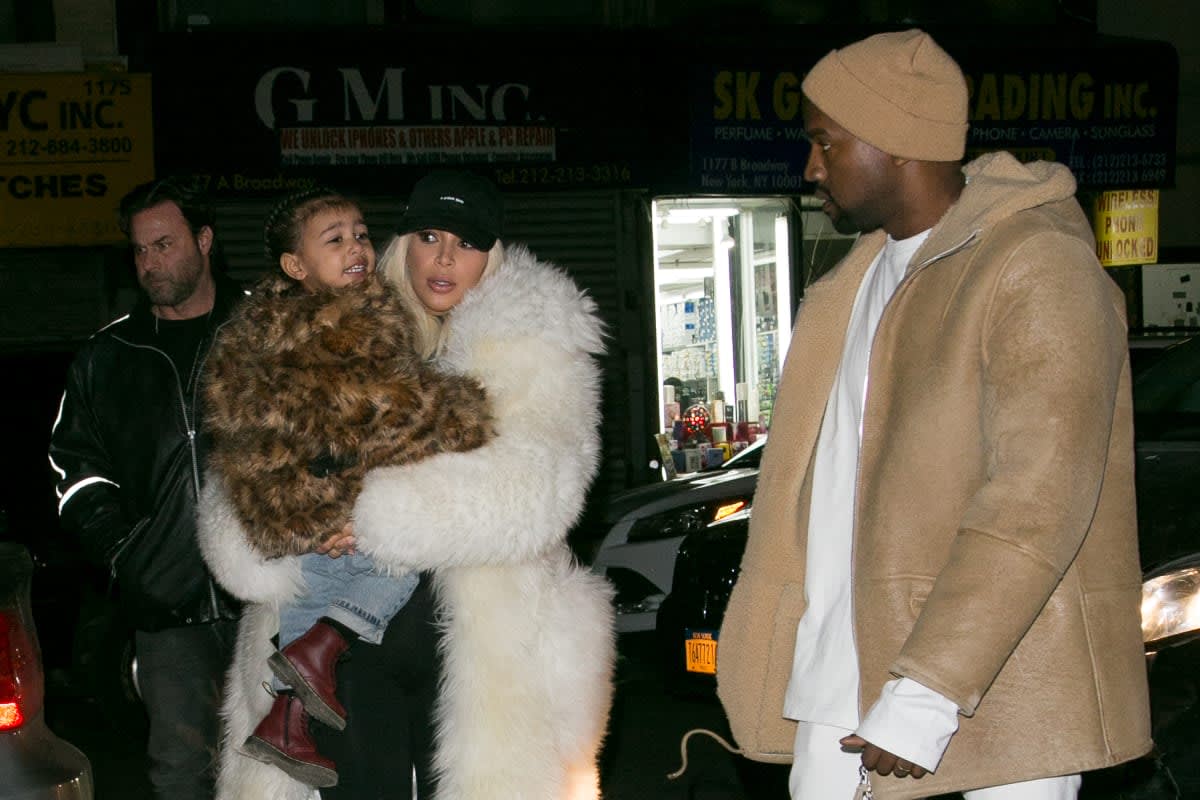 In 2013 on The Ellen DeGeneres Show, Kanye West opened up about his fatherhood and fathering his eldest daughter North West. Despite having a daughter, he wasn't inclined to censor his music's explicit content. His rationale? He believed that his daughter needed to be prepared for the real world, where she would inevitably encounter diverse perspectives and languages. "My mama speaks through my daughter, and she said no cursing on the album," he said. Reportedly Kim had a say in it. This decision, he humorously suggested, may have stemmed from a belief that having a daughter was a form of poetic justice for someone whose lyrics often delved into the risqué realm of his personal experiences.
5. Kanye Encourages His Daughter to Pursue Art
Even before North turned two, Kanye West was already nurturing her artistic flair. For Kim Kardashian's 34th birthday in 2014, Kanye gifted Kim a lavish $20,000 Hermès handbag that came with a twist—North was the artist behind it. Kim initially thought it was crafted by a professional artist, only to discover that it was the work of her daughter. Creativity seems to run in the blood of the family. In 2018, Kanye revealed his fashion ventures and plans with Northie. Playing the role of her assistant, he assisted her as she fashioned a gown out of bubble wrap. The father-daughter duo's creative venture clearly shows their love for exploring art together.
6. Kanye No Longer Wants Daughter to Outshine RiRi
In 2016, sources spilled the beans that North West's wardrobe and accessories had a jaw-dropping price tag of about a million. Kanye West, not one to shy away from candid admissions, later confessed during a 2019 interview that he had once aspired for North to outshine even Rihanna in the fashion department. However, as Kanye's perspectives evolved with his Christian faith, so did his approach to parenting. In a reflective moment, he acknowledged a shift in his mindset. No longer advocating for styles like crop tops, he attributed this change to his newfound beliefs, emphasizing a more thoughtful and conscientious approach to dressing his daughter.
7. Northie is a Fan of Her Dad
Back in 2014, per The Standard, Kim Kardashian shared a charming insight into North West's bedtime routine. As Kanye recorded music at home, the tunes filled the space, creating an unexpected lullaby for little North. Far from being disturbed, she would peacefully drift off to sleep, cradled in the comforting sound waves of her dad's creations. Fast forward to 2017, and North was a clear favorite among Kanye's tracks. The 808s and Heartbreak album held a special place in her heart, with the song Amazing reigning supreme as her top pick. In a simple and heartfelt declaration to Interview magazine, she summed up her affection for the track with just one word, "So amazing!"—a sweet testament to the bond between father and daughter through the language of music.
8. Kanye Doesn't Like His Daughter Using TikTok
"I'm keen on giving her the chance to explore her various talents and then figure out what she enjoys the most," he shared on "Kris." However, it seems there's one avenue of self-expression Kanye West is cautious about for North: creating TikTok videos. In a now-deleted Instagram post in 2022, Kanye accused Kim Kardashian of allowing North to use TikTok without consulting him first. A month later, he vented raising concern over a video featuring North, adorned with dark makeup, and lip-syncing to Machine Gun Kelly's "Emo Girl." Kanye expressed, "Now my 8-year-old on here singing she fell in love with an emo girl."
More from Inquisitr
Kanye West's Wife Bianca Censori is Shrouded in Secrecy, Is Hiding a Secret About Their Marriage
Kanye West and Bianca Censori "Leading Different Lives" Amid Floundering Marriage Rumors