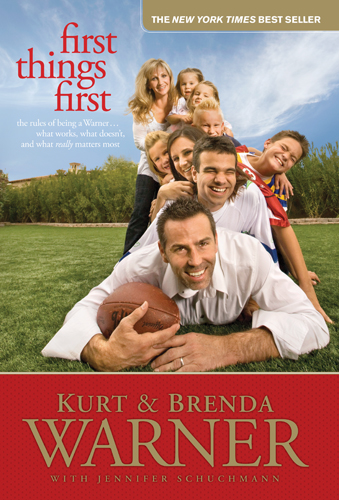 Kurt Warner, quarterback for the 2009 Super Bowl runners up Arizona Cardinals, is joining his wife Brenda Warner on a week-long tri-state tour to launch their new book about Christian faith and family values.
The Warners have seven children – two from Brenda's previous relationship and five together – from a 12-year marriage, and the book First Things First is focused on the solid principles the couple build their family life around. The book is filled with homely stories like how Kurt has to pay his kid to throw a football in the backyard, Brenda's time in the Marine Corps, and that none of the kids wanted to watch their Dad lose to the Pittsburgh Steelers last January.
Kurt Warner's life experiences are evidently very different to those of Warner's rival for the Cardinals quarterback position, Matt Leinart, who separated from the mother of his one-year-old son before he was born in October 2006.
First Things First is published by Tyndale House, a Christian publisher which had great success recently with a similarly faith-based book by former Indianapolis Colts coach Tony Dungy.