Both teams have losing records, but all of America will get to watch the Seattle Seahawks face the Dallas Cowboys live online Sunday in an NFC game between two of the National Football League's marquee franchises who always seem to draw attention no matter what their records. Seattle remains the defending NFC Champion, who came within one play of winning a second straight Super Bowl last season.
The Cowboys, well, they are always the Cowboys — one of the most popular NFL teams whose televised games always draw healthy ratings.
But more importantly, both teams are in desperate need of a victory in their nationally televised late game Sunday. At 3-4, the Seahawks must win going into their bye week if they want their subsequent game against the NFC West-leading Arizona Cardinals to be what it could be — the most important game of their regular season.
A win Sunday followed by a victory over Arizona two weeks later would put the once-sputtering Seahawks right back in the chase for a division title, and a playoff spot — and chance for a third-straight Super Bowl berth.
To find out how to watch the Seattle Seahawks vs. Dallas Cowboys game live online, see the streaming link in the final paragraph of this article. Kickoff is set for 3:25 p.m. Central Standard Time at AT&T Stadium (formerly Cowboys Stadium) in Arlington, Texas. That's 4:25 p.m. Eastern, 1:25 p.m. Pacific.
The Seahawks vs. Cowboys showdown will stream live online to the entire country, except for the San Francisco-Oakland Bay Area, due to the Oakland Raiders home game against the New York Jets. The gray area on the following map courtesy of 506 Sports represents the only localities in the United States where the Seattle-Dallas game will not stream.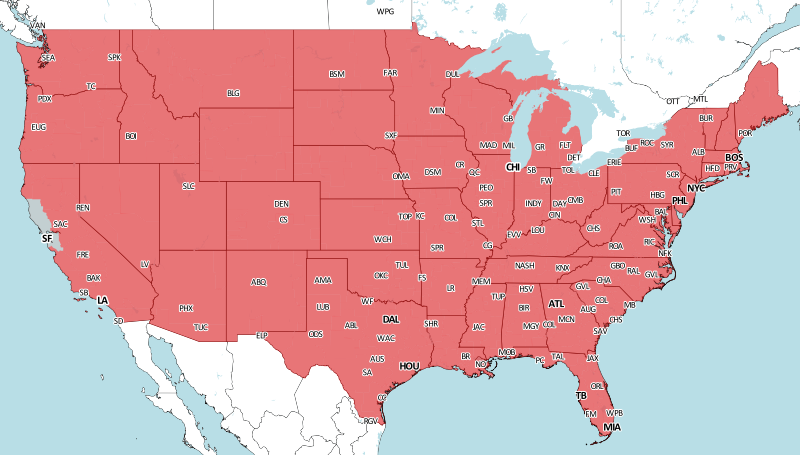 Seattle Coach Pete Carroll will be tasked with defeating one of his former quarterbacks from his days coaching the University of Southern California Trojans. But Cowboys signal caller Matt Cassel may have something to prove to Carroll who almost never let Cassel into a game. In four years at USC, Cassel threw a grand total of 33 passes.
But in 2005, the New England Patriots took a chance on Cassel in the seventh round of the draft — and Cassel got his big chance when Patriots Quarterback Tom Brady was injured in the first game of the 2008 season. Cassel went on to lead the team to an 11-win season and set himself up for what has now been 73 starts in a 12-year NFL career.
Cassell has faced Pete Carroll just once before, when the coach was in his first season at the helm of Seattle and Cassel was signal-calling for the Kansas City Chiefs. Cassel got the better of his college coach in that game, 42-24, on November 28, 2010.
Cassell will hold the Cowboys spot only until regular starter Tony Romo returns from a broken clavicle later in the season. But Cassel will have an additional weapon to unleash against Carroll and the Seahawks Sunday, with the expected return from injury of Pro Bowl wide receiver Dez Bryant.
Without Bryant in the starting 11 — since the 26-year-old out of Oklahoma State went down with a foot injury in the season opener — the Cowboys have completed just 16 pass plays of more than 20 yards, ranking them 29th in the league.
If Bryant is truly healthy on Sunday, that statistic could change in a hurry, as Bryant gives Cassel and the Cowboys a legitimate deep threat.
Watch the Seattle Seahawks vs. Dallas Cowboys game live online from Arlington, Texas, by going to Fox Sports Go at this link, or downloading the Fox Sports Go app to watch on tablet computers. NFL games on Fox Sports Go are not available to watch on smartphones, due to contractual agreements. Fox Sports Go also streams live on the Amazon Fire TV device, allowing fans to watch the Seahawks vs. Cowboys game live online on their TV sets.
[Featured Photo By Otto Greule Jr. / Getty Images]