Mia Khalifa, Adult Video Star, Recruits 17-Year-Old High Schooler For Florida State Football Team
Mia Khalifa, the suddenly popular adult video actress who has generated heated controversy by performing explicit scenes while wearing a traditional Muslim hijab head scarf, also calls herself the "unofficial mascot" of the Florida State University college football team.
Now, her fandom of the FSU Seminoles has created another potential controversy as the 21-year-old star of online pornography made an effort to recruit a 17-year-old high school student, trying to persuade him to join her favorite team.
The Lebanese-born Khalifa — who was raised as a Christian and has the insignia of a conservative Christian Lebanese political organization tattooed on her arm — first attempted to recruit transferring Ohio State quarterback Braxton Miller to join the FSU team, making the 22-year-old an interesting offer.
Hey, @BraxtonMiller5, I'll shoot my next scene in your jersey if you come to FSU. #BraxtonToTally

— Mia Khalifa (@miakhalifa) January 9, 2015
But Khalifa, who recently became the most searched-for name on a leading adult video site after just three months as a pornographic actress, has now set her sights on a target who is not even legally an adult yet.
The skyrocketing adult video star, who also goes by the name Mia Callista, has now turned to making similarly enticing offers to 17-year-old Iman Marshall of Long Beach, California. The six foot, one inch, 195-pound teenager is considered the nation's top-rated high school cornerback.
FSU is the move, right @iman_marshall8?

— Mia Khalifa (@miakhalifa) January 30, 2015
@miakhalifa we will see

— Biggie (@iman_marshall8) January 30, 2015
"@iman_marshall8: @miakhalifa we will see" I'm gonna have to start posting recruiting videos on my website, aren't I? — Mia Khalifa (@miakhalifa) January 30, 2015
"@pereira4785: @miakhalifa @iman_marshall8 wouldn't that be considered improper benefits?" I didn't say he'd have free access to it… — Mia Khalifa (@miakhalifa) January 30, 2015
In addition to Mia Khalifa-favorite Florida State University, Marshall has been actively recruited by such top football schools as Notre Dame, University of Michigan, UCLA, USC, Louisiana State University and Oregon State University.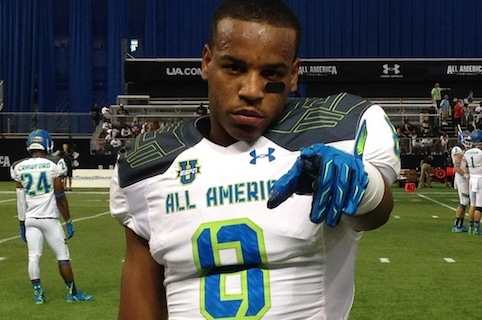 Why Mia Khalifa has become such a committed Florida State fan is somewhat unclear. Born in Beirut, Lebanon, she grew up from the age of 10 in Maryland and attended the University of Texas at El Paso, where she majored in history.
Khalifa now lives in Miami, Florida, nearly 500 miles south of the FSU Tallahassee campus.
While the propriety of an adult video star, such as Mia Khalifa, reaching out to an underage high school student — even one who is among the top five high school football prospects in the country — may be questionable, Iman Marshall himself has taken the exchange in stride.
Marshall is expected to issue a decision Wednesday as to which college he plans to attend, with his decision broadcast on the ESPN-U network, and Mia Khalifa will most likely be tuned in.