12 Years A Slave took home the Oscar for Best Picture, and its screenwriter, John Ridley, won a statue of his own for penning the script adapted from the 1853 Simon Northup memoir, in which Northup told his story of being a free black man kidnapped and sold into slavery in the south.
But when Ridley failed to thank 12 Years A Slave director Steve McQueen in his Oscar acceptance speech, and McQueen was seen displaying what appeared to be a lukewarm response to Ridley's Oscar win, reports circulated that the 12 Years A Slave writer and director were actually engaged in some sort of a feud.
When Ridley's name was called as the winner in the Best Adapted Screenplay category, the ABC TV cameras caught McQueen in his seat, with a stonefaced expression. He did not rise to congratulate John Ridley, and his applause seemed polite at best.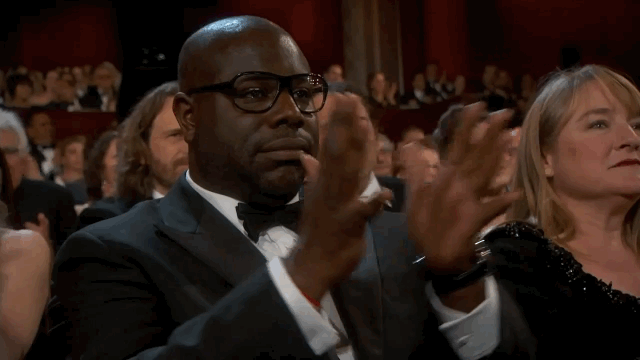 In fact, Steve McQueen's hands barely appear to be touching as he "claps" for Ridley's victory.
Reportedly, the pair were at loggerheads over whether McQueen's name should be included as a co-writer on the 12 Years A Slave script. The director wanted his name on there. John Ridley felt that it didn't belong. Supposedly, the pair have been on the outs ever since. And that's why, the story goes, Ridley snubbed McQueen in his Oscar speech March 2.
Now, a week later with the excitement of the Oscar whirlwind dying down, Ridley says there was no such beef between him and the 12 Years A Slave helmer. Yes, he neglected to thank McQueen when he accepted the Oscar for his 12 Years A Slave script. But that was nothing but an oversight in the heat of the moment.
"I do regret it," Ridley told Entertainment Weekly, looking back on his non-acknowledgement of McQueen. "But just 24 hours earlier at the Spirit Awards I sincerely went on and on about Steve and my work with him. You know, the guy changed my life."
Ridley said his priority was first to thank his wife, Gayle, who "believed in me from the beginning." Which he did — except he forgot to mention that she was his wife. In his speech he simply thanked a script reader named Gayle.
"Wow, I screwed up," Ridley recalled. "Well, I know she got it. I didn't want to be the guy when you're getting played off by the music, 'Oh and my wife and I love her.' I wanted to start there."
His next priority was to thank the real life subject of 12 Years A Slave, Solomon Northup. And then his time was up.
"At the Oscars you have 30 seconds to talk and it's like the oxygen drops out of the room," the Oscar-winning 12 Years A Slave screenwriter said.