Miley Cyrus is at it again! Although some have argued that her twerking antics are unprecedented, others would say her latest antics are probably much worse! According to TMZ, the "Wrecking Ball" singer definitely kicked off the Bangerz Tour in Vancouver with a bang!
However, the concert was more like a night of debauchery and intemperance, but nevertheless, entertainment! Raunchy at its fined in esteemed Miley Cyrus fashion! The highly anticipated concert was filled with dancing midgets, impersonators, and people dressed as joints, stuffed animals, and other outrageous characters.
Cyrus definitely gave a jaw-dropping performance filled with infamous twerking and sexually-inspired dance routines, where she groped and smacked dancers on the backside throughout the night. US Weekly even reports that Cyrus took things even further, climbing on top of a gold car wearing white cowboy boots with pot leaf-covered one piece and a barely visible thong.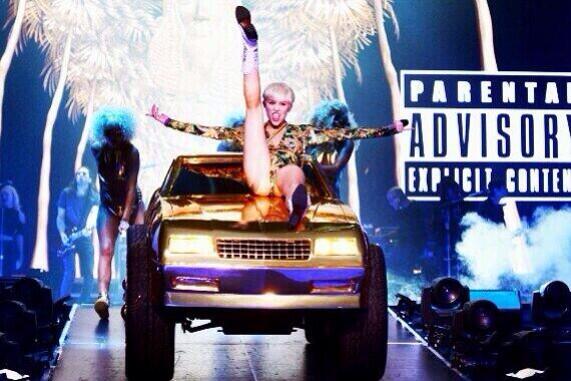 The "We Can't Stop" singer was seen grinding on the vehicle, while spreading her legs to the audience. At one point during the show, the publication even claims that Cyrus was also seen simulating masturbation, pleasuring herself on stage as a Parental Advisory Explicit Content warning flashed on the jumbotron.
But, the big bang didn't come until the end of the concert when Cyrus closed the show out with her 2009 hit single "Party in the U.S.A." During the song, several dancers dressed up impersonating American icons in an effort to pay homage to the United States.
Then, things went awry when Cyrus took it even further! When one dancer came on stage dressed as the 42nd President of the United States, Cyrus transformed into Monica Lewinsky, quickly dropping to her knees in honor of Bill Clinton's sex scandal. The singer began simulating oral sex of the Bill Clinton look-a-like live on stage during the jaw-dropping performance.
However, the irony of it all was that Cyrus' admitted to having pre-show jitters. She even tweeted her sentiments to fans shortly before taking the stage.
I'm freakkkkking out

— Miley Ray Cyrus (@MileyCyrus) February 14, 2014
I don't know if it's Valentines Day or #BangerzTour but I'm most definitely having a panic attack

— Miley Ray Cyrus (@MileyCyrus) February 14, 2014
Obviously, all of the singers fears have abated as she definitely turned heads, raised eyebrows, and held the attention of fans for the entire night.
As expected, she did it in typical Miley Cyrus fashion!