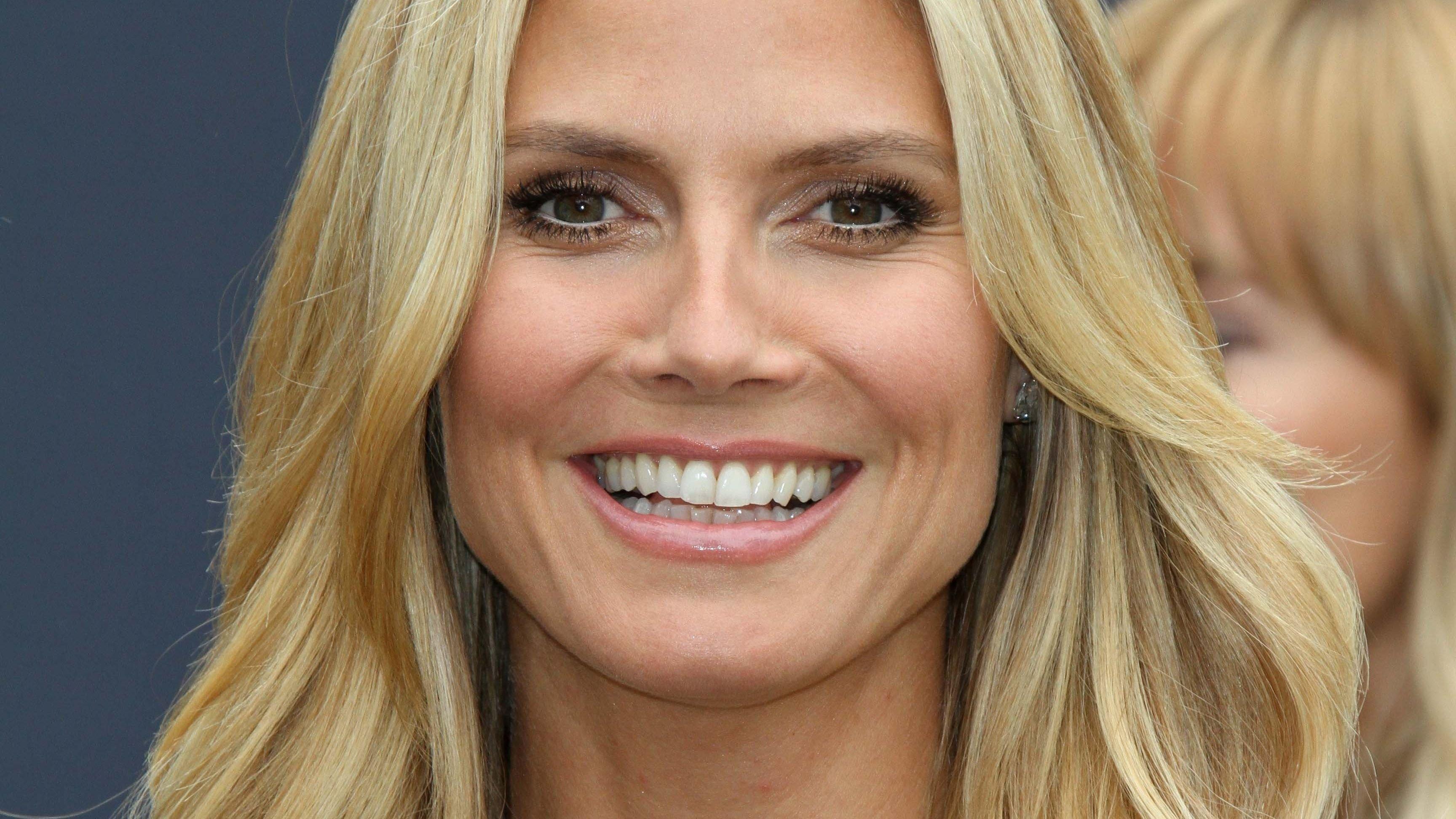 Heidi Klum Flaunts Figure In A See-Through Lace Pantsuit
Heidi Klum is flying the flag for the 2022 sheer trend as she stuns in a see-through black lace pantsuit. The 49-year-old supermodel and former Project Runway star was one of the many celebrities attending Sir Elton John's big farewell recently, and she dressed to impress. Heidi went for a classic look, also upping the ante via a mix of sparkly opaque and see-through fabrics. The German-born sensation looked far younger than her years while also putting on a couples display with her husband Tom Kaulitz.
Article continues below advertisement
Sizzles In Black Sheer Lace
Heidi updated her Instagram and from the red carpet. The Intimissi ambassador was all smiles as she flaunted her good looks and her fashion sense.
Heidi modeled a black pantsuit from luxury Italian designer Moschino. The two-piece came formed of a blazer and matching pants - both featured sparkly and sheer elements as Heidi also injected in some lace action. The mom of four didn't flash much flesh, but she did manage to show off her Amazonian physique. Heidi also rocked rings and bracelets to accessorize her look. Her super-flared pants largely concealed her footwear. Glam-wise, Klum went for a bronzer-rich and dewy face of makeup complete with highlighter while also rocking her blonde locks down and with full bangs.
A Fantastic Night
In a caption shouting out Elton John, Heidi wrote: "Farewell yellow brick road 💛🚀 @eltonjohn thank you for the performance of a lifetime. #EltonFarewellTour#EltonLive." Fans have left over 22,000 likes. Also dropping one was reality star Paris Hilton.
Pulling a bit of a Kim Kardashian, Heidi also shared a BTS fittings moment, where she showed off her figure in her sleeveless and black lacy outfit, this time minus the blazer." Uuuugh," she wrote with humor.
Article continues below advertisement
Pre-Glam
In a separate share, the former Victoria's Secret Angel posed bare-faced and with only white face cream on, as she showed off her assets while already dressed up in her ensemble. She made sure to tag Moschino.
Social Media Doesn't Always Go To Plan
Heidi is a regular on IG, but she has opened up to reveal being a victim of social media trolls.
"That's why I've had to turn the comments off on my social media," she told Glamour. "Some people say mean things to me. Or else they say mean things to each other, which is in some ways worse. They are coming onto my platform and fighting among themselves and I don't want to be the person fueling that hatred."