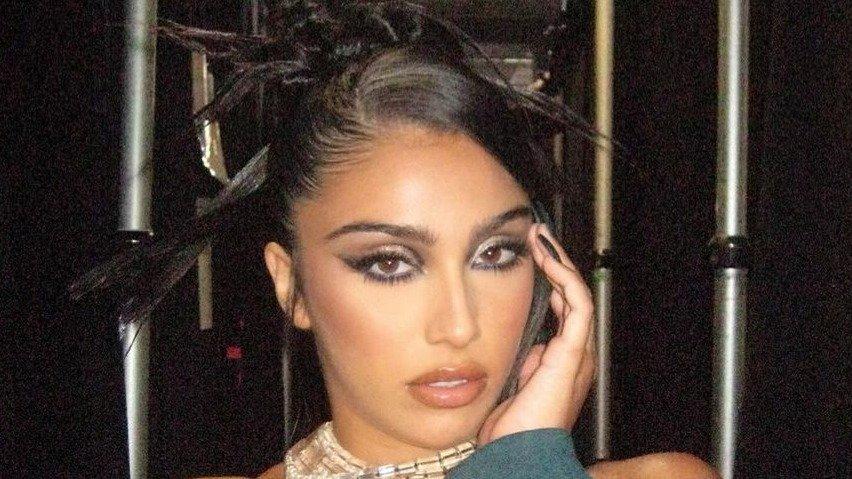 Madonna's Daughter Lourdes Leon Wows In Skimpy Bikini Top
Lourdes Leon is stunning in a plunging white bikini top as she sizzles in a new shoot. The 26-year-old model, actress, and daughter to Grammy winner Madonna turned heads as she updated her Instagram recently. While Lourdes in a skimpy look is nothing new, fans are still loving it. Lourdes posted for her rising fanbase while going edgy in a look that mom Madonna would likely approve of. She also reminded her 420,000+ followers of her killer curves. Fans have left over 26,000 likes, with reality star Lisa Rinna also dropping one.
Article continues below advertisement
Stuns In Bikini Look
The photo came with Lourdes at a close-up angle. She posed outdoors, backed by The Statue of Liberty, although fans likely weren't eyeing up the iconic landmark. Lourdes was flaunting her sizzling figure in a stringy low-cut bikini top while leaning forward towards the camera.
Drawing attention to her ample assets and also showing off her tiny tattoos, the 2022 Met Gala Face added in an open and wintry white jacket with a sporty feel. She also wore her hair in bangs and tied back from her face, but with a heavy focus on the hanging strands. Glam-wise, the brunette beauty sported a full face of makeup complete with lipstick. Large silver hoop earrings completed the look.
NYC, Baby
In a caption, Lourdes wrote: "Photo taken by dear friend/great debater/sister4L @annamalize 🗽 🗽🗽🗽🗽🗽🗽🗽🗽🗽. It does NOT say rsvp on the Statue of Liberty."
Lourdes might have grown up as a child celebrity, but she's now a star in her own right. In 2021 and 2022, she's fronted designers Mugler, Burberry, and Calvin Klein. She is also signed to singer Rihanna's best-selling lingerie brand, Savage x Fenty.
Article continues below advertisement
Opening Up On Her Career
Lourdes spoke to Interview Magazine, stating that her career plans aren't set in stone, but she did touch on acting.
"I don't know how I feel about acting yet. I think it's about finding a role that wouldn't be too far off from who I am already. Honestly, actors really annoy me and I can't be around them. As for music, I can sing. I just don't care about it. Maybe it's too close to home," she said.
Wondering About Her Goals
Lourdes continued, "I don't have a specific goal. I probably should. Financially, modeling is a smart decision. I enjoy being very hands-on with the campaigns I do, so that I'm not just modeling, per se."
For more from Lourdes, give her IG a follow.