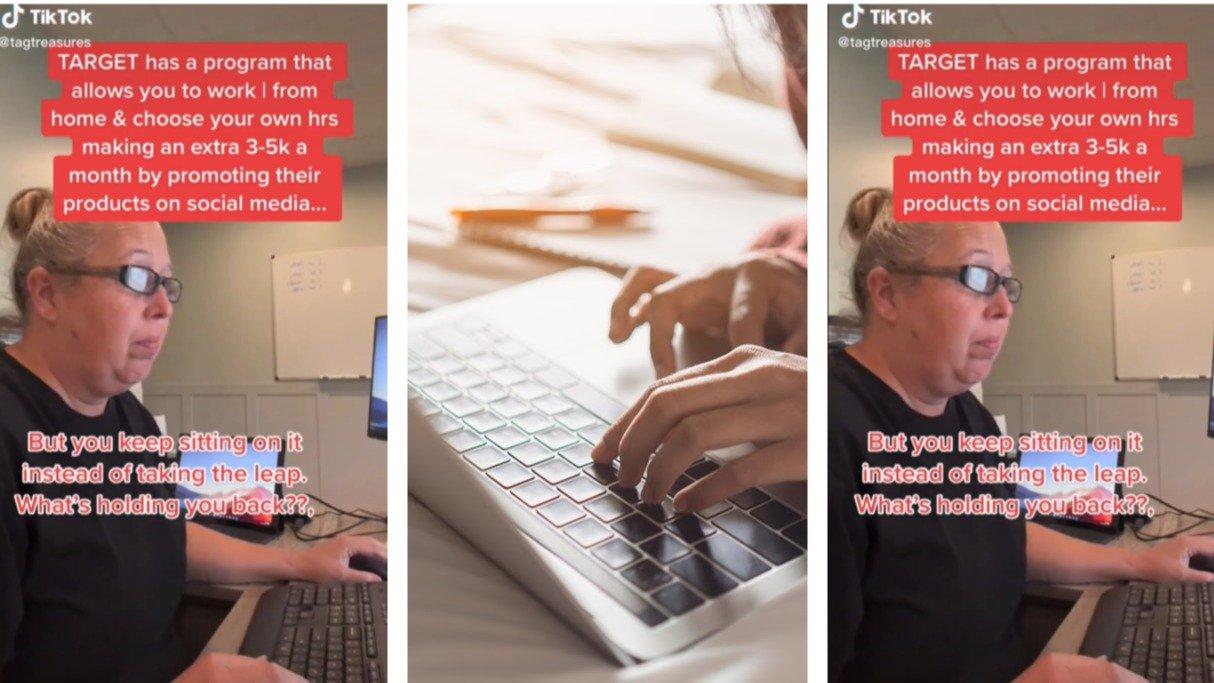 Woman Intrigues TikTokers By Revealing That Target Has A Flexible High-Paying Work-From-Home Program
A lady named Amy Goddard with, handle @tagtreasures, started going viral on TikTok after she posted a video where she promoted a Target "work from home" program on the platform. Here is all she explained about the high-paying work-from-home program.
Article continues below advertisement
How Does Someone Get Good Earnings By Working Remotely?
Goddard's video began with her staring at the camera for a while before she turned to her computer. The lady had all her concentration on her monitor as a text overlay appeared on the screen. The text read:
TARGET has a program that allows you to work from home & choose your own hrs making an extra $3-5k a month by promoting their products on social media…but you keep sitting on it instead of taking the leap. What's holding you back??
-
The program mentioned in Goddard's text is an affiliate marketing plan. In her comments section, she indicated that there is a link in her bio for a "15-Day Business Builder Challenge" that promises to help guide people into creating their affiliate marketing program. This link refers viewers to an online platform that instructs first-time users to drop their first name, last name, and email address.
Commenters Share Their Opinions
After watching Goddard's post, some TikTokers who claim to work for Target said the information was false. Still, some people were interested in her proposition. A few commenters noted that it is more difficult to earn a steady income from affiliate marketing than Goddard had indicated.
As people kept sharing their opinions a commenter wrote: "What's holding me back is it's not guaranteed and I can't ever find the damn positions," one commenter wrote.
Article continues below advertisement
Does Target Have An Affiliate Program Call Target Partners
Target indeed has an affiliate marketing program called Target Partners. The website states that one can earn up to 8% when one promotes a favorite Target discovery with the Partners Program. According to the website's details, the plan is always on and open to all, making content creation easy at any time whether one is an influencer, blogger, or affiliate.
Affiliate programs are reasonably common as many businesses have affiliate links that allow users to create personal links that earn them a commission on products people purchase through the said link.
How Much Money Do Affiliates Earn?
According to Influencer Marketing Hub, Affiliate Marketing is a source of online income which may require persistence and patience to make a good profit. The site states that the amount affiliates earn is not fixed and there are so many variables that can affect an individual affiliate's earnings.
According to InfluenceMarketingHub, It is however important to note that to earn any amount at all one needs to have an existing affiliate website. Affiliates are not meant to earn millions overnight and reports show that most people are disappointed because they go into affiliate marketing expecting to get huge rewards immediately.
With reports so far, it is important to know that affiliate marketing can indeed yield impressive profits but the money does not come immediately.