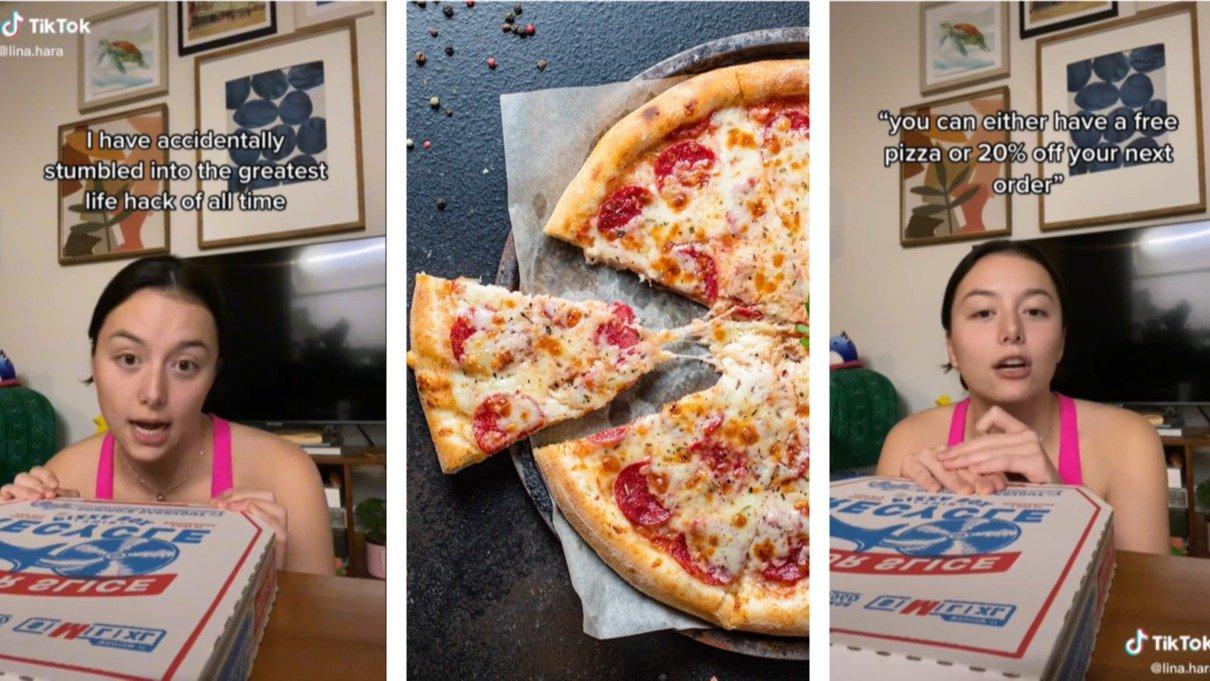 'Greatest Hack': Domino's Customer Reveals How To Repeatedly Get Free Pizza
Lots of life hacks have been going viral on TikTok. However, one, in particular, is among the few hacks which are actually helpful. A Domino's customer shared a video via TikTok revealing a life hack that can be used to repeatedly get a free pizza from the store.
Article continues below advertisement
TikToker Shares A Free Pizza Hack
TikTok user Lina Hara shared a life hack to repeatedly get free pizzas, a hack which works only if you live close to a busy Domino's pizza franchise. In the video which has garnered over 6.3 million views over the past week, the TikToker posed with a pizza box while explaining how the hack works. "My local Domino's takes a very long time to process orders," Hara explains.
She, however, has no problem with the long time it takes to process orders (usually about 60 to 90 minutes) because she orders ahead. After the pizzas arrive, she always receives an apology email from Domino's, offering her 20% off her next order or a free pizza. "Of course, I'm gonna get the free pizza," she says. "So this is currently the apology pizza for the apology pizza for the apology pizza for the apology pizza for the original pizza I ordered."
A Previous Version Of The Free Pizza Offer
This free pizza offer is a version of the "30 minutes or less" pizza delivery guarantee which was previously popular in the 1990s. Although the 30-minute guarantee is no longer an official Domino's policy in the U.S, it was so popular at the time that the fast-food chain continued the offer even after two famous car crashes were connected to delivery drivers rushing to meet the deadline.
Per Melmagazine, Domino's later scrapped the policy after facing a $79 million car crash lawsuit in 1993. However, policies like the "20% off or a free pizza" offer exist as a worthwhile expense to keep customers loyal.
Article continues below advertisement
TikTokers Express Concern
Hara is not the only person to discover this method of getting free pizzas. A commenter revealed that they have also been using this hack for a while. "QUIET! I've been using these for free pizza for months. It's the only way I can afford it," one TikTok user wrote.
Many users expressed concern that Domino's might alter their refund policy if the hack becomes widespread. "Sometimes it is okay to gatekeep things because they're for sure creating a new policy over this lol," a commenter wrote.
Domino's Is Possibly Aware Of The Hack
While many users were concerned that Hara was revealing the secret to free pizza, others did not share the sentiment. "Honestly they're probably aware of this but they don't care because you're still returning to order pizza," one user pointed out. "As a former Domino's delivery driver, I can tell you with certainty that as long as you tip your driver, no one at the store cares one bit," another wrote.