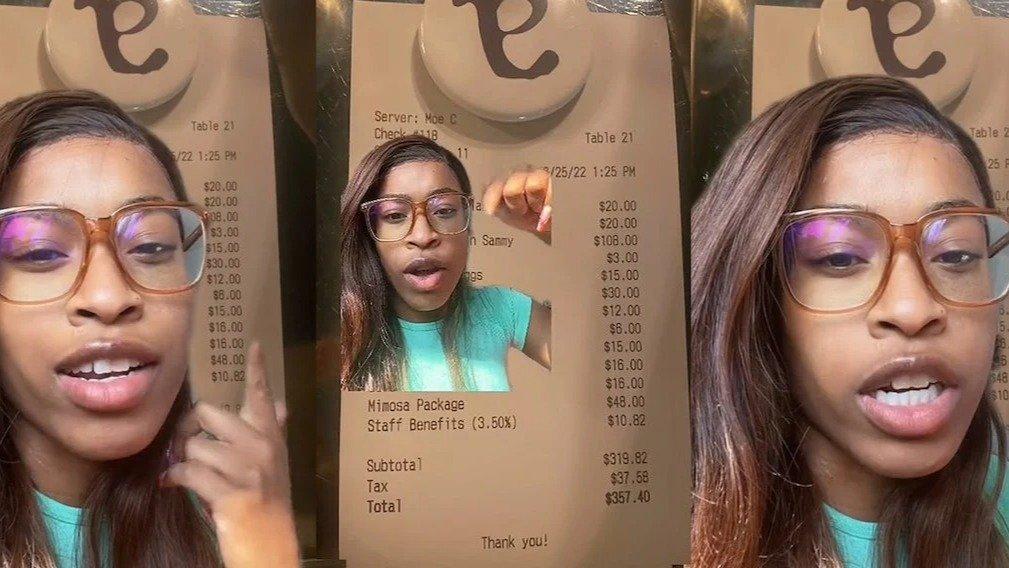 Customer Is Outraged At How Restaurant Bill Included A 3.5% Surcharge For Staff Healthcare
Do customers have to pay their health bills and that of employees in a restaurant? Unfortunately, some restaurants' additional fees are out of control, and most consumers are not finding it funny.
One TikToker who had enough of the crazy charges by restaurants recently vented her frustration on her TikTok page over the extra fee at a restaurant she visited.
See more details about her post below.
Article continues below advertisement
Enough Reason To Hate The U.S.
"I recently found another example of why I hate living in the U.S.," TikToker @killjill___ said at the beginning of the recent video.
In her video, she described how she and her friends had gone out for brunch when she saw a fee that stated, "Staff benefits (3.50%)" on their bill. The enraged TikToker claimed that when she enquired about the reason for the charge with a server, she learned that it was for the employees' healthcare.
Why Surcharges Are Common In The U.S.
As restaurant owners explore methods to offer their staff more incentives, surcharges have become more common in recent years across the United States. According to the National Restaurant Association, restaurants are generally not required by federal law to provide health insurance, though there may be certain exceptions based on the company's size. As a result, owners may typically retain staff and reduce high turnover by providing health benefits.
Article continues below advertisement
@killjill___ Expresses Her Frustration
The TikToker explained how shocked she was when she was told the reason for the charge, considering that she has to pay for her own health care.
"I was flabbergasted," @killjill___ said. "So you're telling me every two weeks, it's money taken out of my check to pay for my health insurance just so when I go to the doctor I still [have to] pay them more money to treat me, and then pay more money to get my meds from the pharmacy. And now companies are allowed to put the burden for paying for their employees healthcare on customers? Like what?"
Other TikTokers Criticize Restaurant Owners
Commenters criticized restaurant operators in the comments section for placing the responsibility of paying staff on consumers rather than paying and providing equitable benefits upfront.
"They really making us pay their employees a livable wage AND their insurance," a commenter said.
"Customers always seem to bare the burden. If you cannot afford to pay your staff, you probably can't afford to have a business!!" another commenter said.
With this development in most restaurants, tipping employees will be more difficult as the surcharges are usually more than the minimum cash wage for tipped employees, which is $2.13 an hour.