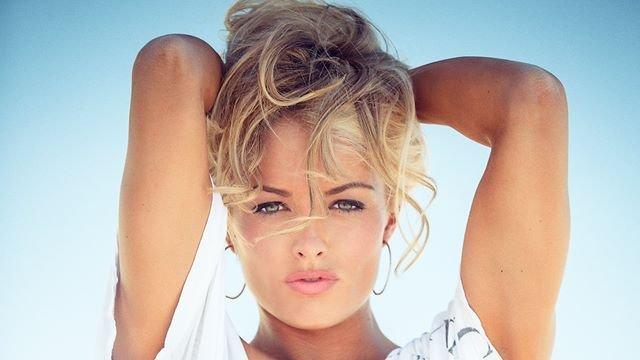 Mandy Rose In Bikini Gives 'Working Advice'
WWE Superstar Mandy Rose gave a lesson on balance in a recent Instagram post telling her 3.2 million followers to play harder than they work.
The athlete embodies that mantra in her daily life and the fans can see it through her social media posts, from riding bikes around her home to leisure swims on the beach. Rose ensures she has a good time.
It's also evident in the TikTok videos she posted on mother's day, showing her pranking her mother.
Article continues below advertisement
Work Hard, Play Harder
Rose showed off her washboard body in a magenta two-piece consisting of a regular-looking bra and V-shaped bikini bottom.
The simple style is unlike her typical swimwear, which is often fancy and dramatic, but it's still true to her since the bra had a tied waistband and the bottom was ruched at the back.
The fitness model paired her swimwear with round-framed black sunglasses and wrapped her blonde hair in a bun.
The Woman To Beat
After defending her title for the umpteenth time, she branded herself a hot commodity, proving she's the woman to beat on WWE NXT. She wore a low-cut pink bustier top with a front zipper pushing up her cleavage and paired the outfit with skintight white ripped denim pants.
The athlete paired the look with a long wavy brown hairstyle parted down the middle and clear banded wedge-heeled mule sandals.
Article continues below advertisement
Getting Creative With Her New Gear
Rose's new ring gear is a bejeweled green and black leather bikini set, and it suits her persona to a tee. She's played with the outfit very well in the past month switching up her hairstyle for extra pizazz every time she enters the ring. From a long body wave to a water curl and neat ponytail, the 31-year-old ensures she lives up to her nickname Toxic Attraction.
Champs Stay Ready
Rose revealed that she's been hitting the gym hard to maintain her physique and decided to share some of her progress pictures with her fans.
She wore a body-hugging black sports bra over grey leggings and long black socks. Rose tied her luscious brown hair in a messy low bun while her face glistened with sweat from heavy weight lifting.
She added the hashtag Champs Stay Ready, meaning she stays prepared physically before every triumphant fight.