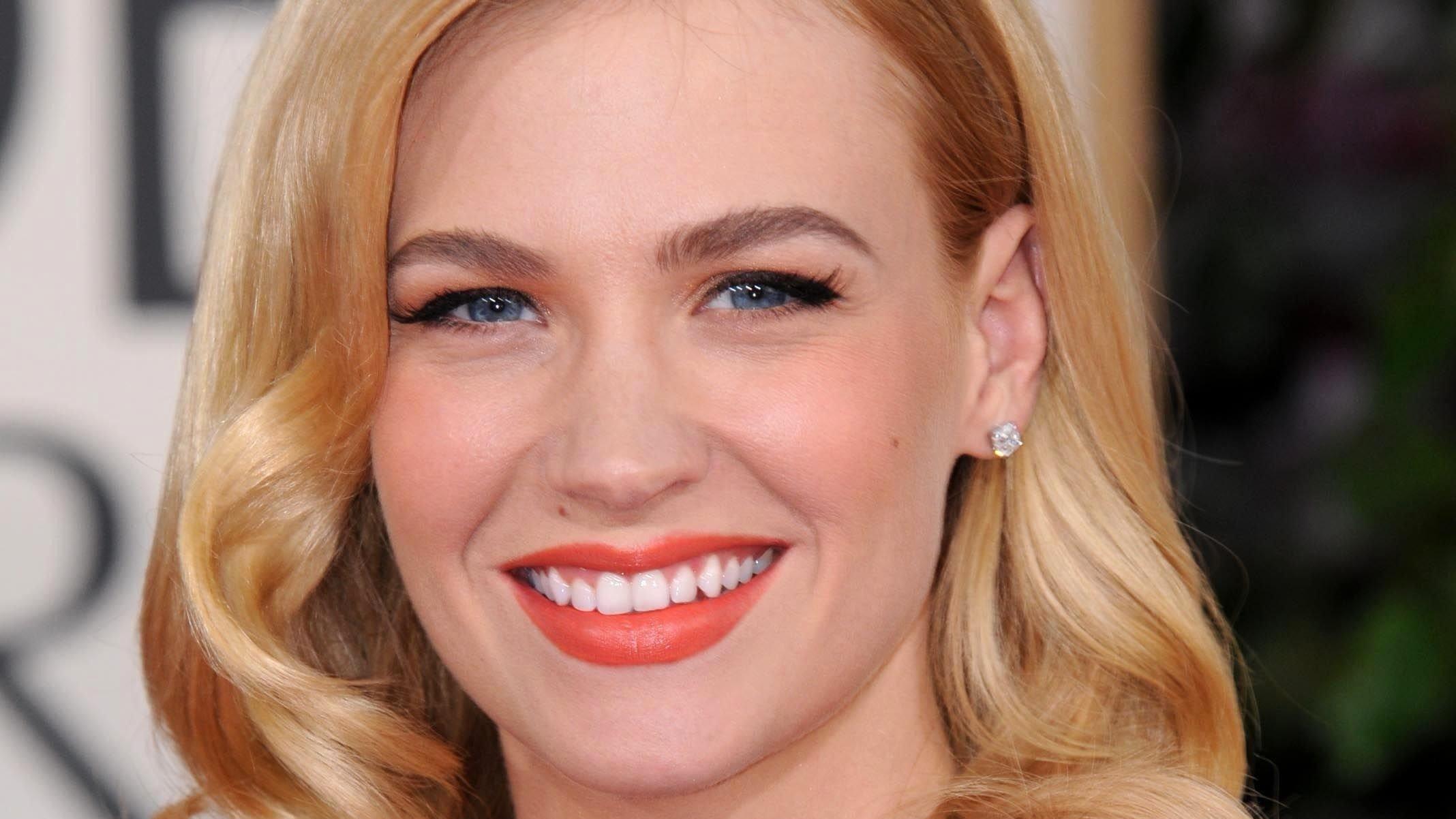 January Jones Sends Mixed Messages In Plunging Neckline Minidress
Actress January Jones teased her one million-plus Instagram fans with a post of herself in a baby pink mini dress from Dolce & Gabbana. The versatility of the outfit begged the questions,
Article continues below advertisement
Is it a dress or a swimsuit, is it baby doll or hot granny?
-
Article continues below advertisement
Mixed messages I know. (also I realize I'm too pale to be in the sun but it's morning and I'm headed straight inside).
-
Article continues below advertisement
What Is It?
Jones' Dolce & Gabbana dress was a soft pink halter neck with a plunging V-neckline flaunting her perky busts, and a snatched mini skirt hugging her bum. The flared hemline stopped below her butt, skimming her toned thighs, and its chiffon material made some fans think it was a bathing suit.
Jones paired her dress with a shaggy blonde bob hairstyle and white-rimmed visors from D&G. The plunging neckline style has become a signature look for the 44-year-old actress who loves her body.
Flaunting Cleavage In LaQuan Smith
Jones wore a red plunging neckline two-piece during the Fashion Week season to the LaQuan Smith pre-Oscar party. She styled her hair in a bob bowl cut and wore a thick black eyeliner to channel her inner 70s - 80s Disco Queen.
Jones' 1.1 million Instagram followers know that her role as Betty Draper on Mad Men isn't far-fetched from her style in real life because she embraces vintage fashion wholeheartedly. The 44-year-old paired her pencil 3/4 length pants with a white pointed-toe shoe adding more color to her already bright ensemble.
Article continues below advertisement
Jones Teases Cleavage In D&G Jacket
Jones showed off her perky cleavage in this mirror selfie of her wearing an unzipped brown Dolce & Gabbana leather biker jacket and straight-legged black pants. Her loose bob covered half of her face keeping the focus on her chest. She was in yet another dilemma as she asked her followers,
I'm so out of practice. Can one wear sweatpants, a leather jacket and no top as an outfit? What if I zipped it up and put shoes on.. is that sufficient?? Also does it feel more like "date night" or "target run"?
-
Baring It All
On one occasion, Jones ditched the top all-together and covered her boobs with her hand instead. She paired the look with high-waisted pink flared leg pants and white-rimmed black-lens sunglasses. Her blonde neck-length bob framed her serious look and she only accessorized with a single necklace.