Rihanna Reveals She's Pregnant by Showing off Baby Bump During Super Bowl Halftime Performance
Rihanna is going to be a mom of two! A representative of the singer confirmed it to The Hollywood Reporter after her explosive performance at Superbowl LVII. On Sunday, the Umbrella singer hit the halftime show stage for Super Bowl LLVI in a crimson red ensemble, which featured a stylish jacket and bralette. The singer's outfit, a custom-made design by LOEWE, also showed off the 34-year-old's growing baby bump.
Rihanna performed a number of her hits at the State Farm Arena in Glendale, Arizona, where the Philadelphia Eagles played the Kansas City Chiefs. Rihanna opened her highly-anticipated Super Bowl performance with B*** Better Have My Money and also performed her hits Run This Town and Umbrella in her Sunday performance. The singer packed a huge number of hits into a tight 14-minute set, only performing the first verse or chorus of certain songs. But monster hits such as Rude Boy were balanced with the somewhat harder-edged and lesser-known Pour It Up. As she performed Run This Town, All of the Lights and Wild Thoughts, there were no appearances from Jay-Z, Ye (formerly Kanye West), or DJ Khaled, who normally feature on those tracks, reported BBC.
ET Canada reported that in their interview with the star during the Apple Music Super Bowl LVII Halftime Show press conference ahead of her halftime performance, the Grammy winner said she first thought twice about performing at the Super Bowl, but motherhood ultimately inspired her to perform at the Big Game. "When I first got the call to do it again this year, I was like, 'You sure?' Like, I'm three months postpartum, like, should I be making major decisions like this right now? Like, I might regret this," she said. "But when you become a mom, there's something that just happens where you feel like you could take on the world, you can do anything." She added, "And the Super Bowl is one of the biggest stages in the world. So, as scary as that was because I haven't been onstage in seven years, there's something exhilarating about the challenge of it all. And it's important for me to do this year. It's important for representation, it's important for my son to see that."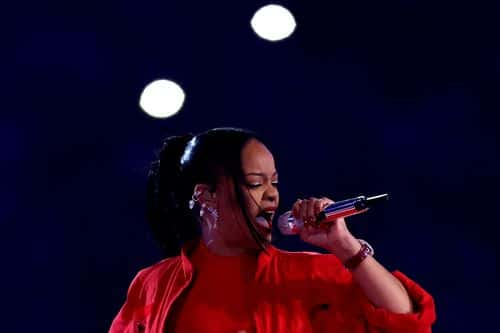 Rihanna also spoke about the "biggest challenge" she faced ahead of the show. As per the singer, "The setlist was the biggest challenge. That was the hardest part — deciding how to maximise 13 minutes, but also celebrate. That's what the show's going to be — it's going to be a celebration of my catalogue in the best way." Rihanna also said that she was honoured to be a part of the extravagant event, this year. "And I am honoured to be here. I am honoured to be doing this year," she added. Rihanna, along with rapper A$AP Rocky, is the proud parent of a 9-month-old boy. The rapper was seen excitedly supporting her on the sidelines during the halftime show, filming her performance and dancing along.