Jimmy Kimmel Labels This Trump Family Member as Most 'Embarrassing' Amidst Civil Fraud Trial Late-night host Jimmy Kimmel didn't mince words when discussing the Donald Trump family's recent courtroom drama on his show. In a recent episode, Kimmel took aim at Donald Trump Jr.'s testimony in the civil fraud trial in New York, where the former first son claimed his father was a real estate "artist." Kimmel remarked, "That is basically what these people are: a crime family," adding "A very dumb crime family. The Gambozos, if you will."
Also Read: MSNBC's Lawrence O'Donnell Slams Donald Trump's Attack on Network: "Too Stupid to Know That Was a Lie"
Referring to the protesters who chanted "crime family" when Trump Jr. arrived in court, Kimmel expressed agreement, emphasizing the perceived criminal nature of the Trumps, as per Y! Entertainment. Trump Jr.'s assertion that his father is a real estate "genius" was met with Kimmel's sarcastic commentary. "Yeah, he's an artist," Kimmel quipped. "He's Vincent van Gogh-ing to jail." This biting remark underscores his skepticism surrounding the Trump family's legal defense.
Kimmel didn't hold back when characterizing Trump Jr., labeling him as "so embarrassing." The late-night host highlighted an interview in which Trump attorney Alina Habba referred to Trump Jr. and Eric Trump as "boys" and "kids," emphasizing their lack of experience and maturity. "They're both still wearing pull-ups," Kimmel humorously quipped, further diminishing the credibility of the Trump family, as per HuffPost.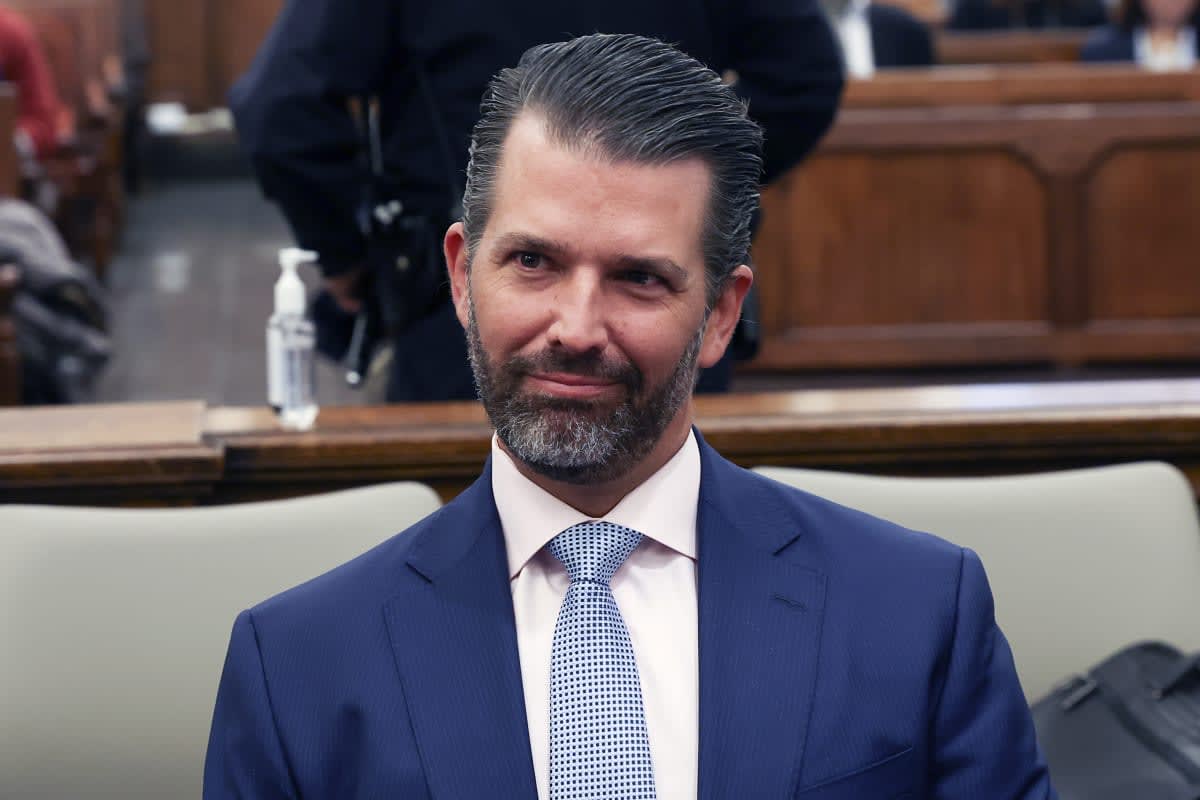 Also Read: Home Depot Founder Bernard Marcus Says He'll Still Support Donald Trump, Even if He's Found Guilty
Trump Jr.'s appearance in court marked a pivotal moment in the ongoing civil fraud trial. The trial, which also involves his father and brother, Eric, poses a significant threat to the Trump real estate empire. A potential loss in court could result in the Trump Organization being banned from doing business in New York, a consequence that looms over the family's financial future.
---
I filed an official judicial complaint against Judge Arthur Engoron for his inappropriate bias and judicial intemperance in New York's disgraceful lawsuit against President Donald J. Trump and the Trump Organization. pic.twitter.com/xkvuclOdnX

— Elise Stefanik (@EliseStefanik) November 14, 2023
---
Also Read: Donald Trump Sends Warning to Joe Biden Amid Legal Woes: "Should Stop His Thugs Before It's Too Late"
Despite the serious nature of the trial, Trump Jr. maintained a relaxed and confident demeanor during his testimony. He strategically injected humor into his responses, drawing laughs from the courtroom. The trial revolves around allegations of falsification of business records, insurance fraud, and conspiracy. The prosecution has already secured a ruling that Trump significantly inflated property values to obtain favorable loans. This focus on financial improprieties sets the stage for a legal battle that could have severe repercussions for the Trump family's business and financial standing.
As the trial progresses, the Trump defense team faces challenges, with the judge expressing a willingness to consider their arguments. The potential for a mistrial has been floated by the Trump lawyers, accusing the judge and his clerk of bias. Legal experts suggest that, after two damaging weeks of testimony, the case may be beyond salvage at this point. The courtroom drama continues to unfold, and the stakes are high for the Trump family. With Kimmel's biting commentary reflecting public sentiment, this legal spectacle continues to attract attention, potentially reshaping perceptions of the Trumps as a family facing serious legal challenges.
More from Inquisitr
Melania Trump Defended by Fans After Being Criticized for Her Outfit at Rosalynn Carter's Burial
Media Findings State Donald Trump's 'Vermin' Remark Sidelined Over Hillary Clinton's 2016 Comments