Here's Every Single Time Taylor Swift Watched NFL Games To Support Beau Travis Kelce New Budding Romance in the Town
Also Read: Swifties Are Accusing the Mahomes of Gatekeeping Travis Kelce and Taylor Swift at the Christmas Party
Amidst the budding romance between Taylor Swift and Travis Kelce, the songstress has embraced her role as the girl in the bleachers, finding joy in sharing the excitement of Kansas City Chiefs games with her newfound love. In a noteworthy moment in September 2023, Taylor Swift marked her debut at a Chiefs game, where she witnessed their triumph over the Chicago Bears from the exclusive Kelce family suite. Alongside the tight end's mother, Donna Kelce, Swift enthusiastically cheered for the team. However, Kelce, in a podcast episode of New Heights, hinted at a sense of discomfort with the heightened media coverage of Swift's presence at the games.
1. The First Visit
On September 24, 2023, Swift experienced her inaugural Kansas City Chiefs game, seated in an exclusive Arrowhead Stadium box. As Travis and his team faced off against the Chicago Bears, the pop sensation donned a Chiefs-themed windbreaker, harmonizing with the team's iconic red and white colors. Sporting a matching lip shade, she shared the excitement with Donna Kelce by her side. Post-game, the dynamic duo, Swift and Travis, exited the locker room together, captured in a moment before speeding away in a convertible to revel in the festivities of an afterparty, per People. The unfolding romance between Taylor Swift and Travis Kelce continues to captivate both sports and entertainment enthusiasts alike.
Also Read: Taylor Swift Criticized For Raising Ticket Prices, Fans Call Her 'Money Greedy' And 'Capitalist Queen'
2. Hinting at Speculations With The Second Visit
Also Read: Blake Lively Quips Beyoncé And Taylor Swift Don't Have To Be Threatened By Her 'Pop Stardom'
On October 1, 2023, Swift graced the Chiefs vs. Jets game at MetLife Stadium, catching the action from her suite. The songstress was in the company of friends, including Sabrina Carpenter, Ryan Reynolds, Blake Lively, Hugh Jackman, Sophie Turner, Shawn Levy, and her brother Austin Swift. The 12-time Grammy Award winner who was wearing blue jean shorts, a long-sleeved black top, and a leather jacket, was captured in a video entering the stadium's security area with the other A-lister celebrities.
3. Third Time Lucky
Having missed Kelce's away game against the Minnesota Vikings on October 8, Swift made a triumphant return to the stands for the Chiefs' clash against the Denver Broncos in Kansas City on October 12, 2023. Sporting a Chiefs windbreaker, she was seen seated in the athlete's private box alongside Kelce's mom. The company expanded as Patrick Mahomes' wife, Brittany Mahomes, joined them later in the game.
4. The Most Recent Spotting
During the Chiefs' home game against the Los Angeles Chargers on October 22, Swift found herself in the suites alongside Brittany Mahomes. The two enjoyed the game together, capturing a heartwarming moment as Swift snapped a sweet photo of Brittany and her son, Bronze.
Here Are Some Recent Spottings of the Couple in Public
According to a source sharing insights with People, Swift and Kelce painted the SNL party with smiles and joy, remaining lively and engaging throughout the night. The source described the couple as not just talkative but genuinely fun, making an effort to connect with everyone in the room. Recounting a particularly sweet moment, the source shared that Kelce took Swift's hands, placed them on his shoulders, drawing them face to face, before wrapping his hands around her waist. The result? A tender, intimate moment as they leaned in for a heartfelt kiss.
1. When Swift Expressed Her Feelings
According to a source from Us Weekly, Swift's emotions are taking a unique turn with Kelce, setting him apart from her previous relationships. The source reveals Kelce's thoughtful gestures, like surprising Swift with an enormous bouquet of flowers just because. Describing Kelce as someone who makes Swift feel secure yet champions her independence, the source notes that things are flourishing between them. Kelce himself opens up on his podcast, New Heights, expressing his protective instincts towards Swift. Addressing rumors, he denies any involvement in a supposed tussle with Swift's security guard at the SNL after-party.
2. Sweet Nothings!
An eyewitness, Annie Williamson, spilled the beans to The Messenger about Swift and Kelce's cozy night at Waverly Inn on Sunday. According to Williamson, the duo occupied a rounded booth and engaged in a deep and romantic conversation throughout the entire evening. Their closeness was palpable, with Swift and Kelce practically inseparable—holding hands, laughing, and creating an intimate atmosphere. "They were just really enjoying each other's company," Williamson emphasized. The proximity was noteworthy, as they sat so close, almost snuggled up. It was a picture-perfect scene of romance.
3. Travis Kelce's Halloween Outfit Suggestion To Fans
Last Friday, Kelce spilled the beans to reporters about crafting the ultimate couple's costume as "Travis" with Taylor Swift. The tight end suggested sporting his iconic mustache and the legendary 87 jerseys, a combo that struck a chord when they first crossed paths. To seal the deal, he hinted at throwing in a friendship bracelet for that extra touch, per Page Six. It seems like Kelce's got the winning formula for a convincing and stylish duo costume!
4. Definitely Isn't a 'Fling'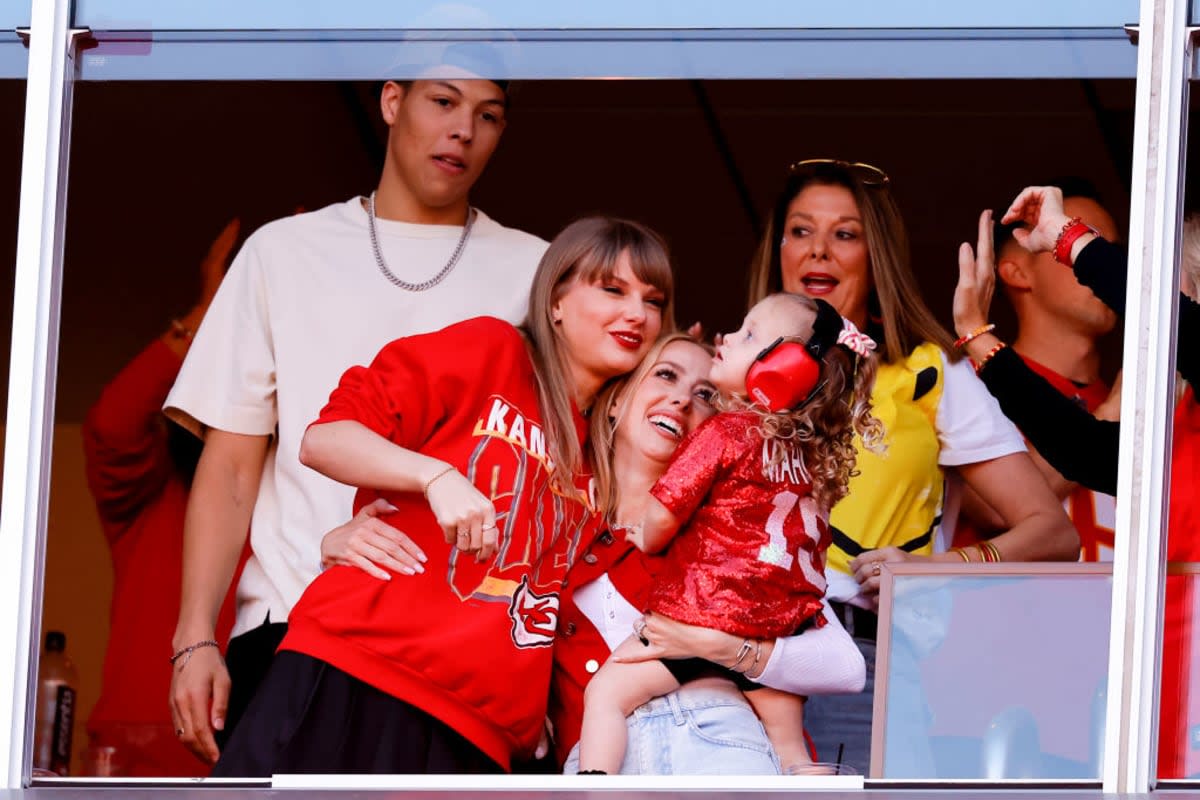 Flying in from California at 12:30 P.M., Swift made a touchdown at Kelce's game in Kansas City and the sparks were undeniable. The duo was captured leaving the stadium hand in hand, sparking rumors of a blossoming romance. According to an insider per The Messenger Swift and Kelce are moving beyond casual, with the songstress enjoying the moment with Travis before embarking on a tour. Though they're steering clear of labels, the source hinted that this connection is far from a fleeting affair—it's steadily evolving into something more significant.
5. First Public Kiss
Love takes the spotlight as the first smooching snapshot of Kelce and Swift emerges, courtesy of Chariah Gordon, girlfriend of Chiefs player Mecole Hardman, Jr. The intimate moment, featuring Swift planting a kiss on Kelce's cheek, took center stage on Gordon's Instagram. Adding to the buzz, a video surfaced of Kelce's jubilant reaction to being dubbed Swift's boyfriend on Sunday—he exuberantly pumps his fist in the air. It seems like Kelce is happily embracing this romantic twist in the limelight!
More from Inquisitr
Ryan Reynolds Takes a Dig at Taylor Swift's Beau Travis Kelce With This Hilarious Photoshopped Image
Lamar Odom Advices Travis Kelce to Stay Loyal to Taylor Swift Even if Millions of Women Want Him: "We Are Men.."