Fans Believe Taylor Swift and Britanny Mahomes Celebratory Handshake was a 'Publicity Stunt' At Arrowhead Stadium, Taylor Swift was seen supporting her boyfriend Travis Kelce, the tight end, along with Brittany Mahomes, the wife of Patrick Mahomes, the quarterback for the Chiefs and Kelce's close buddy. The two "WAGs" were seen making a trendy 'celebratory handshake' on Sunday night while demonstrating how well they had bonded during their time together in the stands. However, NFL fans were left divided over the two girl pals displaying their love for the game, as per The Daily Mail, "This is more cringe for me," one fan said, while a second fan exclaimed, "This is so cringe just to get people to watch NFL football!"
Also Read: Rob Kardashian Took Out $5M Mortgage on Kris Jenner's Old House Where He Lives With Daughter Dream
A third fan noted that Brittany and Kayla Nicole, Kelce's ex-girlfriend, were closest friends, while a fourth one said, "Make it stop." A fifth fan expressed that the Swift friendship with Mahomes is actually a publicity stunt: "Make it stop,' while another said that the friendship seemed like a 'publicity stunt,' adding, 'who practices a handshake?" A sixth fan tweeted: "Now this is publicity stunt who practices a handshake she literally just started going to games and chillin wit the chiefs lol this wack." Taylor was spotted with a drink in her hand as Brittany held her 11-month-old son, Bronze, in her arms. They swayed back and forth while matching head bobbing motions.
Meanwhile most of the Swifties had only encouraging words for the budding friendship between the Grammy award winner and the quarterback star's wife. One fan tweeted in support: "Ok they're besties,' while another said, 'Bestie already has a handshake figured out with her new bestie." A second fan expressed happiness over the new romance between Kelce and Swift: "Not Taylor Swift and Travis Kelce both doing handshakes at almost the same time. They are so beautiful together. They really are in love, think alike and act alike. Easily the cutest and most adorable relationship of the century." A thrid fan tweeted: "I'm so happy Taylor is gaining new friends!!!"
Also Read: Reflecting on the 'Tons of Mistakes' He Has Made, Will Smith Says He is 'Deeply Human'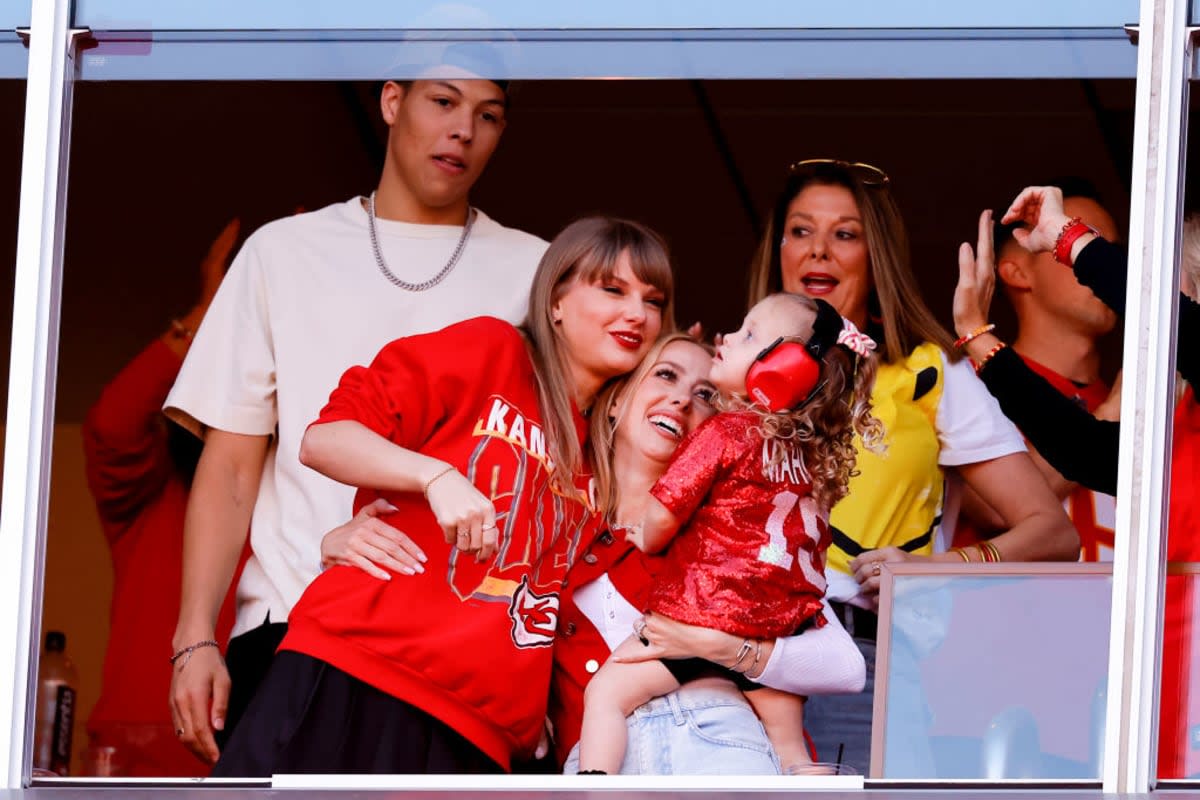 Following the Chiefs' opening touchdown, which came from a Mahomes pass to wide receiver Marquez Valdes-Scantling, the new pals exchanged their first celebratory handshake. They went completely crazy, yelling and jumping with joy as they practiced their handshake, which culminated in a hip bump.
Also Read: Trump's Obsession With Gag Orders Stems From a Need To 'Blame' Someone If He Loses the Case, Says Legal Expert
The couple first made their public debut together last month when Swift attended Kelce's game on September 24 against the Chicago Bears while sitting in a special box next to Kelce's mother Donna. Bringing along her famous friends, Lively, Reynolds, Hugh Jackman, and Sophie Turner, she was photographed watching Kelce's game versus the Jets in New Jersey on October 1. Swift had returned to Kansas City on October 12 to support Kelce during his game against the Denver Broncos. In the four games she was seen, the Kansas City Chiefs have triumphed.
More from Inquisitr
Kris Jenner's Fans Think a 'Chunk is Missing' from Her Jawline in Un-Edited Images Taken During France Trip
Sean Penn Sparks Controversy With His Insensitive Remark in Response to Matthew Perry's Demise