Watch San Francisco 49ers Vs. Minnesota Vikings Live Stream: NFL Week 1, Start Time, Preview, Watch Online
Two of the four highest-paid quarterbacks — and players — in the National Football League, by a Sporting News tally, will open the 2018 NFL season by facing each other, when Jimmy Garoppolo of the San Francisco 49ers and Kirk Cousins of the Minnesota Vikings take the field on Sunday afternoon for a Week 1 NFL clash that will live stream from Minneapolis.
In February, despite a resumé that showed only seven NFL starts, the 26-year-old Garoppolo — the New England Patriots 2014 second-round draft pick, per Pro Football Reference, and originally considered the heir apparent to that team's future Hall of Famer Tom Brady — signed what was then the richest contract in NFL history with San Francisco. The team had acquired the former Eastern Illinois signal caller from the Patriots on October 31 of last year, per PFR
Garoppolo proceeded to lead the 'Niners to wins in all five of his starts, turning around a team that went 1-10 prior to his starting debut. In fact, as Fansided notes, Garoppolo also won his only two starts in a Patriots uniform, making him 7-0 as an NFL quarterback.
But according to Football Perspective, "Jimmy G" will need to win his first seven starts of 2018 to merely tie the record set by Ben Roethlisberger of the Pittsburgh Steelers who won the first 14 starts of his NFL career.
To find out how to watch a live stream of Sunday's NFL Kick-Off match up between the San Francisco 49ers and Minnesota Vikings, see the streaming information at the bottom of this article. Kickoff is scheduled for noon Central Daylight Time at 67,000-seat U.S. Bank Stadium in Minneapolis, Minnesota.
In the Eastern Time Zone that start time will be 1 p.m., 10 a.m. Pacific. Viewers in the United Kingdom can watch the game online starting at 6 p.m. on Sunday, while NFL fans in Australia can log in to the live stream at 3 a.m. on Monday, September 10, Australian Eastern Standard Time, 1 a.m. Western Time.
To see which areas of the country will have access to the 'Niners-Vikes game, see the following map courtesy of 506 Sports. Areas shaded in pink will be able to watch the San Francisco-Minnesota matchup live stream.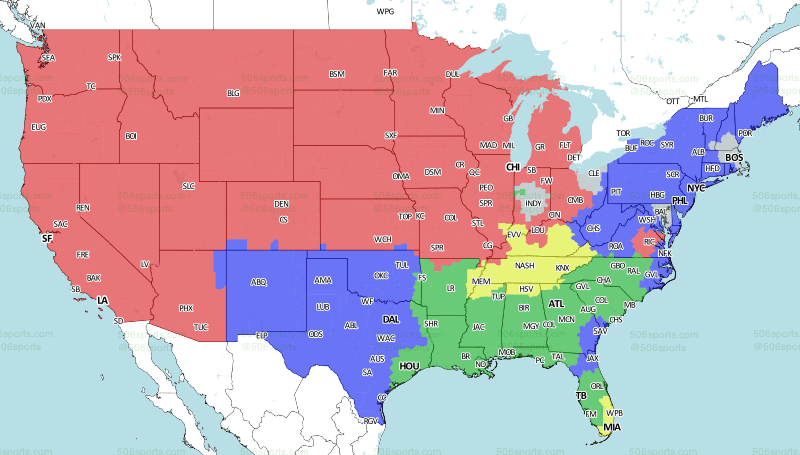 Garoppolo's $137.5 million, five-year deal made him the highest paid player in NFL history, as Forbes reports, until just a few weeks later when the Vikings signed former Washington QB Cousins to a three year, $84 million deal, fully guaranteed, making the 30-year-old, seven-year veteran the highest-paid player ever. Both contracts have since surpassed the deals given to Matt Ryan of the Atlanta Falcons and Aaron Rodgers of the Green Bay Packers.
Watch a preview of the 2018 NFL season-opening San Francisco 49ers vs. Minnesota Vikings showdown in the video below, courtesy of the NFL.
With the San Francisco 49ers vs. Minnesota Vikings NFL season opener for both teams offered as the Fox Sports featured early game, a live stream will be available through the network's Fox Sports Go streaming platform in eligible areas. But the service does require login credentials from a cable or satellite TV provider.
But there is another way to live stream the San Francisco 49ers vs. Minnesota Vikings NFL Week 1 game for free without a cable subscription. To do so 100 percent legally, fans can sign up for a free trial of one of several live internet TV streaming packages, which carry local Fox Network channels, including Sling TV, Fubo TV, or DirecTV Now. All three of those "over the top" internet streaming services require credit card information and subscription fees, but they all offer seven-day free trial periods. If the subscription is canceled prior to the expiration of that free week, fans can watch the 'Niners-Vikings game streamed live at no charge.
To view the live stream outside of the areas shown on the map above on this page (except in the teams' home markets) fans will need to pay the subscription fee for NFL Sunday Ticket, a service which also comes with a one-week free trial period.
Fans outside of the United States can watch the San Francisco 49ers vs. Minnesota Vikings game live stream with NFL Game Pass, a service which requires an annual subscription fee, but also comes with a first-week free trial offer.