5 Most Ridiculously Expensive Things Owned By Former President Donald Trump Here are 5 Most Expensive Things Donald Trump Owns.
Also Read: Trump's Obsession With Gag Orders Stems From a Need To 'Blame' Someone If He Loses the Case, Says Legal Expert
Former president Donald Trump is renowned for his wealth and extravagant lifestyle. However, he's no stranger to money because he was born to a father with a successful real estate business. From starting in The Apprentice to becoming the 45th president of the United States and turning his father's business into what we now know as "The Trump Organization," money followed him. His net worth is $2.6 billion, reported Forbes. So, here are five costly things you didn't know he owns.
1. A Helicopter worth $7 million
The Sikorsky S-76 is a rarity, but Donald Trump is one of those few people who own the chopper worth $7 million. This specific helicopter has received much attention, and it also featured in an episode of CNBC's Secret Lives of The Super Rich, titled "P*mp My Chopper." However, that's not all. The former president spent an extra $750,000 to modify the chopper by a specialized designer. The insides, including seatbelts, cabinets, handles, and other hardware, are in 24-karat gold.
Also Read: Host Says Paramount+ PR Team Halted Kelsey Grammer's Interview With BBC After Voicing Support for Trump
2. Another private jet worth $35 million
Also Read: Jimmy Kimmel Says Trump Is 'Going Straight to Hell' For His 'Jesus and God Keeping Score' Comment
Owning a private jet is one of the signs of being rich. Trump is also an owner of a Boeing 757, a Cessna 750 citation, and three helicopters. However, the one bird [Boeing 757] that stands out is the Boeing 757 aircraft, which was previously a passenger plane later bought by the former president. Of course, Trump replaced the seats with an office, a master bedroom, a master bath with a 24-karat gold sink, a lounge, and a dining room.
3. Mar-a-Lago Resort - bought for $10 million (now worth over $200 million)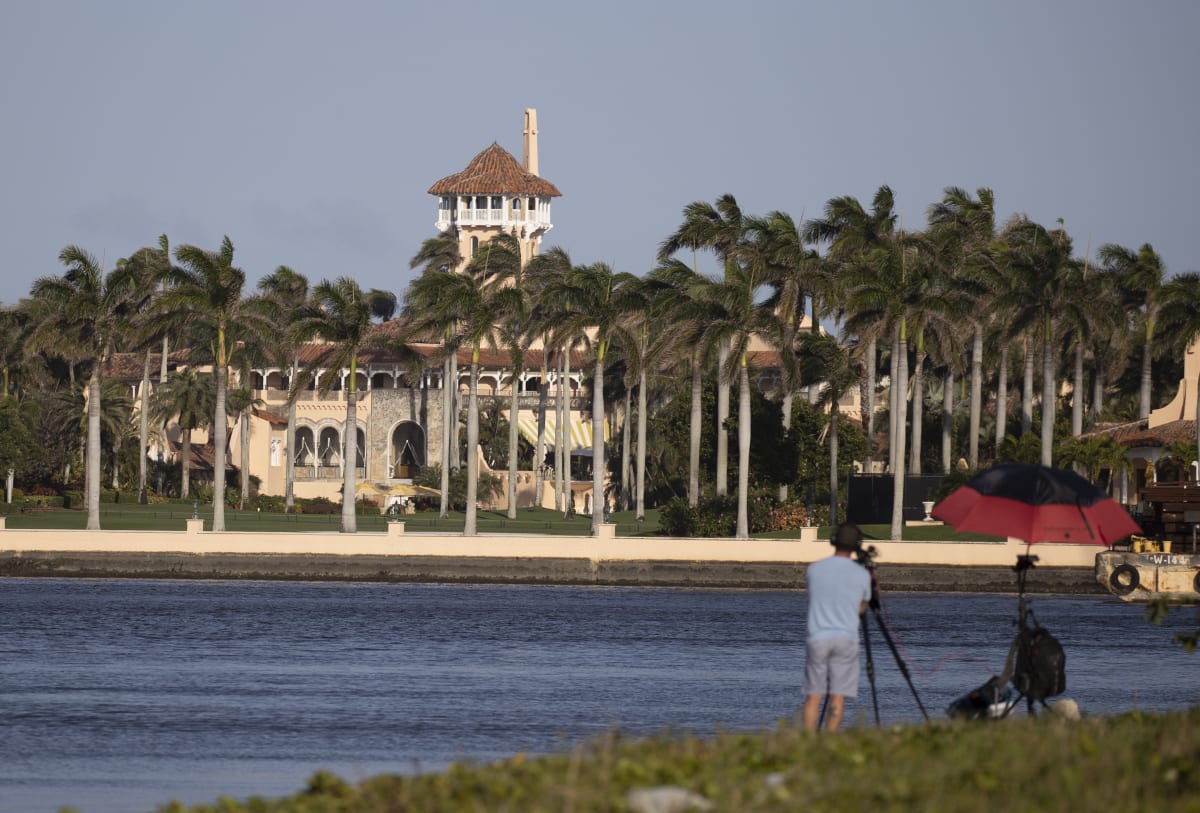 Apparently, Trump's weekend getaway place is a "dream" worth $200 million, a Mar-a-Lago resort. The massive property is reportedly a 110,000 square foot (17 acres) private club in Palm Springs, Florida, which he previously bought for $10 million in 1985. And by now, you already have guessed it; he [Trump] got the place renovated. The envy-inducing resort features 58 bedrooms, 33 bathrooms, 12 fireplaces, and 3 bomb shelters, including a spa tennis court, a mini golf course, and a 20,000-square-foot ballroom.
4. 17-Golf Courses worth $300 Million
Since Trump and wealth are synonymous, it is obvious that he'd be interested in a rich game like Golf. Apparently, the real-estate mogul invested in not one or two but 17 golf courses with an estimated worth of over $300 million. The three properties are in New York and Florida each, two in New Jersey, one each in California, North Carolina, Philadelphia, and Washington, DC, two golf courses in Scotland, two in Dubai, and one in Ireland, reported Rapid leaks.
5. A Penthouse worth $90 Million
Before calling the White House his home, this $90 million penthouse was Trump's official address. In his collection of goodies, [penthouse] is a magnificent piece of art. The interior is inspired by Louis XIV, spanning three floors in the 5th Avenue in New York skyscraper, inside Trump Tower, also owned by the former president. The building has 58 stories in total. The penthouse includes 24-karat gold, marble, and diamonds and is considered to be far better than the White House.
More from Inquisitr
Trump Claims He Would Win The Blue States if 'Jesus and God' Came Down to Keep Score of Elections
Trump Mocks DeSantis' Debate Against Newsom in a New Dubbed Video: 'Battle of Loserville'