Travis Kelce's '87' Bracelet Is Worn by Taylor Swift in a Kind Gesture at a Kansas City Chiefs Game In yet another Kansas City Chiefs game, fans were treated to the sight of global pop sensation Taylor Swift gracing the stadium alongside Brittany Mahomes, wife of Chiefs quarterback Patrick Mahomes. The attention-grabbing moment, however, wasn't just the secret handshake shared between Swift and Mahomes but also the intriguing bracelet adorning the singer's wrist.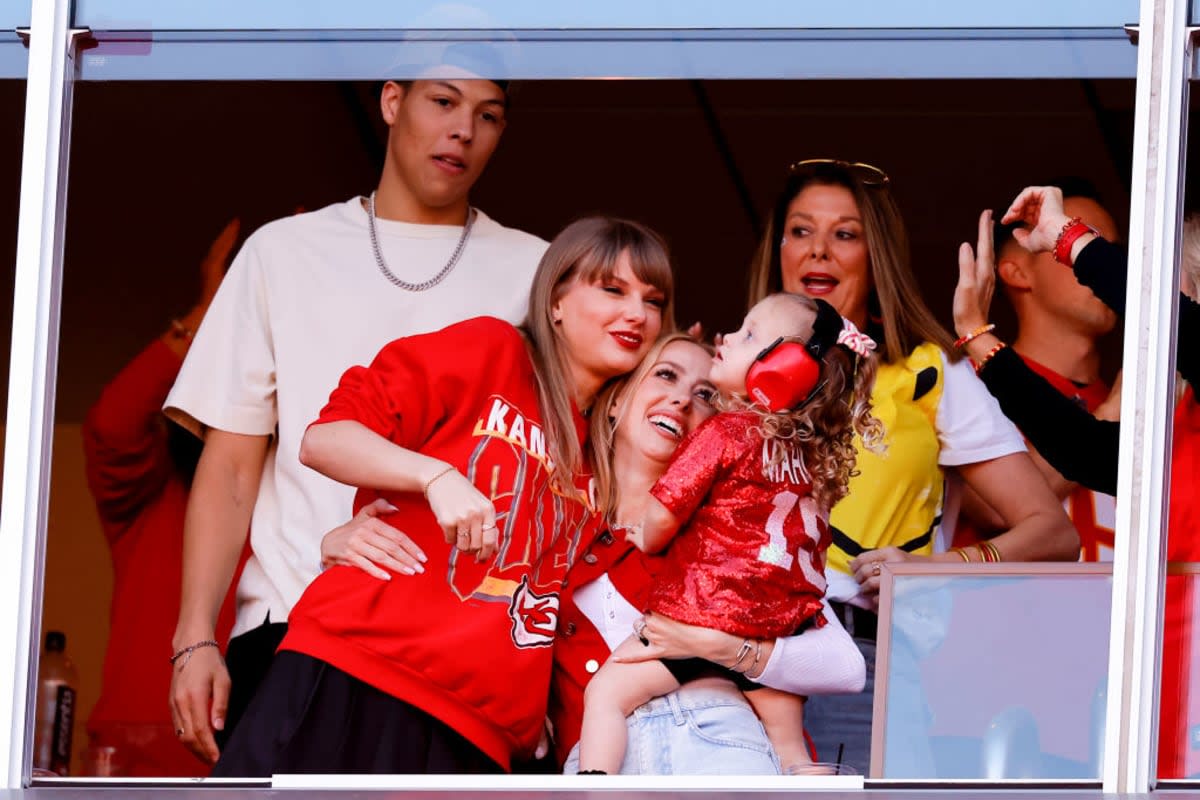 Also Read: Here's What Swifties Have Seemingly Learnt About the Taylor Swift-Joe Alwyn Breakup Timeline
The beaded friendship bracelet Swift wore took center stage, capturing the curiosity of onlookers. Beaded friendship bracelets have been a prominent feature of Swift's Eras Tour, and this particular accessory seemed to have a personal touch. The gold-beaded bracelet featured four white beads, forming a sequence of a heart, the number 87, and another heart. The significance of the number 87 is tied to none other than Swift's new boyfriend, Kansas City Chiefs tight end Travis Kelce, as reported on Page Six.
Several fans swooning at their relationship highlighted the moment with a tweet that read, "87+13 = 100," drawing attention to Swift's fashionable display of affection at the Chiefs game. In a tweet, user @EnchiLevvy shared, "Taylor Swift's lucky number is 13, and Travis Kelce's jersey number is 87; 13 + 87 = 100, so it's meant to be." The number 13 holds personal significance for Swift and is believed to be her lucky number, as she has shared in multiple interviews over the years.
---
View this post on Instagram
---
Also Read: Here's Taylor Swift and Kanye West's Complete Feud History
The bracelet's appearance sparked speculation and excitement among fans, suggesting that it might be a unique manifestation of the new couple's love language. Interestingly, it wasn't the first time Kelce and Swift's connection had a bracelet involved. Reportedly, when Kelce attended Swift's concert at Arrowhead Stadium in July, he crafted a bracelet for the pop star. However, due to the constraints of Swift's pre and post-show routines to preserve her voice for her performances, he was unable to present the bracelet to her.
---
Taylor Swift's lucky number is 13, Travis Kelce's jersey number is 87

13 & 87 = 💯, so it's meant to be

— himbo simp ⚘️ Twitṭer (@EnchiLevvy) September 25, 2023
---
Also Read: This UFC Star Thinks Travis Kelce and Taylor Swift's Alleged Relationship Is '100% Fake'
On the New Heights podcast, where Kelce discussed the incident, he mentioned his desire to gift Swift a bracelet with his number on it. Expressing his disappointment, Kelce stated, "I was disappointed that she doesn't talk before or after her shows because she has to save her voice for the 44 songs that she sings." This insight into Kelce's attempt to create a personal connection with Swift adds a touch of sincerity to the story, showcasing the challenges even a professional athlete faces in the pursuit of sharing a meaningful gesture.
The intertwining worlds of sports and entertainment collided once again at the Chiefs game, offering fans a glimpse into the personal lives of their favorite celebrities. Swift and Kelce's evolving relationship, marked by subtle gestures and public appearances, continues to captivate audiences, making each Chief game an event not just for football enthusiasts but also for followers of the romantic narrative unfolding between the pop sensation and the Chiefs tight end.
More from Inquisitr
Taylor Swift Is About to Make Over $100M Just From Spotify in 2023
Here's Why Swifties Suspect Taylor Swift's Relationship Issues With Ex Joe Alwyn Began in 2021