Travis Barker Gets Wax 'Clone' at Madame Tussauds, and Its Resemblance to Him is Unbelievably Real In a star-studded unveiling at Madame Tussauds in Las Vegas, Travis Barker, the legendary drummer of Blink-182, introduced his doppelganger in wax form to the world. The meticulously crafted wax statue, described by Barker as his "clone," now resides in the famed museum, dressed in an ensemble personally donated by the musician.​ The attention to detail extends to silver jewelry, a chain necklace, a replicated wedding ring, and, notably, Barker's distinctive tattoos and nose ring.
Also Read: Kris Jenner Upset by Kourtney Kardashian's Pregnancy Announcement; Kourtney Responds
According to Billboard, expressing his astonishment, Barker exclaimed in a press release, "I'm honored, I'm flattered, I'm shocked. It looks so fu**ing real." Taking to Instagram, the drummer shared images alongside his lifelike waxwork, inviting fans to "Come say hi to my clone." In a video posted on Madame Tussauds' official Instagram account, Barker is seen marveling at the figure, exclaiming, "Woah! This is insane," and even facetiming his wife, Kourtney Kardashian, to share the uncanny resemblance, stating, "Honey, it looks so real. Isn't it crazy, baby?"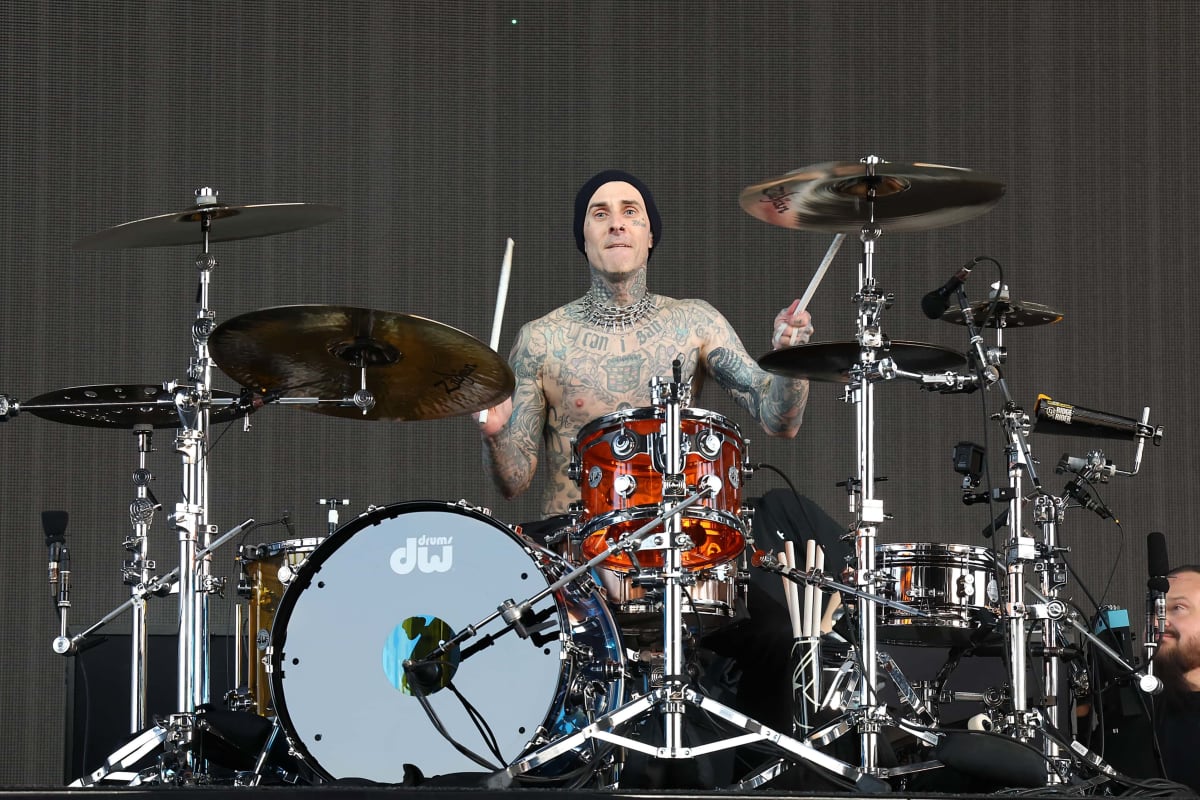 The Madame Tussauds team, recognizing the cultural impact of Blink-182, expressed their excitement about featuring Barker's figure in Las Vegas. Linsey Stiglic, the Marketing Manager, highlighted the meticulous attention to detail in the replication of the musician's tattoos, praising the talented studio artists for their precision.
---
View this post on Instagram
---
Also Read: When Kourtney Kardashian's Ex Younes Bendjima Denounced Scott Disick for Supposedly Insulting Her
In a departure from the waxwork celebration, Barker recently delved into the dynamics within Blink-182, acknowledging the strain in their relationship. In an interview with Zane Lowe on Apple Music 1, he discussed his relationship with his bandmates and how they shaped him. He candidly revealed that what he missed most was their "friendship," emphasizing its significance within the trio. "It was always heavy on my heart that our friendship wasn't mended. Heaviness weighs on you when you have something that's important to you in a relationship with somebody and you don't really fix it, it's just kind of lingering," Barker shared.
---
View this post on Instagram
---
Also Read: Kris Jenner Shuts Down Kourtney Kardashian for Suggesting That the Family Should Try 'Therapy'
As Blink-182 dropped their latest LP, One More Time... last week, the album received a positive nod from critics. The unveiling of Barker's wax figure adds another dimension to the musician's illustrious career, immortalizing his presence not only in the music world but now within the esteemed halls of Madame Tussauds, a testament to his enduring influence and iconic status. Recently, the drummer shared a photo of the tattoo he has of Kourtney Kardashian's eyes on his leg on Instagram.
---
View this post on Instagram
---
What upset the fans was that the tattoo seemed to be covered with blood from an apparent injury on his leg. Barker went on to caption the story as, "Blood all over @kourtneykardash's eyes." As reported by The Sun, one of the fans posted on Reddit, "Um, what is this? I already know that Travis is a creep but this is straight up disturbing."
More from Inquisitr
Kim Kardashian Critics Spot Her 'Jealous Scream' at Kourtney Kardashian's Gender Reveal Party
Kourtney Kardashian Snaps at Mom Kris Jenner and Sister Khloé Kardashian for Being 'Too Controlling'